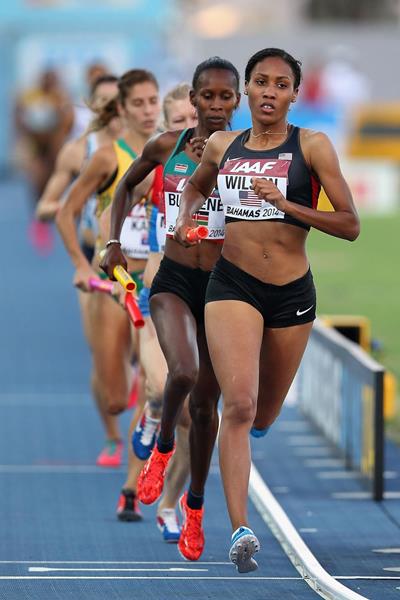 Kenya won the silver medal in the women's 4 X 800m at the inaugural world relay championships. Kenya were considered favourites by many but a close look told most expert pundits that USA had more depth from 1 to 4. In fact going into the race, USA had a better national record of 8:04 compared to Kenya's 8:07
And it showed as USA took a commanding lead as Chanelle Price ran the first leg in 2:01 as Kenya with Agatha Cheruto running fell into sixth position by the time the first leg ended.
Silvia Chesebe then took over the baton and tried to make up the ground immediately. She thus used a burst of energy in the first 50m to catch up and move into second position. Naturally burning all that energy at the beginning of her leg sapped her energy and she fell back again and by the time she handed off the baton, Kenya were in sixth position again.
Janeth Jepkosgei, running the 3rd leg also used an incredible burst of energy to close the gap. She went from 6th position to 2nd position, right behind the USA runner. Unfortunately she too ran out of steam and fell far behind the USA runner (Ajee Wilson). By the time she handed the baton off to Eunice Sum, USA had an insurmountable lead.
And Sum despite being world champion had no chance at catching up with Brenda Martinez. Sum seemed to know it was a lost cause and did not make an effort at chasing Martinez. And even if she did , it would have been a tall order catching Martinez who uncorked a 57 second first lap for a  1:59 final leg