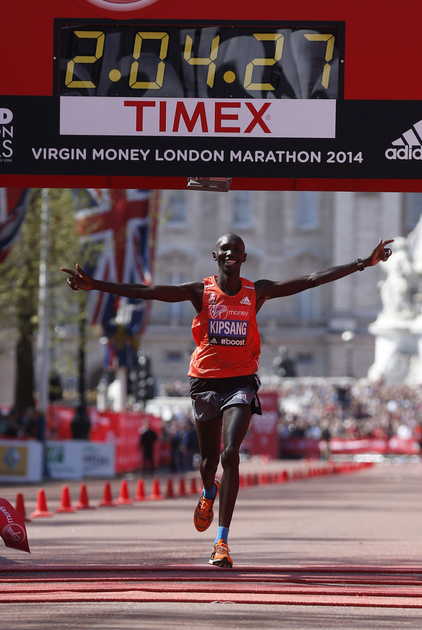 Wilson Kipsang beat what is probably the strongest field ever at the London Marathon. The race had an array of stars including New York Marathon champion Emmanuel Mutai, Two time Olympic gold medalist in the 5000m and 10,000m, Mo Farah, Olympic marathon champion Stephen Kiprotich of Uganda , former Chicago marathon winner Tsegay Kebede of Ethiopia, fomer Paris Marathon record holder, Stanley Biwott of Kenya and Ibrahim Jeylan of Ethiopia who like Mo Farah, was making his marathon debut. In addition, there was a celebrity pacer in Haile Gebresselasie, the legendary Ethiopian runner who is now 41.
It was Geb who took the field out in an astonishingly fast pace. He took the field through 5 kilometers in an exuberant 14:21, including a 4:31 (downhill) third mile.  That put the field on an improbable 2:01:06. It was clear that no one could maintain that pace and indeed the pace slowed considerably when Geb dropped out.
But the scorching early pace appeared to have taken a toll on everyone except for Kipsang and Biwott who were the only two to run under 2:06. "You see I tried to push from 20 (kilometers) even this time," Kipsang told Race Results Weekly in an interview.  "The kind of move that I made from after 21 was trying to see how the guys are.  I see the guys were really not strong enough." Said Kipsang.
By the 20km mark, Kipsang and Biwott had surged ahead and at the 40-km mark, Kipsang made his move to shake off Biwott. Kipsang won with a course record of a course record 2:04:29. Biwott, who finished eighth here last year and was fifth in New York last November, finished a solid second in 2:04:55, a personal best.  Kebede, last year's London champion, won the sprint for third in 2:06:30 over Abshero (2:06:31).  Reigning Standard Chartered Dubai Marathon champion Mekonnen, reportedly 18 years-old, landed fifth in 2:08:06. Olympic champion Stephen Kiprotich was in 2:11.37.
Crowd favourite Mo Farah was 8th in 2:08:21, setting a new English (but not British) record.  He told the BBC in his post-race interview that he had had "a bad day at the office."
"The crowd, the support; I just dreamed of one day being here and do well," Farah told the BBC.  "And that was always my goal.  He continued: "I was alone a lot of the way.  Sometimes it's harder to be able to do something. You know, the point is that I'm not thinking too much about it.  I had a bad day in the office; it is what it is. I've got to move on and get ready for my next race."