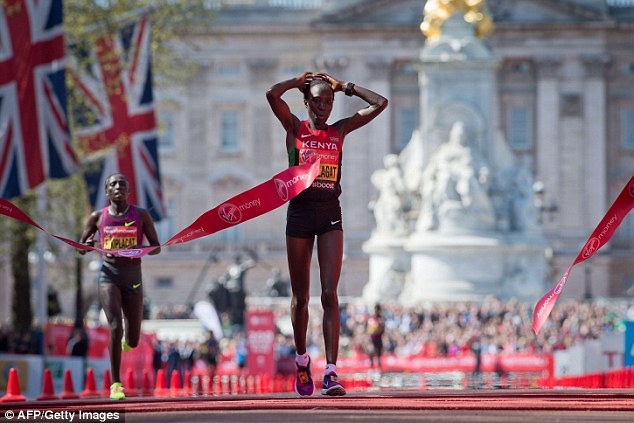 Reigning 2-time world champion Edna Kiplagat beat a strong field to win the 2014 London marathon. The field included Ethiopian legend Tirunesh Dibaba who was making her marathon debut along with New York Marathon champion and defending London champion Priscah Jeptoo.
Edna Kiplagat had finished 3rd, 2nd and 2nd in the previous editions of the London marathon.
Priscah Jeptoo suddenly stopped in the 17th mile and was out of the race.  Her coach, Claudio Berardelli, later told Race Results Weekly that Jeptoo felt a pop in her calf and had to stop immediately (she was seen limping badly back at the athletes.
Tirunesh Dibaba was going neck and neck with the two Kiplagats at the 30km mark when she dropped her bottle and stopped cold to pick it up.  The two Kiplagat's bolted, and within moments Dibaba was out of contention.
"The only thing that I'm very much disappointed about was the water," Dibaba told the media after the race through a translator.  "When I took the water, it first fell down.  I tried to get it, so, I couldn't manage it proper."
The two Kiplagats then ran neck and neck until there were 200m left. Edna then sprinted ahead of her compatriot to win in 2:20:21.
"In the last 200 meters I tried to have good speed, and that's when I found that I'm going to win the race," Kiplagat said.  "I was really happy because that last three years I tried, but I knew I have experience and I knew the training which I did, I practiced mostly speed.
Florence Kiplagat was second in 2:20:24.  Dibaba was 3rd with an impressive debut, of 2:20:35