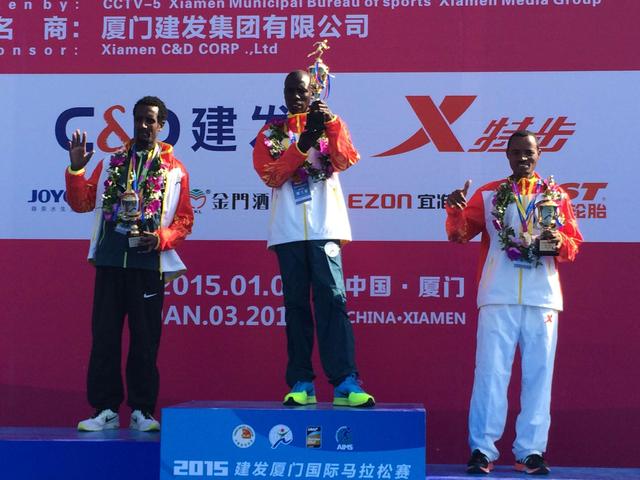 Moses Mosop won the Xiamen marathon in China. It was a tightly contested race in which Mosop broke away from Ethiopia's Tilahun Regassa in the last few stages. In the process of clocking 2:06:19 he took more than a minute off the course record set in 2013 by Ethiopia's Getachew Terfa Negari.
Sammy Wanjiru's area record
Prior to today, the fastest marathon ever run in China was by the late legend Sammy Wanjiru when he clocked 2:06:32 to win the 2008 Olympic gold medal.  Mosop has now shaved 13 seconds off that record.
Mosop Back on Track
Mosop who was born on July 7 1985 was previously known for his exploits on the track and the grass. He won the bronze medal at the 2005 world championships in the 10,000m and the silver medal at the 2007 world cross country championships.
In 2011, he made a promising start to his marathon-running career, clocking 2:03:06 on Boston's record-ineligible course on his debut at the distance. He then won the Chicago Marathon with a course record of 2:05:37 later that year.
Recently he has struggled to recapture that form. He finished eighth at the 2013 Chicago Marathon and a distant 12th in Prague last May, clocking 2:20:37.
Wake Up Call
In 2013 the International Athletics Consultancy (IAC) decided to cease being the sports management service provider for him due to what they termed lack of commitment.
IAC Director, Mr. Zane Branson said at the time:
"I have no doubt that Moses can still compete with the best our sport has to offer, only if this was his priority. With the privilege of having Renato as his long-time coach it is very unfortunate that Moses has shown disappointing lack of commitment to his training and professional conduct.
This must have been a wake up call for Mosop as he appears to be headed back in the right direction.