The inaugural world relay Championships will kick off in Nassau Bahamas on Saturday May 24. Kenya men will field teams in the 4 X 200m, 4 X 400m , 4 X 800m and 4 X 1500m. The Kenya women will participate in the 4 X 800m and 4 X 1500m. Naturally Kenya's best prospects lie in the longer relays.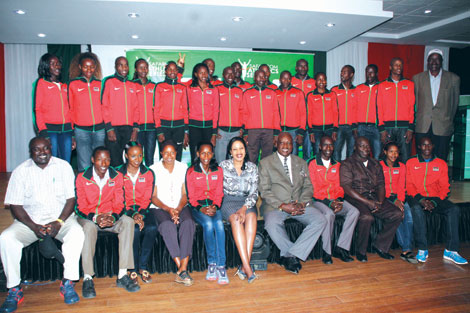 Men's 4 X 800m
In years past, Kenya would have been unstoppable in this event. Kenya has always had incredible depth in the 800m. Consider the period of the early 1990s when Kenya had two time world champion Billy Konchellah, 1988 Olympic champ and world indoor record holder Paul Ereng, 1992 Olympic champion William Tanui, Olympic silver medalist Nixon Kiprotich and 1993 world champion Paul Ruto.
In fact you need not travel far down memory lane. Consider the year 2008 when Kenya had Olympic champ Wilfred Bungei, world champion Alfred Yego and David Rusdisha and William Yiampoy. There have been periods where Kenya had at least 4 runners capable of running below 1:43.00. These teams would have set world records for the ages. Kenya did set the world record at 7:02.43 from 2006 in this rarely run event. Interestingly, St Patricks Iten school holds the 5th fastest time ever in the 4 X 800m from 1999.
This year however Kenya is fielding a less than formidable team. Rudisha is still injured. Kenya's best prospect Robert Biwott did not run during the qualifiers and thus missed out.
The 4x800m team will be : Alfred Kipketer, Job Kinyor, Ferguson Rotich, Sammy Kirongo and Nicholas Kiplagat. Of these runners, Cheruiyot is the fastest of the bunch with a person best of 1:43.22
The good news is that the other teams do not look formidable either. Kenya will certainly a contender for the gold medal. The next best challengers are USA whose team has David Torrence, Duane Solomon, Michael Rutt and Robby Andrews. Duane Solomon has run the fastest 800m this year with a time of 1:43.88.
Men's 4 X 1500m
If there is any event where Kenya is a favourite it must be this one. The Kenya team has Asbel Kiprop, Silas Kiplagat, Collins Cheboi, Joseph Magut, Nixon Chepseba. Asbel Kiprop has dominated this event since 2008 and Silas Kiplagat has been among the top 3 runners in the world since 2012.
Kenya's stated goal is to break the world record which currently stands at 14:36.23. They would only need to average 3:39 per leg to do this. Yet each Kenya runner in the team is capable of running 3:32 and below. It will come down to proper execution.
Kenya will however face a serious challenge from Ethiopia whose team has Aman Wote, Chalachew Shimels, Mekonnen Gebremedhin, Soresa Fida and Zebene Alemayehu. Then there is Bahrain which has former Kenyan Yusuf Saad Kamel (formerly Gregory Konchellah) and disgraced former Olympic champion Rachid Ramzi. Other serious contenders are USA which has Olympic silver medallist Leonel Manzano and Australia which has Ryan Gregson, another sub-3:32 ace) and Poland, with Kczszot and Lewandowski.
Women's 4 X 800m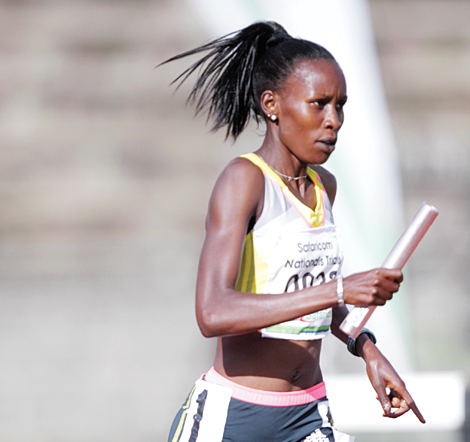 The Kenya women's team has world champion Eunice Sum, former world champ Janet Jepkosgei as well as Sylvia Chesebe, Cherono Koech, Agatha Jeruto.
On paper this team looks formidable and could be the favourites. However they will face a formidable challenge from team USA which has 2013 world championship bronze medallist Brenda Martinez, world Indoor champion Chanelle Price, world junior champion Ajee Wilson, and former 1500m Diamond Race winner Morgan Uceny.
The world record was set in 1980 with the Soviet Union's 7:50.17 – a performance which equates to roughly 1:57.5 for each leg. That record is far out of reach. If only Kenya had the 1:53 Pamela Jelimo of 2008 then a record would be achievable.
USA also holds an advantage in terms of strategy. Whereas Kenya rarely participates in this event, 4 X 800m relays are commonplace in the USA collegiate circuit. This gives USA a huge advantage.
Team Russia is also an outside contender.
Women's 4 X 1500m
This event will be yet another contest between Kenya and USA with Ethiopia and Russia being outside contenders.  Once agains tactics will be critical .
The Kenya team has 2013 world championship bronze medalist Hellen Obiri, Mercy Cherono, Irene Jelagat, Ann Karindi, Faith Jepng'etich who has run in the 3:57 range in 2013. Bahrain will be a serious contender once again thanks to Miriam Jamal.
Kenya set the world record 3 weeks ago. But that record of 17:05.72 will likely be broken again in the Bahamas.
Mens 4 X 400m
Kenya has a rich history in this event. They were world championship silver medalists in 1993, Olympic champions in 1972 and Olympic silver medalists in 1968. Kenya has also won this event several times in the Commonwealth games and All Africa games where Kenya is the defending champion.
Team Kenya will consist of Commonwealth champion Mark Mutai, along with Boniface Mucheru, Alex Sampaio, Alex Sampao and Solomon Odongo Bwoga.
USA are the clear favourites followed by Bahamas. Jamaica and Belgium are outside contenders. Kenya will be hard pressed to reach the final.  However it is mostly a young team and the experience they gain will be useful in future competitions such as the 2015 All Africa games. These championships are being used as qualifiers for the 2015 world championships. This is a realistic goal for Kenya and should their primary aim.
Men's 4 X 200m
It is refreshing to see Kenya in a sprint relay, something that rarely happens. The last time Kenya competed in a short sprint relay was in 1988 when team Kenya reached the semi-finals of the Olympics in the 4 X 100m and set a Kenya record that lasted two decades.
Kenya will have in their team USA based Carvin Nkanata who set a new Kenya record in the 200m at 20.17 in April. he will team up with Steven Baraza, Walter Moenga, Tony Chirchir. Here smooth baton passing will be key.
Kenya has no realistic chance of even reaching the final. But this is one event Kenyans will be interested in watching since Kenya rarely participates in short sprint relays. Whatever time they run, they will set a Kenya record.
Prize Money
1st – $ 50,000
2nd – $ 30,000
3rd – $ 20,000
4th – $ 12,000
5th – $ 10,000
6th – $ 8000
7th – $ 6000
8th – $ 4000
A USD $50,000 bonus will be awarded to a team that breaks a world record.
Current world records
Men
4x100m: Jamaica 36.84, 11 August 2012, London
4x200m: United States 1:18.68, 17 April 1994, Walnut
4x400m: United States 2:54.29, 22 August 1993, Stuttgart
4x800m: Kenya 7:02.43, 25 August 2006, Brussels
4x1500m: Kenya 14:36.23, 4 September 2009, Brussels
Women
4x100m: United States 40.82, 10 August 2012, London
4x200m: United States 1:27.46, 29 April 2000, Philadelphia
4x400m: USSR 3:15.17, 1 October 1988, Seoul
4x800m: USSR 7:50.17, 5 August 1984, Moscow
4x1500m: Kenya 17:05.72*, 26 April 2014, Nairobi