For several months now, this column has been calling for AK to include USA based sprinting sensation Carvin Nkanata to Kenya athletics squad. AK finall obliged. Nkanata will be part of Kenya's 4 X 200m at the world relay championships in the Bahamas. The competition starts on May 24.
Brilliant Talent
Nkanata is a transcendent talent. On April 12 of 2014, he set a new Kenya record in the 200m with a time of 20.17. He now holds the two fastest times by a Kenyan. He had broken the Kenya record in 2013 with a time of 20.32. He has been competing for the University of Pittsburgh where owns two Big East 200-meter championships and two ACC 200-meter championships.
Experienced Relay Runner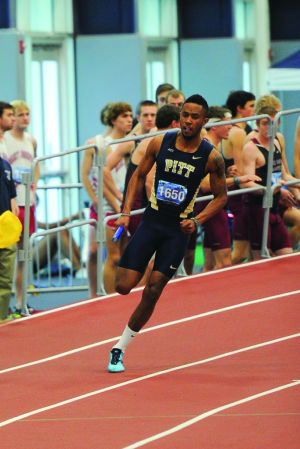 Unlike in the rest of the world where relays are rare, Relays are very popular in the US collegiate circuit and every track meet features relays including non-traditional ones like the 4 X 200m where Nkanata excels. This means he will be able to impart his wealth of knowledge to his team-mates. Nkanata will anchor Walter Moenga, Stephen Baraza and Tony Chirchir with the former saying they were ready for the challenge despite the 11th hour changes.
"We have no option but to team up and perform well as we had planned earlier on," Moenga who won both 100 and 200m at this year's KDF championships stated.
The baton exchange aspect of relays is what trips most teams up.Poor exchanges can cost a team precious time and make the difference between advancing to the next round and getting eliminated. At worst, a poor baton exchange results in a drop which automatically disqualifies a team and ends their hopes after weeks of hard work. Hopefully the Kenyan team will have enough time to perfect their exchanges.
4 X 800m
The women's 800m appears strong on paper with world champion Eunice Sum anchoring. Her her mentor  Janeth Jepkosgei, Sylvia Chesebe, Cherono Koech, Agatha Jeruto and Miriam Chepkemoi form the rest of the team.
Sum said their aim is to go for the win and not the world record which seems out of reach.
"Our aim is to go to the medal bracket because every team is well prepared. We are in a good shape though not 100 percent but we are good to go. We have a strong team we have trained together for a while especially Jepkosgei who has really inspired me all through and running with her is a dream come true to me.
"The World record is slightly far for now we are going for a win since this is our first time to compete in such event," said Sum to capitalfm.
The World record of 7:50.17 was set by Russia in 1984.
4 X 400m
Team captain; Mark Mutai who will compete in the 4x400m alongside Boniface Mucheru, Solomon Bwoga and Alex Sampao is confident of getting a good result.
"We are going for a win and I'm sure we will come with medals because we have an experienced team. It's only the sprinters who are not that experienced but from the training they have undergone they will surprise many.
"In the 4x400m we are prepared and we know each other well. We want to go out there and prove to AK who had earlier on omitted us from the squad that we are capable," the Commonwealth Games champion said.