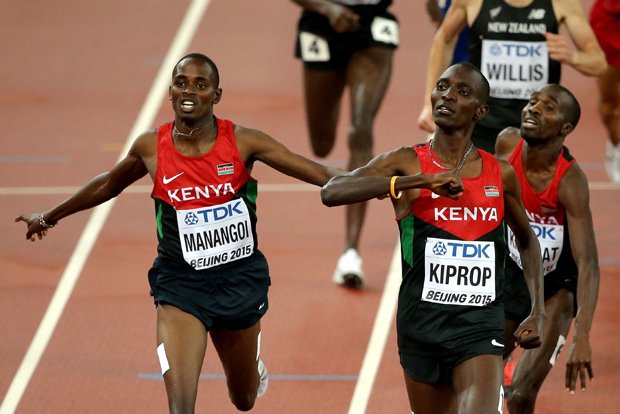 In the 2015 world athletics championships, Kenya were dominant and ended up at the top of standings for the first time ever with 7 gold, 6 silver and 3 bronze. The 2017 edition will be held in London. What are Kenya's prospects. Lets start with the middle distance events.
Men's 800m
This is typically a strength for Kenya. David Rudisha is the defending champion but he has pulled out of the event citing an injury. The world leading time is held by US based Kenyan Emmanuel Korir at 1:43.10. He is a strong contender but will face an equally strong challenge from Nijel Amos who has been running very well this season with a couple of Diamond League wins to his credit. If it comes to a sprint between Korir and Amos, I would bet on Korir to win given his superior 400m speed. His personal best in the 400m is an impressive 44.53. And he holds the world indoor record in the 600m.
Prediction:
Gold: Korir
Silver: Amos
Bronze: Rudisha
Women's 800m
Caster Semenya has been invincible since the CAS decision that allowed her to compete without hormone control therapy. She and Francine Niyonsaba of Burundi will certainly go 1-2. The only question is who will occupy the third position.
Kenya's Margaret Nyairera is a contender for bronze, having finished third in Rio. But America's Ajee Bishop recently clocked 1:55.61, a personal best and a time that is faster than anything Nyairera has run. Canada's Melissa Bishop is another one who could challenge for a podium place
Prediction:
Gold: Semenya
Silver: Niyonsaba
Bronze: Wilson
Men's 1500m
Asbel Kiprop is the defending champion. But he too has had a sub par season in 2017. And his last major outing (Rio 2017) was disastrous. Elijah Motonei Manangoi was the silver medalist in 2015. He looks like he is in superb form based on his performance at the Monaco Grand Prix on July 21. He and Timothy Cheruiyot showed the rest of the field a clean pair of heals in the last lap and in the final stright, Manangoi easily passed Cheruiyot to clock 3:28.50. And Manangoi would have run faster had he not eased up.
Prediction
Gold: Manangoi
Silver: Cheruiyot
Bronze: Aman Wote
Women's 1500m
2015 was the year of Genzebe Dibaba 2016 was the year of Faith Kipyegon. It looks like 2017 is going to be the year of Sifan Hassan. She has run the three fastest times in the world in the 1500m including a season's best of 3:56.14 that she ran at Hengelo in front of a partisan crowd.
Faith Kipyegon has run sparingly this season. Her season's best is 3:57.51 that she ran in Paris while finishing second to Hassan. Genzebe Dibaba has not run much this season and it is not clear what form she is in.
Prediction
Gold: Hassan
Silver: Kipyegon
Bronze: Dibaba
Men's 3000m Steeplechase
This is an event that Kenya has thoroughly dominated. A Kenyan has won every single event at the world championships since 1991 and every Olympic event since 1984. This includes Kenyans who were representing other nations.
Nevertheless 2017 represents the first time in a long time that Kenya is in danger of not winning this event. The challenge comes in the form of American Evan Jaeger who clocked the world leading time in Monaco at 8:01.29 , beating Jairus Birech by a good six seconds.
Kenya's best hope should be Olympic gold medalist Conseslus Kipruto. He has nott run match this season. His season's best time was in Rome on June 8 where he clocked 8:04.63. This is three seconds behind Jaeger's time. Also Kipruto is battling an injury which he picked up during the Kenya trials. So his fitness is questionable.
Ezekiel Kemboi will be back having qualified automatically as defending champ. He has not run this season. But you can never rule out the wily old veteran. And he vowed to make amends of the Rio 2016 disaster where he was disqualified.
Another challenge comes in the form of Soufiane Elbakkali of Morocco who has the third fastest time of the season.
This may sound like blasphemy but given the injury to Kipruto and the unknown form of Kemboi and Brimin Kipruto, we could be looking at the first time that a Kenyan will not win this event since 1987. Still its difficult to bet against Kenya in this event so I will go with Kipruto
Prediction
Gold: Kipruto
Silver : Jaeger
Bronze: Elbakkali
Women's 3000m Steeplechase
The women's 3000m steeplechase has been extremely competitive in 2017. Superb times have been record by the major contenders including three Kenyans Hyvin Kiyeng who is the defending champion, Beatrice Chepkoech and outstanding newcomer Cellphine Chespol who has the season at 8:58.78. The primary challenger to the Kenyans is Kenyan turned Bahraini Ruth Jebet who holds the world record at 8:52.78 . Though Chespols seasons best is six seconds slower than Ruth Jebet's world record, it is worth noting that Chespol soundly beat Jebet in Eugene even after having lost her shoe.
Prediction
Gold: Chespol
Silver : Jebet
Bronze: Kiyeng
Mens 5000m
This event has been dominated by Mo Farah for the past few years. Though the Somali born Briton has not run much this season, he is still a clear favourite. Kenya will be represented by the trio of Cyrus Ruto, Davis Kiplagat and veteran Kiprono Menjo. Going by current form, Kenya is unlikely to challenge Farah in this event. Ruto who won the trials is Kenya's best bet for a podium finish. Menjo who is 37, is making a comeback to the Kenya team after a decade will be key in giving his youthful team-mates advice on how to prepare and race. Mukhtar Edris of Ethiopia will likely be Farah's closest challenger. He has the best time of the season at 12:55.23. Kenyan turned American Paul Chelimo who thoroughly dominated the USA trials is another challenger for a podium finish.
Prediction:
Gold: Farah
Silver: Edris
Bronze: Ruto
Womens 5000m
Under normal circumstances, Ethiopia's Almaz Ayana would be the hot favourite. But she has not run in 2017. Instead it is Kenya's Hellen Obiri who has been burning the tracks in what has become a career year for her. She has run the fastest times of the 2017 season in the women's mile, 3000m and 5000m. In all three, she has set new Kenya records.
Aside from Almaza Ayana, the other strong challenge to Obiri will come from Ethiopia's Senfere Teferi.
Prediction:
Gold: Obiri
Silver: Ayana
Bronze: Teferi
Men's 10000m
This is another event in which Mo Farah has not lost a major race in years. And the fact that he clocked 27:12.09 in June of this year suggests that he will not be losing in London either. But he will face a stronger challenge in the 10K than the 5K.
Kenya will be represented by Geoffrey Kamworor, Bedan Karoki, Paul Tanui. Kamworor was in outstanding form earlier this year when he won the world cross country championships in Kampala. Tanui is the Olympic silver medalist from Rio 2016. Bedan Karoki has been in sensational form in road races of late. He recently set the fastest time of the year for 10K road racing with a time of 27:36.4 in winning the Beach to Beacon 10K.
Another strong challenge to Mo Farah will come from the Ethiopian duo of Abadi Hadis and Jemal Yimmer both of whom hold the fastest times of the season in the 10,0000m with times of 27:08.26 and 27:09.08 respectively.
Prediction:
Gold: Farah
Silver: Hadis
Bronze: Kamworor
Women's 10,000m
If Kenya's Joyciline Jepkosgei was in this race, she would be a strong contender. She has run the fastest times in the 10km road race with a time of 30:04. That is significantly faster than anyone has run on the track this season. But she will not be there. Instead the most likely winner will be Almaz Ayana who won this race going away at Rio 2016. The legendary Tirunesh Dibaba will be in the race but she is unlikely to recreate her form from a years ago when she dominated this event. But her performance in the London marathon where she finished second, suggests that she still has a lot of petrol left in the tank. Kenya's best hope lies with Alice Aprot who won the Kenya national championships.
Prediction:
Gold: Ayana
Silver: Aprot
Bronze: Dibaba
Men's Marathon
Marathon's are notoriously difficult to predict. Current form alone is never sufficient. Much depends on the terrain, weather, incline and other factors. Daniel Wanjiru clocked 2:05:48 to win the London Marathon. This is the third fastest time of the season behind Wilson Kipsang and Tamirat Tola.
Since Wanjiru knows the London course well and has won here, I would place my bet on him to emulate his namesake, the late Sammy Wanjiru. Legend Kenenisa Bekele, whom Wanjiru beat in London is another who will provide a strong challenge as he attempts to solidify his legacy as the greatest distance runner of all time.
Prediction:
Gold: Wanjiru
Silver: Bekele
Bronze: Tola
Women's Marathon
Edna Kiplagat will be making a return to an event she won in grand style in 2007. In 2017, she clocked 2:21:52 to win the Boston Marathon. She will therefore be a strong contender.
Kenyan turned Bahraini Eunice Jepkirui who won the silver medal at Rio 2016, is one racer who saves her best for championship races and not in City marathons. She is likely to put on another super display just as she did in Rio.
And once again you can always count on the Ethiopians to provide strong challenge. They will be led by Mare Dibaba.
Prediction:
Gold: Jepkirui
Silver: Kiplagat
Bronze: Dibaba
Other events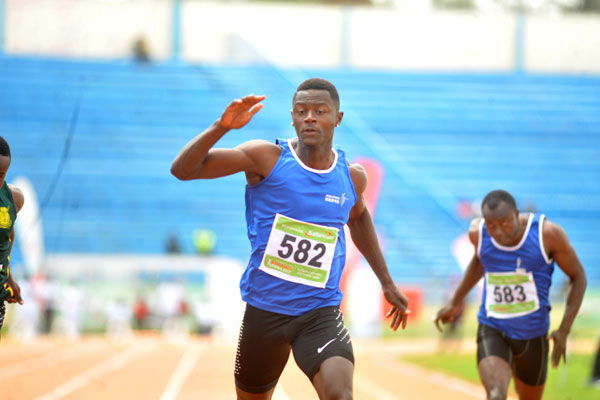 Kenya rarely enters runners in the 100m. This time however Kenya will be represented by the charismatic Mark Otieno who set a new Kenya record at 10.14. Otieno's aim will be to lower the Kenya record again perhaps with a milestone time that will see him become the first Kenyan to dip under 10.10. A semi-final place for him will be a huge achievement. Otieno is also entered in the 200m where his personal best is 20.41
In the women's 400m, Maximilla Imali will be looking to be the first Kenyan to excel in this event since Ruth Waithera reached the Olympic final in 1984. Imali broke Waithera's 33 year old record by clocking 51.18 8 Feb 96 51.18.
The trio of Raymond Kibet, Collins Omae, Boniface Mweresa will represent Kenya in the 400m. Unfortunately, all Kenyan relay teams have been dropped from the competition.
Julius Yego, who won the silver medal at Rio 2016 and the gold at Beijing 2015, should never be counted out despite having had a below par season.
Full Team
Women's 10,000: Agnes Tirop, Irene Cheptai, Alice Aprot
Men's 10,000m: Geoffrey Kamworor, Bedan Karoki, Paul Tanui
Men's 100m: Mark Otieno
Men's 200m: Mark Otieno
Women's 5000m: Hellen Obiri, Margaret Chelimo, Sheila Chepkirui
Men's 5000m: Cyrus Ruto, Davis Kiplagat, Kiprono Menjo
Women's 400m: Maximilla Imali
Men's 400m: Raymond Kibet, Collins Omae, Boniface Mweresa
Men's Javelin: Julius Yego
Men's 1500m: Ronald Kwemoi, Timothy Cheruiyot, Elijah Manangoi, Asbel Kiprop
Women's 1500m: Faith Chepn'getich, Winnie Chebet, Judy Kiyeng.
Women's 3000m Steeplechase: Cellphine Chespol, Beatrice Chepkoech, Purity Kirui, Hyvin Kiyeng
Men's 3,00m steeplechase: Conseslus Kipruto, Brimin Kipruto,
Jairus Birech, Ezekiel Kemboi
Women's 800m: Margaret Nyairera, Eunice Sum, Emily Cherotich
Men's 800m: Emmanuel Korir, Kipyegon Bett, Ferguson Rotich, David Rudisha
Men's walk race: Samuel Gathimba, Simon Wachira
Women's race walk: Grace Wanjiru
Men's Marathon: Daniel Wanjiru, Geoffrey Kirui, Paul Lonyangata
Women's marathon: Edna Kiplagat, Hela Kiprop, Flomena Cheyech.