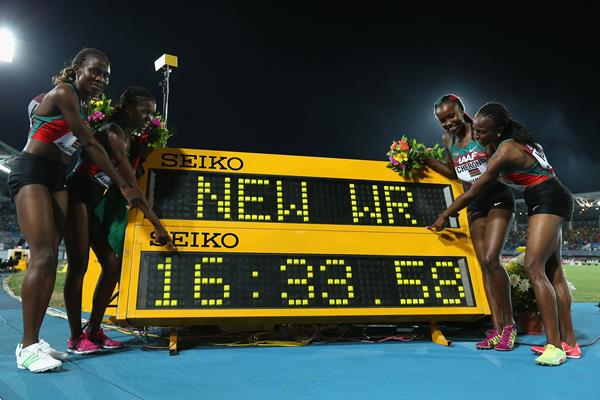 The Kenya women's 4 X 1500m team at the inaugural world relay championships in Nassau Bahamas,  annihilated the rest of the field and in the process absolutely smashed the world record. The previous record of 17:05.72 was set in April by Kenya. The new record is a massive 32 seconds at 16:32.58
Mercy Cherono the former world junior champion in the 5000m ran the first leg at a steady pace. She was closely followed by the Austrialian and even when she upped her pace, the Australian hung tough close to Cherono. By the time Cherono handed the baton to Faith Kipyegon, Australia was only one metre behind Kenya.
As the second leg started, the Australian team continued to closely tail Faith Kipyegon through the first 800m of this leg. However at the 800m mark, Kipyegon suddenty shifted gears and picked up the pace. This time Australia had no annswer as Kenya started to open up a gap on the field. Kipyegon completed her leg with a strong finishing kick over the last 100m before handing off to Irene Jelagat.
Irene Jelagat who is a former world junior champion in this event ran her entire leg at strong but steady pace. Kenya's gap on the rest of the field increaded to well over 100m when Jelagat was running the third leg. By the time she handed the baton to Hellen Obiri, everyone knew that Kenya would win the gold medal barring a catastrophe. The only question is whether they would break the world record.
Obiri took off and showed immediate intent. But it was not until there were 150m to go that the crowd realized that Kenya were within world record pace and the entire crowd rose in anticipation as Obiri.
For breaking the world record, the Kenya girls won a bonus of $50,000 in addition to the $50,000 they got for winning the gold medal
The competition did not materialize.
Prior to the beginning of the race , most pundits fancied the USA to give Kenya a torrid time. However throughout the race, USA did not even come close to challenging the Kenyans. In the end, brilliant Kenya finished a good 22 seconds ahead of the Americans.