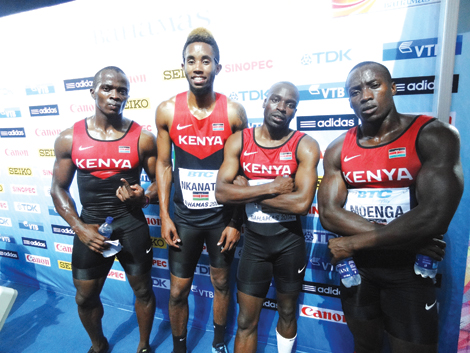 Kenya's 4 X 200m team for the inaugural world relay championships in Nassau Bahamas were initially not even included as Athletics Kenya sought to send only long distance teams. But even after they were included , not much was expected of them, even with the inclusion of USA based Carvin Nkanata who recently broke the Kenya record with a new time of 20.17.
However team Kenya which comprised of Steven Baraza, Walter Moenga, Tony Chirchir. and Nkanata first shocked pundits by finishing third in the heats ahead of Japan. Nigeria and Germany were disqualified. This is a credit to Kenya. The fact that Kenya performed the baton passes well and stayed in their lanes is a credit to the team since they had not had much time to practise with USA based Nkanata who joined the team only a day before the competition.
In the end Kenya finished a creditable 5th position with a time of 1:22.35, the best of any African country. It puts Kenya above sprint giants like USA, Great Britain, Bahamas, Trinidad and Canada
The four points garnered by Kenya are crucial as Kenya pursues the golden baton award which will be given to the country with the highest number of points.
It goes to show that as this column pointed out earlier, Athletics Kenya should give sprinters the respect they deserve