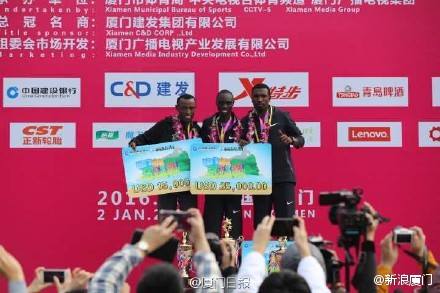 Over the past two decades,Kenyan marathoners have dominated city marathons especially IAAF golden label races.  It appears things will not be much different in 2016. The year started with yet another Kenyan, Vincent Kipruto winning a IAAF golden label marathon race: Kipruto won the Xiamen marathon on Saturday January 2.
To win, Kipruto had to stave off a strong challenge from a group of Ethiopian runners who went neck and neck with him from the 10 kilometre marker : Feyisa Bekele, Shura Kitata, Abdela Godana, Alemu Gemechu and Gebre Mekuant
The initial leading group of 13 men passed 10km mark in 30:35. The leaders went on to hit 15km in 45:56, 20km in 1:01:31, 25km in 1:17:11 and 30km in 1:32:30.. Gemechu dropped off the pace at the 36km mark. Godan then dropped off at the 39km mark. By this time, only Kitata was left to battle with Kipruto. The two went neck and neck until the last 200 metres when Kipruto found an extra reserve of strength to permanently take the lead. He came home in 2:10:18. Kitata was second in 2:10:20.
"I am very impressed and happy about my performance. I haven't won for a long time and this time I won, so I am very happy," said Kipruto, whose only marathon finish in 2015 was a lowly 14th at the Paris Marathon in April.
Kipruto who has a personal best of 2:05.13, now has four career wins in the marathon in fifteen attempts. Previously he won in Paris in 2009 and then Otsu and Frankfurt in 2013. He won a silver medal at the 2011 IAAF World Championships marathon.