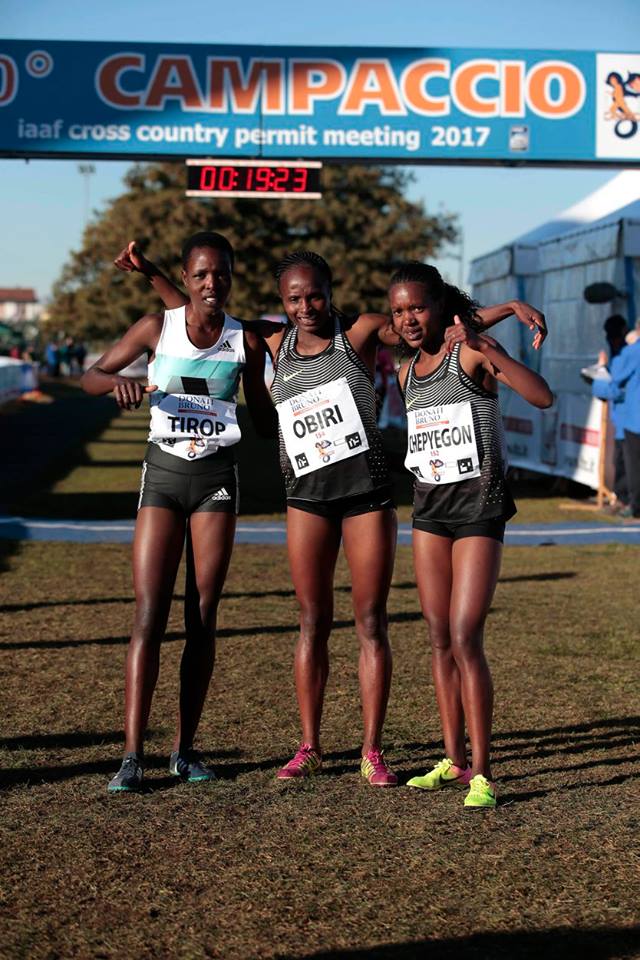 The cross country season has kicked off in high gear. And Hellen Obiri, whoc clinched the Olympic silver medal after moving up two distances to the 5000m, picked up from where she left off in 2016.
She won the the 60th edition of Campaccio, an IAAF Cross Country Permit meeting, in San Giorgio su Legnano on a sunny and cold Friday. She beat a strong field to win the 6km race in 18:36. It was a strong field that included Olympic 1500m champion Faith Kipyegon, world cross country champion Agnes Tirop and Ethiopia's world championship silver medalist Gelete Burka.
Obiri, Kipyegon, Tirop, wBurka, Etenesh Diro and Enatinesh Alamirew were in the leading pack at the 2km mark. Obiri and Kipyegon then broke away at the 5km mark before Obiri made her move to finish four seconds ahead of Kipyegon.
The win is a good sign for Obiri as she continues to shift her focus to the longer distances.
Results
1 Hellen Obiri (KEN) 18:32
2 Faith Kipyegon (KEN) 18:36
3 Agnes Tirop (KEN) 18:56
4 Gelete Burka (ETH) 19:01
5 Enatnesh Alamirew (ETH) 19:13
6 Etenesh Diro (ETH) 20:11
7 Sara Dossena (ITA) 20:33
8 Valeria Roffino (ITA) 20.40
9 Giulia Viola (ITA) 20:41
10 Sara Brogiato (ITA) 20:51
The men's race was won by Mukhtar Edris of Ethiopia with Steeplechasewr Jairus Birech finishing third.