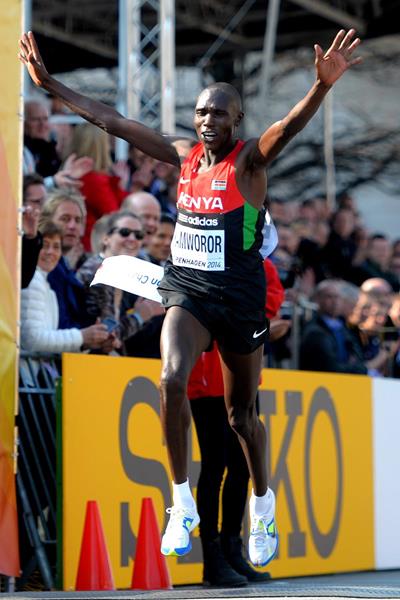 New sensation, 21 year old Geoffrey Kipsang Kamworor won the world half marathon championships in a time of 59:07, which is an amazing time considering that there was no rabbit. The time was the fastest time recorded for a half marathon in 2014. It was a good 13 seconds ahead of the second placed finisher, Tsegay of Eritrea. 59:07 is the 4th fastest time in the history of World Half marathon championships. It is also the second fastest winning time in history.
Pre-race favourite Zersenay Tadesse of Eritrea was fourth. The second best Kenyan was Wilson Kiprop who was sixth. Eritrea won the mens team event with Kenya finishing second.
Kenya Girls dominate
Kenya occupied the top five positions in the womens event. 30-year old Cherono, who won silver in the women's 10,000 at the Moscow World Championships last summer, won gold in 67:28 as she turned the tables on Mercy Wacera (silver in 67:43) who had edged her for the title at the World's Best 10k last month (32:06 to 32:09). This is the e first time in history of World Half Marathon Championships a nation swept the medals in the women's race.
Kenya Dominance
For the fifth time in history KEN won both men and women's race in the World half Marathon. Previously then won both in 2010, 1999, 1998, & 1997.