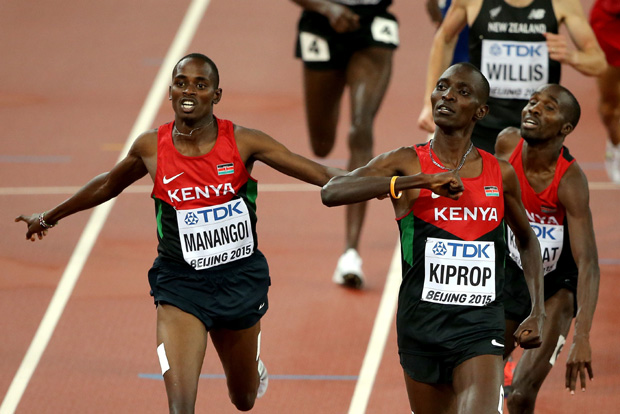 Never in the history of Kenya sports has an athlete gone from grace to disgrace in the manner that Asbel Kiprop has gone. Never has there been a more calamitous and precipitous fall.
It is calamitous because Kiprop is a big athlete, renown all over the world and one of the most recognizable Kenyan athletes. As such his positive doping test casts doubt not only on his own achievements but also those of other great Kenyan athletes.
It is precipitous because Kiprop was a man of great achievements. He is easily the most accomplished metric miler Kenya ever produced. He may not hold the Kenya record in the metric mile (that belongs to Bernard Lagat), nor the dream mile (that belongs to Bernard Lagat). But his achievements surpass those of any Kenyan miler in history.
3 time world champion (2011, 2013, 2015)
Olympic gold medalist (2008)
Africa Champion (2010)
World cross country champion (2007 Junior Race)
All Africa games champion (2007)
IAAF world relay champion
Member of the world record setting 4 X 1500m team
3rd fastest time ever in the 1500m
He showed amazing consistency over a period of nearly 10 years. Only for all that to be flushed down the drain by a positive doping test. Though his records and medals will not be erased, he has now lost chance of being considered an all time great. And all his performances are now in doubt. People will ask which if any of his performances were legit and which ones were aided by drugs.
Kiprop, understanding this, was on social media defending his past performances.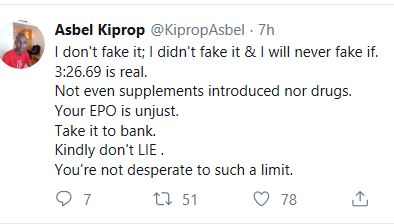 And this is the shame of it all. The man was clearly talented. His talents were obvious when he first appeared on the scene in 2007, winning the world cross country title in commanding fashion with not a challenger in site. A year later he would win Olympic gold after the original winner , the ex Moroccan Bahraini Rachid Ramzy was disqualified for doping.
By 2016, Kiprop had accomplished a lot and had he even retired, he would have left as an all time great. And he likely has made enough money which if well invested, can last him the rest of his life.
By 2017, Kiprop's performance had started to wane. This is likely because after a decade of running at the top level, his body had started to break down. This is normal. Few if any athletes are able to keep injuries at bay for 5 years much less 10 as Kiprop did.
It is possible that he started to use EPO when his performances started to wane. Which is a shame because that lapse of judgment has cost him his legacy and any future money making opportunities including sponsorship and endorsements.
Such is not the case with other athletes who were caught doping. There are Kenyan athletes who have come out of nowhere and in their late 20s, started to win major city marathon's even setting world records or course records. Such a progression is completely abnormal and when they did fail doping tests, it came as no surprise. But Kiprop's doping positive is such a shame because he was clearly talented enough to win without doping.
Meltdown
Kiprop put up a spirited defence but it was to no avail and he was handed 4 year van. After the 4 year ban, Kiprop was in distress, posting threatening messages on twitter.



Poor Judgment
And in hindisght Kiprop's lapse in judgment is not shocking. He has had previous run-ins with the law and societal norms which made many question his judgment.
In 2018 he was in a love affair with the wife of his pacemaker, Michael Rotich and even posted a video of the two of them together in a compromising situation.
In 2014, it was reported that he kidnapped his ex-partner Sammary Cherotich at gunpoint and threatened to kill her.  Cherotich stated that he has been abused and physically and emotionally several times by Kiprop. It is worth noting that she had a promising running career after having been world junior champion. But Kiprop got her pregnant at 16. Kiprop was 19 at the time. The pregnancy ended Cherotich's running career.
Also in 2014, Kiprop who is also a police officer,allegedly entered into a bar in Iten town on Sunday night past the stipulated drinking hours and forced his way into the social joint while drunk.
At the time, this author wrote an article stating that Kiprop risked losing his career due to his constant lapses in judgment. Below is the article from 2014.
Someone please advise Asbel Kiprop before he loses his career