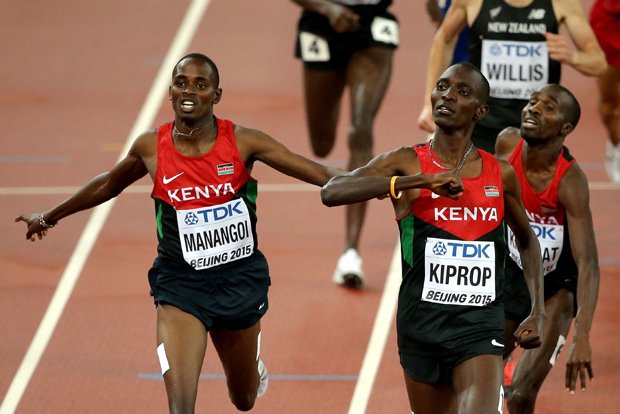 May-3-2018 will go down as an infamous day in the annals of Kenyan athletics. That was the day when it was announced that Asbel Kiprop had failed a doping test. The revelation came from a British newspaper which indicated that traces of the blood booster EPO were found in Kiprop's sample.
Kenya's brief history of doping cases
Unlike European and North American countries, Kenyan runners had been relatively clean until fairly recently. In fact until 2013, no Kenyan Olympic or world championship medalist had ever been busted for doping. So Kenyans could make the claim that all their Olympic and world championships medals were clean. Then in 2017 came the earth shaking news that Olympic gold medalist Jemima Sumgong had tested positive for EPO.
In the past two decades, Kenyans had been prominent winners of various city marathons and half marathons. Kenyans were especially dominant in the marathon majors like London, Berlin, Chicago and Boston. None of these Kenyan marathon major winners was ever suspected of winning by cheating. Then in 2014, Rita Jeptoo was busted for doping. She was promptly stripped of her Chicago and Boston Marathon titles.
There had been other less prominent doping cases such as former Rotterdam champion Susan Chepkemei, Mathew Kisorio and Emily Chebet.
Cosmas Ndeti was the first Kenyan ever suspended for doping. This happened in 1988 during the world cross country championships where traces of Ephedrine were found in his sample. But this was before Ndeti became a prominent city marathon winner. And Ndeti never represented Kenya in a major global track or road event.
Asbel Kiprop's case is the most devastating
Asbel Kiprop is the most accomplished Kenyan miler having won the gold medal at the 2008 Olympics while only 19 and also going on to win the world championships three times in 2011, 2013 and 2015. He is one of the most recognizable Kenyan runners.
His positive test now casts doubt on the achievements of other prominent Kenyan athletes. This is especially true since it comes so close to Jemima Sumgong's positive test. One cannot help but notice that our neighbours to the North, Ethiopia have never had a positive test among their prominent athletes.
As a result, many across the globe are now questioning whether much of Kenya's success is based on doping.This could have a significant effect on other Kenyan runners. If Kenyans are seen as cheaters, then even clean Kenyan athletes will suffer. Kenyans will lose their prestige. They will be invited to fewer events and command less appearance fees. It is for this reason that the government must take this issue seriously. Asbel Kiprop's case must be investigated to the fullest extent by the government.
Kiprop's reaction
Asbel Kiprop has claimed that he is completely innocent and is being framed and that his sample was tampered with.
"I have read the reports linking me to doping," Kiprop said, according to The Guardian. "As an athlete, I have been at the forefront of the fight against doping in Kenya, a fight I strongly believe in and support. I would not want to ruin all what I have worked for since my first international race in 2007. I hope I can prove that I am a clean athlete in every way possible." he said in a press conference.
It is indeed difficult to understand why Kiprop whose legacy was already set, would want to flush all his career achievements down the drain. If he did indeed dope, it is highly disappointing. In 2017, the Fancy bears hack of the IAAF database showed that Kiprop was already being suspected of doping because he had an irregular biological passport.
"The achievements I made are crumbling before my own eyes for a crime that I have not committed" he said to Reuters
Kiprop went on to describe how his personal life has been affected.
"A mixed perception has been created by these allegations," he added.
"As a consequence, I find it very difficult to walk in public, to look up the main media and social media and to generally carry on with my daily activities."