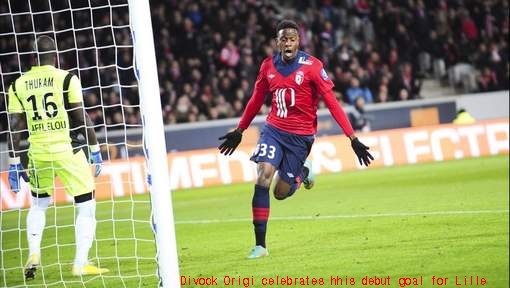 The sudden rise of Divock Origi from the youth ranks of OSC Lille to the starting line-up has excited thousands of Kenya football fans who are now calling for Divock to don the Kenya national team colours. Many of these are rightfully tired of the dismal performance of the national team. The last time Harambe Stars excited the Kenya public was in 2003 when they went on a winning run that culminated in qualifying for AFCON 2004 thanks in large part to the heroics of one Dennis Oliech.
It is therefore understandable that a fan base starved of success would like to see the rising star Origi in a stars uniform. Throughout the blogosphere fans have called on FKF to ensure that young Origi is capped by Kenya before Belgium snaps him up. A writer in a popular blog even said that Belgium should not be allowed to snatch Origi whom this writer erroneously claims was born in Kenya.
Sam Nyamweya, the FKF chairman said "I will talk to the Government to ensure that he is given a passport and I have a feeling he wants to play to Kenya. The new constitution allows dual citizenship and he is still a teenager so he can choose which country to play for," FKF boss Sam Nyamweya said Friday.
According to Nyamweya, a formal approach had been made to the player's family.
All this is most likely wishful thinking given that young Divock has been part of the Belgian youth setup and is therefore at senior level, he will be more inclined to line up for the red devils as Belgium's national team is popularly known.
There are many talented youngstars in Kenya
With a population of 40 million people, there are hundreds upon hundreds of talented youngsters out there are many of whom are just as talented as Divock or more talented.
The difference is that Divock Origi has been going through structured youth development from the time he was in his pre-teens. Once his talents were discovered, the Belgians put him through the U15, U16 and U19 teams where he refined his technique and learned how to play structured team football, sharpened his strengths and eliminated bad habits.
Most Kenyan players do not undergo structured youth development. As a result, Kenya players are of a low calibre. Poor technique, poor ball control, poor positioning and tactical naivette are the hallmarks of the Kenya football player
Gor Mahia coach Zdvarko Logarusic in 2012 marvelled that Gor Mahia players did not understand tactical aspects of football that even 14 year olds in Europe know.
Frenchman Bernard Lama during his brief ill fated stint as Harambee stars coached remarked at the poor technique and ball control of national team players.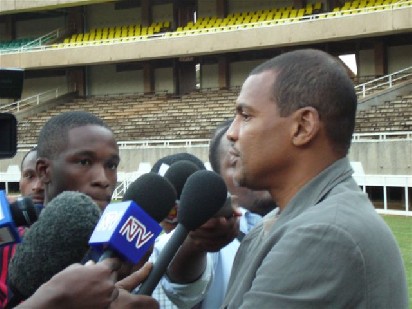 It is no wonder therefore that Kenya players cannot cut it in Europe. Top Kenya players like Allan Wanga, George Odhiambo "Blackberry", Jamal Mohammed, Kevin Kimani etc have all failed to make their mark in Europe. Patrick Oboya is stuck in the Czech second tier. Yet all are very talented players and among Kenya's best. But once they go to Europe, their lack of fundamentals are exposed. Most other Kenyans who attend trials in Europe never pass trials.
When George Odhiambo arrived in Denmark he told journalists he was eager to showcase his dribbling skills. Dribblers typically do not thrive in places like Scandinavia because defenses are geared towards stopping them. Dribbling is a good skill to have but teams now place more emphasis on players with good technique, close control, tactical awareness and the ability to think and run at the same time. These are skills that are drilled into European players during their formative years in youth development schemes.  It comes as no surprise therefore that Blackberry did not make it in Denmark.
Oliech made it in the French top league due in large part to his natural talent and his breathtaking speed. Kenya has many talented players but Oliech's talents were exceptional. Nevertheless Oliech was very raw when he first arrived in France. On some occasions, he was almost dropped by his team and was on his way back to Qatar. He has however worked hard on his technique and the improvement has been noticeable. Watch him on videos and you can now see him shoot and score with his weaker left foot. He is now two footed which is an essential skill needed to succeed in Europe . Most Kenyan players can only play the ball with one foot. Oliech's talents are such that had he gone through structured youth development, he might have been one of the best strikers in the world.
Aside from Oliech the the other Kenyans who have made it in top European teams  have been defensive midfielders: Mariga, Wanyama, Robert Mambo and Patrick Osiako. It is virtually impossible for a Kenyan striker or attacking midfielder to make the cut at top European teams.
The fact that the top scorer in the KPL typically scores a paltry 14 goals is further evidence of lack of quality. Kenya strikers lack the refined technique needed to be good finishers. They do not understand how to position themselves to score. The Play makers lack the ability to make the precise passes and pinpoint crosses that create scoring chances. Oliech scores quite often in the French league despite the fact that he does not play as a striker. yet he has difficulty scoring when he plays for Kenya. This is down to the absence of good play-makers in the Kenya setup. Whereas he receives precise pinpoint passes from play-makers in France, he receives wayward passes in Kenya.
It is not that Kenya players lack talent. It is that those talents have not been refined via structured youth development. Sports is no different than academics in this regard. A person may be a good mathematician. But if he never gets good instruction from standard one to form four, his Maths skills will be shoddy. And when learning a language, it is easier to become fluent of you start in childhood. Those who learn a new language in adulthood typically have extreme difficulty and speak with a thick accent. This is the situation most Kenyan players find themselves in. They have been playing unstructured football throughout their lives. By the time they reach age 19, they have picked up many bad football habits and their weaknesses are ingrained. Even if they get a good coach in their early 20s, it is often too late. For example, most Kenyan players cannot shoot cross or pass with their weaker foot. A one footed striker can thrive in Kenya but in Europe, defenders will exploit that weakness. In Europe, 12 year old players perform shooting and passing skills with their weaker foot such that by the time they are 19, using their weaker foot is second nature.
Kenya: A permanent absentee in youth tournaments
The Africa youth championships for players under 21 have been played every 2 years since 1979. In the 34 years of its existence, Kenya has never featured. In fact in most of those 34 years, Kenya never fielded a team during qualification. Somalia have not only qualified but reached the semis once. Burundi were once runners up. Ethiopia have reached the semi finals of this youth tournament four times. At under 17 level, Rwanda qualfied for the FIFA U17 tournament in 2011.
Without even having youth teams that can act as feeder teams to the senior national team, it is difficult to see how Kenya football can progress. Yet successive FKF / KFF administrations have not seen it fit to take youth football seriously. Most have completely neglected it.
Sam Nyamweya's FKF did better by fielding a team in the last qualifying campaign. They lost 3-0 to Egypt. Later in a tournament in South Africa, they lost all three games conceding a total of 9 goals and scoring none.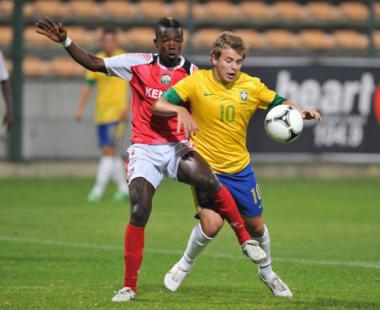 Nyamweya is however a vast improvement from his predecessor Mohammed Hatimy under whom Kenya never played in any youth tournament and whose sole focus was organizing lucrative friendlies in which he and his cohorts could pocket cash. The KFF chairman before Hatimy was Alfred Sambu who was simply an absentee chairman who never spared a thought for youth football. And before Sambu was the dreadful Maina Kariuki who nearly killed the sport in Kenya at senior level talk less of youth football.
 Only foreigners seem interested in youth development.
The only occasions that Kenya had decent youth development or even youth teams was due to the efforts of foreigners. The German Bernard Zgoll established the Olympic youth development centers in the early 1980s. The centres existed in Kenya's major towns and produced a generation of talented players like Wilberforce Mulamba, Sammy Owino, Sammy Taabu all who went on to become top class players.
As has been mentioned on this column, the best U20 team Kenya ever fielded was thanks to Austrian Gerry Saurer who went to the grassroots and unearthed players like Sammy Omollo, Allan Odhiambo, Tony Lwanga, Tom Odhiambo, Peter Mwololo etc and turned them into international calibre players.
Mathare Youth Sports Association was started by Bob Munro who is now a full Kenyan but was originally Canadian.
At club level, the only top team that seems to make an effort in youth development is Thika United. The last time Gor Mahia had a permanent youth team was under Len Julians in 1984 and Peter Pampuro in the 1970s. As far as this writer knows, AFC Leopards has never had a permanent youth team.
One player cannot make a big difference.
One good player does not make a team. In the unlikely event that Divock Origi is somehow convinced to play for Kenya, he cannot carry the team on his own.  For Kenya to become a football power, the country needs a continuous pipeline of good players coming through the ranks. A good player of Origi's calibre will not be effective if he is playing with players who are not at his level. Therefore having Divock Origi on the team will not work miracles. Dennis Oliech scores quite often in the French league despite the fact that he does not play as a striker. In Harambee stars he plays as a striker yet has difficulty scoring. The lack of playmakers who can create chances and deliver precise passes to strikers is the primary reason. Again this is due to lack of players with refined passing skills, tactical awareness and vision. This can be corrected via structured youth development.
What is the solution
Rather than hope that Origi will spurn Belgium and play for Kenya  Harambee Stars fans should pressure Sam Nyamweya and FKF to come up with a program for youth development in Kenya.
So far Nyamweya's emphasis has been at the top level. He even went as far as hiring Frenchman Henri Michel at a cost of Sh 80 million. If that kind of money was available, it would be better spent setting up youth development structures. Football should be developed from the bottom up and it requires patience.
Further to that, Kenyans should ask the government to expand on the UNICEF sponsored talent development centers. At present, only 2 or 3 such centers exist. This simply is not enough.Contrast this with Europe where each football club has youth structures that span all the age groups from U12 to U19. This means that a country like England has 3 dozen youth schemes each with hundreds of youth. Virtually every player in the top European leagues has been through such youth schemes. No wonder the quality of play is higher.
Ideally there should be talent development centers in each county to tap the best available talent in each county and expose them to structured youth development. Nairobi alone with a population of 3 million should have a minimum of 3 such centers if not more.
A well run youth development scheme at county level can make money by selling players to Kenya Premier league teams and possibly even to European teams.
If each county or even half the counties have youth development schemes, you could even have an inter-county youth tournament that is sure to draw crowds. Because of people's natural affinity to their home counties, such a tournament could draw larger crowds than the Kenya Premier League which has mostly corporate teams.
The KPL U19 tournament is a sham
The Kenya Premier league once started a U19 tournament whereby each club was required to field a team. The tournament lasted only a few weeks which means most KPL teams hurriedly assembled a team then disbanded it once the tournament was over. A youth tournament that lasts one month is not youth development and does not contribute towards creating good players.  To make matters worse, the KPL U19 tournament is now defunct. Rather than simply have a U19 tournament, KPL should use some of its sponsorship money to assist each team in creating a permanent youth development scheme. The result will be a higher level of play in the league.
 Moral of the Story
The moral of this story is that if Kenya takes some steps towards structured youth development, the country could produce several players of Divock Origi's calibre that could lift Kenya from oblivion. There is plenty of talent amongst Kenya's 40 million people but it is all being wasted.
Therefore rather than pressure Nyamweya to bring Divock Origi to Kenya, let Kenyans pressure him and others in authority to start taking youth development seriously. Kenyans should also encourage wealthy philanthropists and companies to invest in the UNICEF sponsored talent development initiative to expand them and set up new ones.
A company like Standard Chartered bank could endear itself to Kenyans by investing in Kenyan youth instead of a five-a-side  for corporate types that is of no benefit to Kenya football.