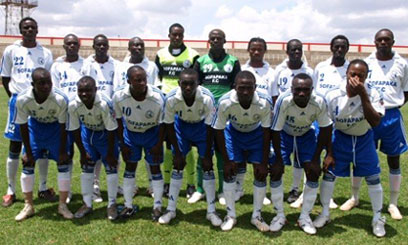 Sofapaka FC has captured the imagination of Kenyan public within a very short period. Known popularly as Batoto ba Mungu which means Children of God in Congolese Swahili (Kingwana), the club won the Presidents cup in 2007 while still in the lower divisions. They went on to win the national league in 2009. They won they supercup in 2009 and the FKF cup again in 2010.
In 2011, they reached the playoff round of the CAF confederations cup, after eliminating notable teams  like Aviacao of Angola, Ismaily of Egypt and Lupopo of Congo and came within a whisker of eliminating Club Africain of Tunisia.
Besides their impressive record, the team has also produced some of the best players to emerge from the Kenya football scene over the past few years. Players like Humphey Mieno and Bob Mugalia first made a name for themselves at Sofapaka, while others like Titus Mulama and Osborne Monday have also donned the club's jersey.
Despite this enviable success, Sofapaka like most Kenyan teams often find themselves playing to sparse crowds. Case in point, a midweek match in May of 2012 pitting Sofapaka and Tusker was attended by 72 fans. Yet this was a top of the table clash that should have drawn thousands.
This is hardly surprising because Sofapaka has not made any efforts towards building a fan base.
Identify with a geopgraphical area
The easiest way to do this is to identify the club with a geographical area. In the 1970s, teams like Black Mamba and Hakati sportiff often played to packed houses at City stadium because they represented the Kaloleni/Makongeni area. Thus residents of this area identified closely with these teams and attended matches with devotion.
There are several areas which are ripe for a football team. Nairobi Eastlands area is a vast homogenous area with a population of close to 1 million. Sofapaka could identify itself as the team that represents Eastlands and change its name to Eastlanders or something along those lines.
The English premier league teams based in London typically represent sections of London. Thus most Arsenal fans are from North London. Chelsea fans are usually from central London and West Ham fans are paradoxically from East London. The rivalry between the various sections is partly what makes these fans very passionate about their teams.
How about Mombasa ?
Fans in Kenya's second largest towns are very passionate about football. Far more passionate than their Nairobi counterparts. Each time a Mombasa team qualifies for the league, a group of committed fans coalesces around it. Such has been the case with teams like Congo Boys and Bandari which despite performing poorly in the league, quickly built a band of committed fans.
The last time Mombasa had a good team was in the 1970s when Mwenge finished 3rd in the league. Since then Coastal fans have been starved of success yet they still attend matches with devotion. Should Sofapaka move to Mombasa and change their name to something like Coast United or Mombasa stars, they will quickly create a fan base.
Why build a fan base ?
Having a decent fan base helps the club generate revenue via gate receipts, merchandize sales and other revenue streams.
Without having a group of committed passionate fans who feel a sense of connection and loyalty to the team, Sofapaka has no chance of drawing crowds.
And without a fan base, the club has no future:  Clubs that are owned by inidviduals typically cease to exist when the owner looses interest or goes broke. On the other hand a team with a significant fan base is less likely to be disbanded. Case in point: When Gor Mahia and AFC were facing hard times and even relegation during the early part of this millenium, they still survived because the committed fan base still wanted them to survive.
 It is good for the league
Community teams i.e those that draw their fans from a certain geographical area are more likely to draw large  crowds, large television audiences and thus generate more revenue for the league via sponsorship.
The local Kenyan league was at the height of its popularity in the 1960s and 70s. This was the heyday of community teams like Nakuru All Stars, Kisumu Hotstars, Feisal of Mombasa, Luo Union, Maragoli FC, Abalauhya and Gor Manhia. The rivarly between these teams and the large fan bases they had ensured the league was healthy.