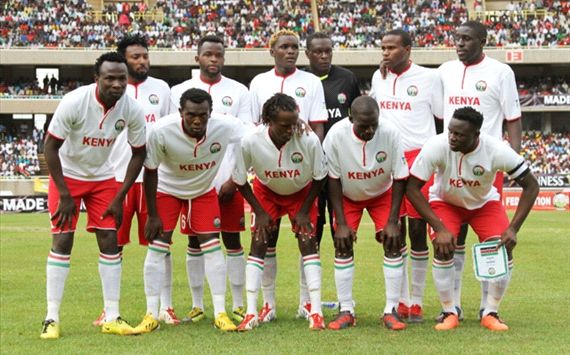 It is not worth pouring to the streets in jubilation. But Harambee Stars fans can at least afford to smile. Their team which has been in a quagmire of pathetic results is finally showing signs of rising from the sewer. The past 8 years or so between 2004 and 2012 have been years of humiliation for Stars fans with losses to the likes of Eritrea, Equatorial Guinea, and multiple losses to Uganda.
But the past year or so has seen a resurgence in the fortunes of Harambee Stars. To be sure, the renaissance begun before the arrival of coach Adel Amrouche. It started with Coach James Nandwa who took a second tier Harambee Stars to the brink of winning the 2012 CECAFA cup, including a win over Malawi in the quarter finals. It was a second tier team because then coach Henri Michel decided that the CECAFA cup was not worth his time so he decided to take the first team for preparations for the CHAN.
Then there was the tour to Libya in which Kenya inexplicably beat Libya 3-0 with a double from Oliech and a goal from Paul Were.
And before you know it, many fans started saying that there was no need for a foreign coach and that in fact James Nandwa should take over as head coach. That of course ended when stubborn Burundi eliminated Kenya 1-0 on goal aggregate in the CHAN.
Enter Adel Amrouche and in his first match, Kenya almost achieved the impossible. They nearly beat Nigeria away before conceding an injury time equalizer. Kenyans were impressed on several fronts. To begin with Nigeria and Egypt are the two teams that constantly give Kenya nightmares. Almost every match against Nigeria seems to end in an 0-3 loss. And here was Harambee Stars daring to tie 1-1 with the Nigerians.
Secondly, Kenya showed a tactical discipline that they have not shown in a long time if ever. Thirdly, Kenya's away record has been nothing to write home about. No one gave Kenya a chance against Nigeria in Calabar. But Kahata's sublime free-kick changed that. Of course there were solid performances on that day from David Owino, Mulinge Munandi, Oliech, Wanyama and others.
In the return leg, Kenya again fought gamely but ended up loosing 0-1. Disappointing but not the worst result. In 1985, Kenya played Nigeria in a world cup qualifier. That Kenya team with Joe Masiga, Wilberforce Mulamba, Bobby Ogolla, John Okello Zangi and Ambrose Ayoyi was far more talented that the 2013 edition. Yet on that occasion, Kenya lost to a Naija team 0-3 at home and 1-3 in Lagos. It was Rashid Yekini's first international season and he was to give Kenya nightmares in subsequent years. Kenya had the talent but the coach Marshall Mulwa was way out of his depth and tactically clueless. His own players actually said Mulwa was an excellent motivator but bereft of tactics. Therefore loosing 0-1 to Nigeria in Nairobi and drawing 1-1 in Calabar shows that Kenya has made progress at least tactically compared to the 6-1 loss in 1985.
Then there was the Wednesday game against Malawi in Blantyre. The fact that Malawi players were on strike reminded Kenyan fans of a similar scenario in a Africa Nations cup qualifier. After holding Malawi to a 0-0 draw in Nairobi, kenya players led by captain Austin Oduor went on strike and refused to train for the return leg saying they had not been paid. Only a few days before the return leg, the money was made available and Kenya boarded the flight to Lilongwe. Much to the shock of fans both in Kenya and Malawi, Kenya shocked Malawi 3-2 with a double from the speedy Anthony Ndolo. Malawi coach Clement Malola was left lamenting his team's inability to deal with Ndolo's pace. Had he done any homework he would have known why Gor Mahia fans had nicknamed Ndolo "Suzuki". The win enabled Kenya to qualify for the 1990 Africa Nations cup.
Back to 2013 and Kenya fell slightly short of repeating the same feat from the 1990 team. Still the 2-2 draw with Malawi in Blantyre gave stars fans a reason to smile. For one thing, Kenya rarely scores away from home. For two, Malawi has the upper hand over Kenya. In 37 appearances, Malawi has beaten Kenya 16 times whereas Kenya has won only six times. So forcing a draw in Blantyre was a big deal.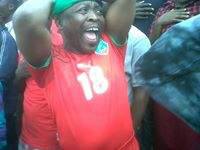 There is also the fact that Kenya was missing virtually all its top players: Oliech, Wanyama, Mariga, Origi, and even Patrick Oboya and Humphrey Mieno.
Whats Next ?
Kenya are set to play Namibia in the final world cup qualifier in which Kenya hopes to earn some revenge. There is also the COSAFA cup in which Kenya is set to make its debut and the CECAFA cup that Kenya is due to host and which Kenya has not won since 2002. With the current form, one can count on Kenya to bring that loosing streak to an end.
Above all, Kenya fans would like coach Amrouche to come through on his promise to build a strong Kenya team by identifying young talent from the grassroots and building on it. Fans will remember how Austrian coach/hotelier Gerry Saurer built such a team in 1990. He traversed the country and discovered players like Peter Mwololo, Tony Lwanga, Tom Odhiambo, Allan Odhiambo and Sammy Omollo, all in their late teens. The players Saurer recruited became the bedrock of the Kenya team for the next several years.
Its not yet Uhuru
Not even close. Without structured youth development, Kenya is doomed, to continue loosing to the likes of Nigeria. Not that despite holding Nigeria for 80 minutes, Kenya did not manage a shot on goal. And of course Kenya badly needs better organization and better coaches at club level. Many of the blunders that Kenya players commit are down to poor coaching at club level.
Lack of Strikers
Take Oliech out of the line-up and Kenya's frontline is as blunt as an old pair of shears. Ayub Timbe Masika, Kenya's Belgium based striker is not interested in playing because the 1st time he played, Sam Nyamweya and FKF did not facilitate his return to Belgium on time. When he finally made it back, his coach was furious and he almost lost his place in the team. Until Nyamweya and his ilk get their act together, Kenya may continue to loose. There are other Kenyan players who deserve consideration like George Odhiambo "Blackberry" who is reviving his career.