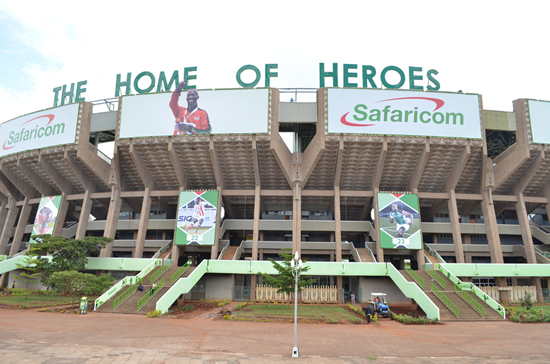 The Sports Stadia Management Board (SSMB) and Kenya Golf Union (KGU) have signed a trust deal that will see an ultra modern public golf course worth Sh200 million developed at the Moi International Sports Centre, Kasarani.
The facility will have a champion calibre 18-hole golf course, a club house, a golf academy with suitable driving range, a national golf headquarters facility and any other necessary additional facilities.
Okwara said that the 200 acre piece of land set aside at Kasarani had remained idle and time had come for it to be developed. The land is adequate to develop a golf facility of international standard. The public golf course is part of an elaborate master plan that will utilise over 1000 acres.
Suffice to say that most Kenyans will not be greeting this news with excitement. Most Kenyans would rather have seen the SSMB construct facilities. If it is true that the land was simply lying idle then SSMB should have sold off the land and purchased a new piece of land in Mombasa or other towns where a new stadium can be built.
Kenya needs stadia in other towns
Kenyan leaders have always made noises about hosting big tournaments like the Africa cup of nations or even a leg of the IRB sevens series.
The Confederation of African football (CAF) will not give Kenya hosting rights unless stadia exist in towns outside Nairobi. CAF made it clear as far back as 1994 when it first offered Kenya hosting rights for the 1996 ACN that the tournament has to be hosted in at least two towns.
The IRB sevens series cannot be hosted in Nairobi due to its high altitude. For Kenya to host a leg of this series, a modern stadium would need to be built at sea level and Mombasa seems the logical choice.
Hosting such tournaments would be a massive boost to Kenya's tourism industry. It would create employment opportunities for youth which Kenya badly needs given its 60% youth unemployment rate. It would also enhance Kenya's international prestige much like hosting the 4th All Africa games did.
Playing local matches at a decent world class stadium in Mombasa, be it the Kenya premier league or the rugby Kenya cup would also enhance the prestige of Kenya's  local leagues and draw more crowds to the games.
Aside from the ACN and the IRB sevens series, a second stadium in Mombasa could enable Kenya to seriously bid for other international tournaments such as the Africa U20 football tournament or
Stadia in other towns can be self sustaining
As has been shown recently, companies like Coca Cola and Safaricom will gladly pay the SSMB good money for naming rights. And if Kenya were to start hosting international tournaments, it is a given that the SSMB could draw even higher amounts for naming rights.
A national stadium in Mombasa would enhance revenue generation for the SSMB much more than a public golf course at Kasarani would. Hosting a single match involving Gor Mahia or AFC Leopards or Harambee stars there wouild generate millions of shillings, something a public golf  course simply cannot do.
Aside from sporting events, a stadium can be used for a myriad purposes that can generate revenue e.g. concerts, gospel crusades and trade shows.
All in all, Kenya would be better served if the SSMB focused on adding to their portfolio of stadia rather than spending time, money or valuable land on a golf course.