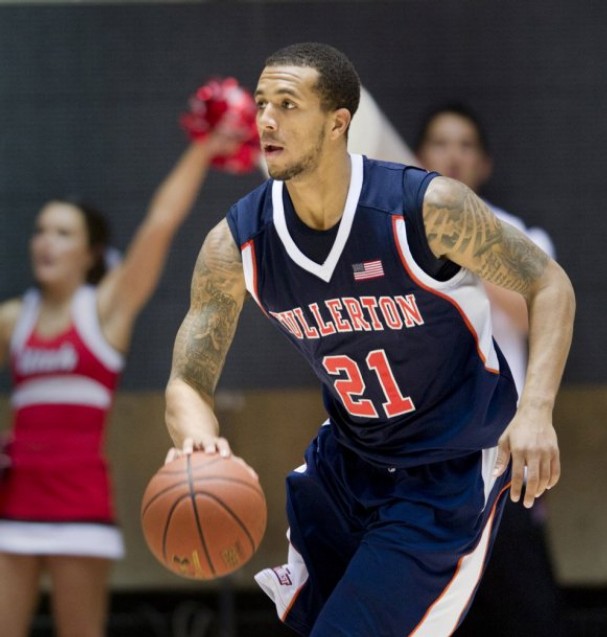 Omondi Amoke is a versatile college basketball player who is well known for his freakish athleticism, his superior strength and his ability to hussle. He is Six foot seven inches and weighs 225 pounds of pure muscle. As of 2012 he played for Cal State Fullerton in NCAA basketball.
Omondi Robin Amoke was born on June 3 1989 in Santa Barbara California . He attended Oxnard high school in Ventura County California. It was while at Oxnard that he first gained national attention:  As a high school senior , he was three-time Ventura County Player of the Year. He averaged 20.3 ppg, 13.4 rpg, 3 spg and 3 apg when Oxnard finished 21-6. He was named league MVP twice and first-team All-CIF three times. He was voted second-team all-state as a senior and rated the No. 13 small forward and No. 83 overall recruit in the country by ESPN.com. He was named the No. 25 small forward by Scout.com
Amoke was then recruited by the University of California Berkley (Cal), popularly known as the California Golden bears.  A school that has had in its ranks  NBA stars like Jason Kidd and Kevin Johnson. At Cal, Amoke earned a name for himself as an excellent rebounder. During his sophomore year (2009-2010), Amoke made it into the starting line up. He left Cal and sat out the 2010-2011 season before joining Cal State Fullerton for the 2011-2012. season. During his first season for Cal State fullerton, he averaged 10.8 points per game and an astoninishing 9.1 rebounds per game.
After completing his studies at Cal State Fullerton in 2012, Amoke has now embarked on his professional career. In Mid 2012, he signed with Macedonian team, KK Rabotnički. This is the most succesful basketball team in Macedonian history having won the Macedonian title a record 14 times since its inception in 1993.