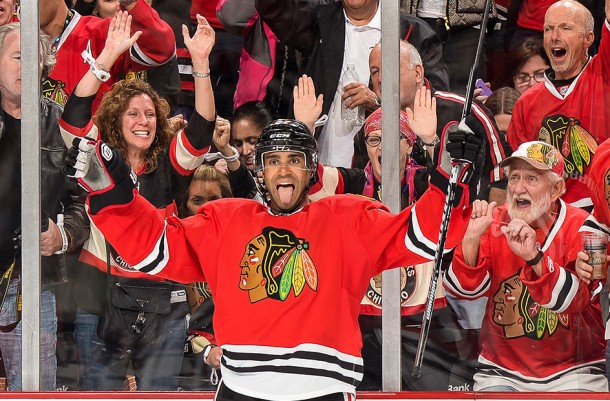 The Chicago Black hawks won the 2015 NHL championship also known as the Stanley cup. They did so by beating the Tampa Bay Lightning in a 7 game series. The NHL is the most competitive Ice Hockey league in the world. In the starting line-up was Johnny Oduya, a defensive stalwart of Kenyan descent.
Oduya played more minutes than most other players and often played while injured. He is known as a tireless work horse. He played over 26 minutes per game during the 2015 playoffs which is among the highest. His positional instincts and subtle skill allow him to function consistently for as many minutes as are required of him.
Oduya has played three seasons with the Chicago Black Hawks. During his three full seasons in a Blackhawks uniform, Oduya has been part of two Stanley Cup-winning squads and another that fell just short of making it three consecutive trips to the Final. He was champion in 2013 as well.  He is an excellent shot blocker. He is a methodical penalty killer. Salarwise, Oduya made $2.825 million this past season
Background.
Johnny Oduya was born on October 1, 1981 to a Swedish mother and a Kenyan father. His father George Oduya was a journalist. His elder brother Frederik Oduya was also a professional ice hockey player.
He is a long serving member of the Swedish national team, steering them to 3rd place on the 2009 world championships and a silver medal at the 2014 Winter Olympics.