By the mid 70s Franco was now one of Zaire's wealthiest citizens. He was heavily into the real estate business and owned property in Belgium and France. More importantly He owned Kinshasa's four largest and most popular nightclubs, the biggest of which was Un-deux-trois.

The band played there every weekend to full audiences. Then for unknown reasons he converted to Islam and adopted the Islamic name Abubakkar Sidikki. Though a muslim by word , Franco never practiced Islam. In late 1975 , singer Ndombe Pepe Opetum joined Ok Jazz to fill the void left by Mangwana.

1976 saw the arrival of yet another talented singer in Ntessa Dalienst Zitani as well as guitarist Gerry Dialungana. Dalienst had been playing with Festival Macquisards , which was one of the hottest groups at the time. Among those who played at Macquisards were Kiesse , Dizzy , Jerry , Michelino and Matalanza. Franco is rumoured to have caused the break up of the band which at some piont seemed destined to overtake him in popularity. That same year one of Ok Jazz's most succesful hits, Cherie Bondowe , a composition of Mayaula Mayoni was released in an album that also included such hits as Alimatou and Bisalela.
| | |
| --- | --- |
| Dalienst followed this up with his own composition, Lisolo Ya Adamo na Nzambe (Adam's conversation with God). The song ,which turned out to be one one of the most controversial was an incisive observation of the relationship between Men and women. In it Dalienst accused men of blaming women for all their faults. The song confirmed Dalienst's position as champion of womens rights, a position He consolidated with songs like Bina Na Ngai na respect and Dodo. | |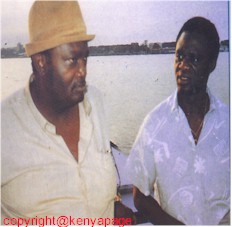 Franco and his chef d'Orchestre , Lutumba Simaro were now leading a strong cre

In 1977 Franco introduced a handicapped female singer known as Mpongo Love. Despite her handicap which was the result of childhood polio, she went on to become one of the continents most popular singers on the strength of her charming , vivacious voice and her songwriting.

Congolese guitar virtuoso , Papa Noel Nedule joined soon after. Later that year the band represented Zaire in what was and still is Africa's largest ever cultural event, The Festac which was staged in Lagos ,Nigeria.
| | |
| --- | --- |
| In 1978 Franco's career hit its lowest ebb following a lapse in judgement on his part. He had already tested the patience of the authorities on several occasions due mainly to the controversial nature of some of his songs. The straw that broke the Camel's back came when he released two songs Helene and Jacky. The songs were described by his contemporaries as pornographic and infantile even by today's standards. Upon their release ,He was summoned by the attorney general along with his mother. When the song was played, Franco's mother was horrified. Franco along with several band members were tried and sent to prison. | |
Two months later due to street protests , Franco was released. Later that year Franco released an album , Tailleur which contained a veiled criticism of the attorney general. By far the band's biggest hit that year was Nabali Misere ( I am married to misery), a composition of Mayaula Mayoni. In the song Mayaula played the part of a man trapped in a loveless marriage. The song contains the refrain Lelo Ya bango Lobi ya Ngai , Mokili tour a tour. Which roughly translates to "what goes around comes around". That was Mayaula's last hit with the band as He quit to pursue a solo career.
1979 was the year that Franco moved his recording base from Kinshasa to Brussels to take advantage of superior recording facilities. Franco embarked on a tour of West Africa that took in 8 countries and culminated in Josky's mega hit Propretaire. In the song which is one of Ok Jazz's biggest ever hits , Josky played the part of an attractive young woman whose advances towards a desirable young man have been spurned. The commonly repeated phrase "Nasambwe oh ngai mwasi kitoko boye" means I am shocked because I am so beautiful.