In the early 60s when Vicky and Essous left to join Africa Jazz, Franco took over the leadership of Ok Jazz for good. Africa Jazz whose band leader was Joseph Kabasselleh a.k.a Le Grande Kalle was the most influential band in the Congo. It had in its ranks an array of talented musicians including Tabu Ley ,legendary guitarist Docteur Nico Kasanda and saxophonist Manu Dibango. Most of the band members were well educated by contemporary standards. Africa jazz leader Le Grande Kalle considered his band as an aristocaratic band whose music was geared towards the well to the well educated or well to do members of society. Franco on the other hand geared his music towards the masses. This he did by singing about topics that affected regular members of society on a daily basis.

Following the departure of Vicky and Essous along with several other musicians ,Franco recruited vocalists Mujos , Kwamy and guitarist Simmarro. Saxophonist 'Verkys' Kiamanguana Mateta replaced Essous.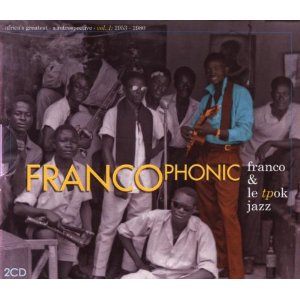 Franco now resorted to a slower more methodical rhythm with more finesse and subtlety. In 1962 Franco embarked on his first ever foreign tour when he visited Nigeria culminating in the release of Cherie Zozo. Later that year, Vicky rejoined the group as did vocalist Lola Checain.
By the mid sixties Ok Jazz had now been re-named TPOK Jazz and had expanded to over 20 musicians. The TP prefix stood for Tout Pouissant( all powerful).It now boasted an array of talented players and was ready to challenge Africa Jazz for the position of Congo's and in effect Africa's premier group, a task which was made easier when Tabu Ley and Docteur Nico left Africa Jazz to form Africa Fiesta. Franco's music appealed to people mainly because it discussed issues that affect the common man on a daily basis.
Thanks to a vibrant economy, Congolese bands were now able to utilize the latest western technology which included electric guitars basses and amplifiers. Franco lead other Congolese musicians in using this new technology to produce sounds which of a much higher quality than in any other part of Africa. Congo had now firmly taken its place as Africa's premier music nation.
Come the late sixties Franco had to deal with a major revolution in his band when singers Kwamy Munsi and Mujos led nine other musicians in defecting from the band. Only a few months later it was saxophonist Verkys Kiamanguana turn to defect.
| | |
| --- | --- |
| Verkys was an excellent hornsman whose soulful saxophone skills were the perfect complement to Franco's solo guitar. He was also an excellent showman and added spice to the band's concerts with his frenzied hornsmanship and unconventional dress code. When He left the band , He established his own band which He named Orchestre Veve, which gave Franco a serious run for its money during the 70s. Veve released several chart topping albums among them Lukani, Se Kizengi, Nakomitunaka , Zonga Andowe among others. Verkys also owned and managed two other bands : Orch Kiam and Orch Lipua Lipua. Among the musicians who played for Verkys in the 70s are Pepe Kalle and Nyboma. Verkys inexplicably quit the music scene in the early 80s presumably to concentrate on business. | |
These was just some of many such uprisings that Franco had to deal with as he navigated his band through stormy waters. To replace Verkys, Franco recruited Rondot Kassongo wa Kassongo who had played in orchestre Negro success alongside Franco's brother Bavon Marie Marie. Additionally ,franco recruited an immensely talented solo guitarist in Mose Fan Fan. The arriaval of Fan Fan revitallized the string section tremendously. Fan Fan injected a new wave of guitar stringing into the sebene, which was flashy, faster and more danceable. This style came to be known as Sebene ya ba Yankees Fan Fan also contributed a series of extremely popular hits among them Djemelasi and Mongando .