During the 1990s, the Kenya womens volleyball team was thoroughly and utterly dominant on the continental scene. The Africa womens volleyball championship was held every two years. Kenya won it 4 times in a row (1991, 1993, 1995 and 1999). At club level, local teams Posta and Kenya Pipeline not only won every continental championship, but routinely met in an all Kenyan final.
1991 was a watershed year for Kenya womens volleyball. Prior to that year,  Kenya had never won any continental event at club or national level. Flashback to 1987 when Kenya was hosting the All Africa games. Virtually no one in Kenya expected Kenya to do well. The public was generally unaware of the depth of talent available in Kenya. But the team woke the Kenyan public by surprisingly reaching the final where they were pitted against perrenial giants, Egypt. However it was heart-break for Kenya as they lost the final and settled for silver.
So when Kenya reached the final of the 1991 All Africa games, they were expected to fall to Egypt yet again especially since Egypt as hosts, had the fanatical home ground support. However the determined Kenyans led by Doris Wefwafwa, Margaret Indakala, Anne Wekhomba among others shocked everyone by winning the gold medal.  Kenya won the All Africa games gold in all 3 tournaments throughout the 1990s ( 1991, 1995 and 1999).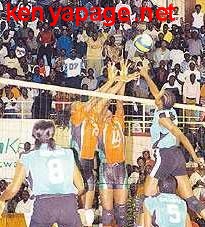 They were equally successful in the Africa womens championships which they won in 1991, 1993, 1995 and 1997. The Kenya team that won the 1999 All Africa games gold is considered the best Kenya has ever had by many experts. Wefwafwa, Mary Auma and Violet Barasa (all deceased), Helen Elele, Rose Wanjala, Margaret Indakala, Roselida Obunaga, Esther Barno, Edna Chemng'eno, Jackline Makokha, Dorcas Ndasaba and Catherine Mabwi.
So good was Violet Baraza that she was offered contracts to play professional volleyball in Egypt, Romania and Turkey. She was often a one woman destroying machine, receiving serves, setting up the booster then finishing with a thunderous spike. Others like Wefwafwa, Obunaga and Wanjala were offered sports scholarships in the USA.