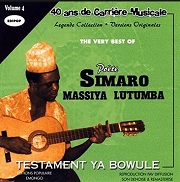 Introduction
This song was composed by Lutumba Simaro and was released in 1983. A harmonious choral section is augmented by a typically brilliant delivery by Josky Kiambukuta who is on lead vocals. This song features an excellent interplay between the saxophones and the trumpets.
It was part of the album labeled "Franco Presente Lutumba Simaro". The album contained three other songs composed by Simaro including a remake of the song Mbongo-Money-L'argent" that was composed by Simaro and delivered by Djo Mpoy.
Synopsis
The song is about a woman who laments the loss of her husband due to rumour mongering by her enemies who have used her owns words against her. She remembers that her husband promised never to leave her and she is sickened by the loss and her sleep is chock full of so many dreams that the witchdoctors cannot explain the meaning of all of them.
Video
Lyrics and Translation