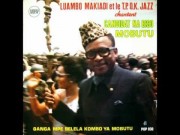 This is one of the biggest propaganda songs ever composed by anyone. It was composed by Franco in 1984 for the Zairean Presidential elections. Mobutu was the only candidate and the election election took the format of a "yes" or "no" vote for Mobutu's candidacy. According to official results, 99% voted Yes for Mobutu.
Though Mobutu was the only candidate, he aggressively campaigned all over the country taking his message to the furthest reaches of the country. And this song was a key pillar of his propaganda machine.
Another notable aspect of this song is its extraordinary length. (19 minutes). This is long even for Franco. When the album was released, the song was repeated on both side A and Side B of the record. It was to be distributed free of charge to Zaireans. The album cover did not contain Franco's name but the song was credited to him.
Lyrics and Translation