Kenya finish second in Africa cup
The 2018 Africa gold cup doubled up as the qualifier for the 2019 rugby world cup. A new coach (Ian Snook) from New Zealand, was appointed as head coach.  For the second season in a row, Kenya finished second to Namibia who qualified for the world cup automatically. Kenya went to the repechage.
Kenya opened their campaign against Morocco in Casablanca. It was a Moroccan side comprised entirely of second and third generation Frenchmen of Moroccan descent. Their tight five was much heavier that their Kenyan counterparts and dominated the close contact situations. Kenya on the other hand put their speed advantage to use, running  and spreading the ball wide at every opportunity. They also applied a number of intricate backline moves that resulted in tries by former sevens star Biko Adema who was slotted at full back, as well as another well worked try by winger Leo Seje. Kenya won 28-24. They had to survive a late onslaught by the Moroccans. Kenya were leading 28-17. Then the Moroccans scored to bring the score to 28-24. The Moroccans continued to push hard and even scored another try. Unfortunately for them, the try was disallowed and Kenya hang on to the lead.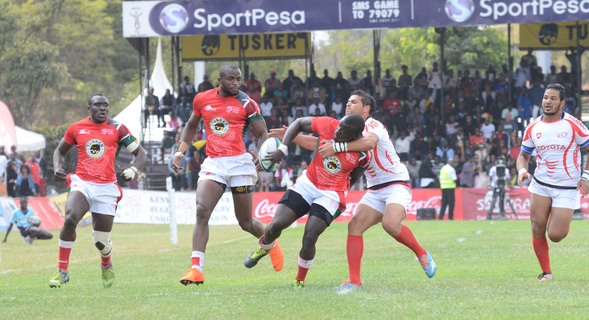 In the second match against Zimbabwe, Kenya were at one point leading 33-12. They then collapsed and Zimbabwe staged an incredible comeback to take the lead at 36-33. Kenya then woke up and scored two tries to save themselves from embarrassment. They won 45-36 much to the relief of the crowd at RFUEA grounds.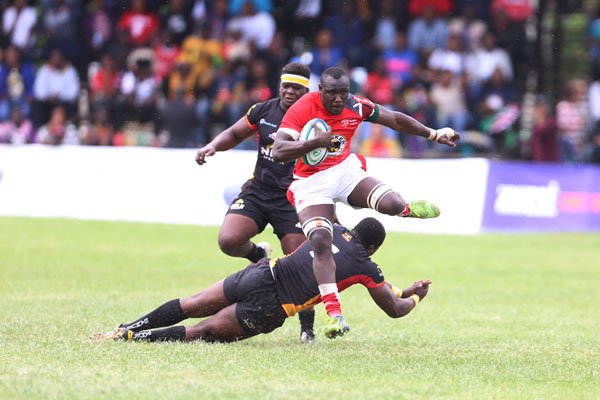 The 2018 edition of the Elgon cup provided the greatest satisfaction for Kenya fans as Kenya won both legs comfortably, beating Uganda 24-16 and Kampala and winning 38-22 in Nairobi. Kenya would then beat Tunisia 67-0. The Tunisian side fielded mostly local players as they cannot afford to fly all their France based players for every game.
That win set up a decisive final against Namibia. It was a final featuring the two unbeaten sides. The winner would earn a slot at the 2019 rugby world cup. Namibia proved once again that they are a class above Kenya, winning 53-28 in Windhoek.
Kenya finish 8th in 2017-2018 IRB sevens series
Head coach Ian Simiyu was now in his second season at helm, having taken over from Benjamin Ayimba in mid 2016. It was a much improved performance by Simiyu. Kenya improved from 12th position the previous year to finish in 8th position. Nevertheless Kenya was plagued by inconsistency. They were eliminated from contention at the group stage at three legs(Cape Town, London and Paris). But they also reached the cup final twice (Vancouver and Hong Kong). Off the field problems were the culprit. At one point in Paris, Kenya covered their sponsorship logos to protest the fact that the sponsors(Brand Kenya)  had not released funds resulting in a delay in payment of salaries. A livid cabinet secretary for tourism Najib Balala revoked the sponsorship as a result.
Coach Simiyu took responsibility for the Paris Sponsorship debacle.
"We called for a meeting with the team after the tournament in Paris to have them individually state their actions but instead, the coach took responsibility," KRFU chairman Omwela recalled.
2019 rugby world cup repechage
Having finished second in the 2018 Africa rugby gold cup, Kenya earned to second chance to qualify for the rugby  world cup. They played in the Repechage tournament in France.
As a build up, they played against Romania A. They lost 36-5 and fans begun to understand how far behind Kenya rugby was. The gap was vastly exposed when they lost badly in all their Repechange matches.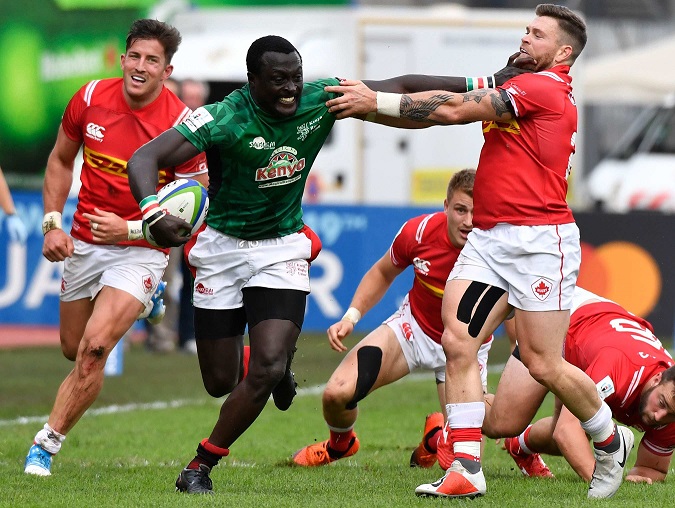 Results
Canada 65 – Kenya 19
Hong Kong 42 – Kenya 17
Germany 43 – Kenya 6
The results against Germany and Hong Kong were especially illuminating. Kenya had drawn 19-19 with Hong Kong previously and had lost to Germany narrowly (29-30) when they played in 2017. It goes to show that friendly matches are not an accurate reflection of a team's strength. A common thread for all of Kenya's matches was that Kenya would play well in the first half and run out of steam in the second half. Against Canada for example, Kenya was trailing 27-12 at halftime, before conceding 38 points and scoring only 7 in the second half.
2018 Rugby sevens world cup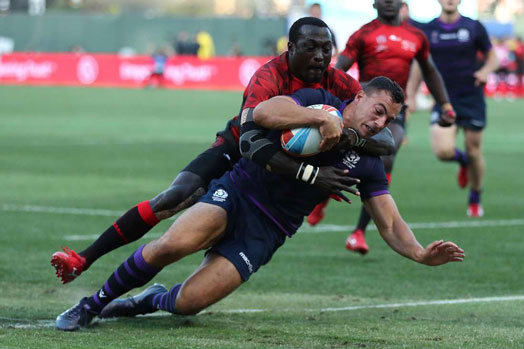 Kenya had qualified automatically for the 2018 rugby sevens world cup after reaching the semis in 2013. They had also reached the semis in 2009. However 2018 was a disaster for Kenya. They won their first match against Tonga 19-7. They then went on to lose the next four matches to Scotland, Ireland, Samoa and Japan.
Coach Ian Simiyu cited poor preparations as the reason for the sub par performance. KRFU Chairman Omwela cited indiscipline. Omwela complained that senior players had too much influence and that some of the players trained at their own convenience and their schedules were not coordinated by the Union.
KCB Retain Kenya Cup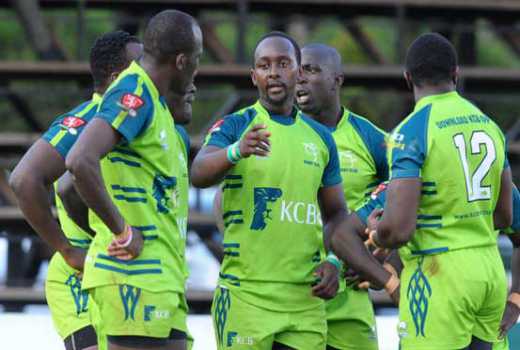 KCB RFC once again proved to be the best club side locally. The squad coached by Curtis Olago was vastly experienced with numerous current and former national team players like Brian Nyikuli, Darwin Mukidza. Curtis Lilako, Davis Chenge, Jacob Ojee, Martin Owila, Moses Amusala, Oliver Mangeni, Peter Karia, Andrew Amonde and Vincent Onyala.
Kenya women win Africa sevens tournament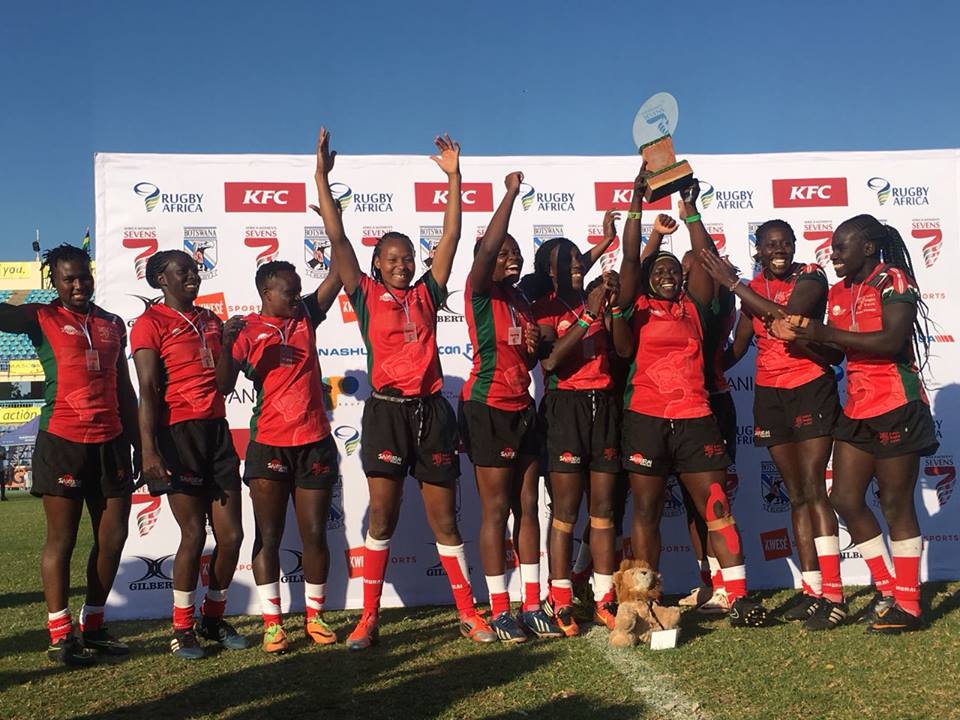 The 2018 Africa womens sevens tournament was held in Botswana. South Africa skipped the tournament in order to focus on the upcoming women's sevens world cup . The Kenya women's sevens team was a class above all the other teams. They won the tournament in commanding fashion, scoring 181 points and conceding only 12 points.
Kenya's Results
Group Stage
Kenya 41 – Senegal 0
Kenya 42 – Madagascar 0
Cup Quarter-Finals: Kenya 42 – Zambia 5
Cup Semi-Finals: Kenya 27 – Madagascar 0
Cup Final: Kenya 29 – Uganda 7
Women's sevens world cup qualifiers
At the Hong Kong Sevens which was a qualifier for the World Sevens Series Core status, the Kevin Wambua coached side reached the Cup semis after losing 12-7 to South Africa in sudden death, an improvement from last year where they reached the quarters.
They had topped Pool X with victories over Papua New Guinea, South Africa and Mexico, and went on to beat Argentina in the quarters before losing to South Africa in the semis.