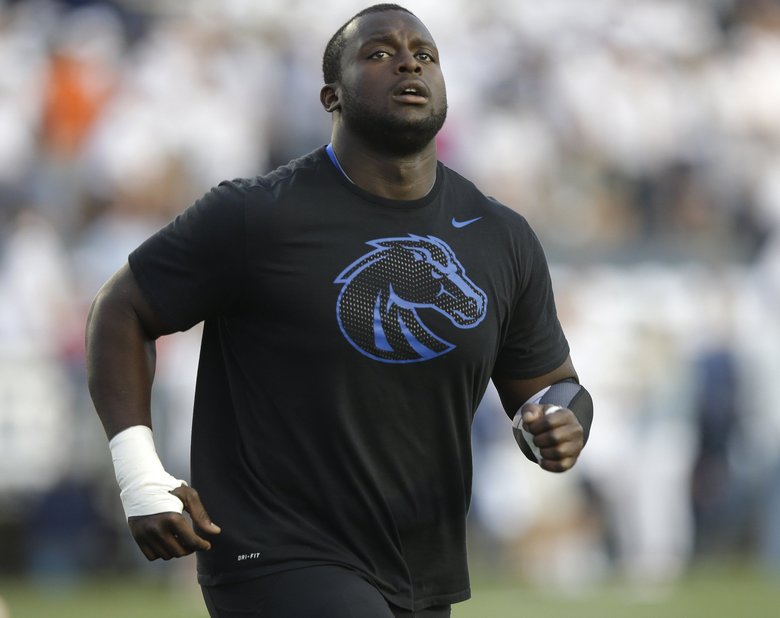 On May 3 Reese Odhiambo became the second Kenyan born player to join a team in the American National Football league. But he became the first Kenyan to be directly drafted from a college team. Each year, NFL teams draft (select) the best players from the college ranks. Odhiambo was drafted by the
Seattle Seahawks in the third round of the draft. Note that Daniel Adongo was not drafted. He came in as a free agent. Odhiambo is indeed the first Kenyan to be drafted. Which means he is much better prepared for the rigours of the NFL than Adongo was.
Odhiambo played for Boise State University. He was not expected to be drafted until the 6th round. This is because while he has been outstanding, he has also been injury prone. The excerpt below is the NFL experts analysis of Odhiambo's abilities:
The native of Kenya has been impressive over the past three years when healthy, displaying pro-caliber footwork and a solid anchor in pass protection while earning All-Conference honors the past two years (second-team in 2014, first-team in 2015). However, Odhiambo (pronounced AH-dee-AHM-bo) has not been able to start more than nine games in any season due to injuries (he broke his ankle in this season's ninth game). Still, whether he serves as an undersized tackle or proves strong enough to move inside (like former Boise State LT Daryn Colledge), Odhiambo has starter-quality skills.
In college, Odhiambo played as an offensive tackle. In the NFL, Odhiambo is projected to play as an offensive guard. Both positions are fairly similar. His primary task is to protect the quarterback (passer) from defenders who are trying to tackle him. He is also responsible for creating openings for the running backs by blocking opposing defenders.
Background
Odhiambo was born in Nairobi. His father passed away when he was six. At age seven he moved to Texas, USA. when he was 7. His father died the year before the move and his mother died when he was 17.
"I just say we had a good support system and a lot of the lessons I learned from my mom just kind of carried over in those times, and through everything she taught me took me a lot further than I ever realized," he said.
Odhiambo attended Mansfield high school in the Dallas/Fort Worth area where he started to play the sport during his sophomore year (form 2). He excelled immediately earning. By his senior year, he was named to the all conference team. He also excelled academically and was named one of the best student-sportsmen in his school district.
He was then recruited by Boise State University in Idaho. He was a key contributor for Boise State starting in his freshman year (first year). By his
senior year (fourth year), he was an all conference player.
Odhiambo is 6'4″ tall (193 cm) and weights 310 pounds (140 kilos)