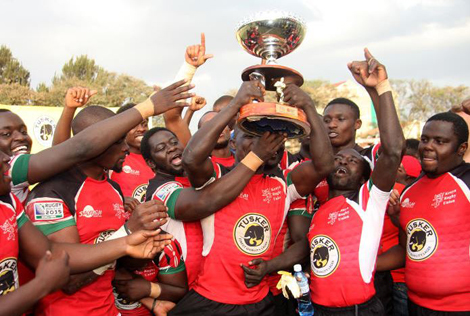 Replacing Mwangi Muthee will not be easy. It can be legitimately said that the Mwangi Muthee era has been the best era in Kenya rugby. It is the era when Kenya rugby came very close to fulfilling its potential.
Prior to the arrival of Muthee, there was a general malaise in Kenya rugby. The sport seemed like it was stuck in first gear. The sport had been in existence in Kenya since the 1930s. It had made progress but the progress stopped in the 1970s and Kenya was now stuck in one gear. To make this point, Uganda rugby had been dead. They only started playing rugby again in 1995. Yet within short order they were good enough to beat Kenya on a regular basis.
The Kenya sevens team had always shown plenty of potential and flashes of brilliance. But they remained rooted to the floor, even occasionally losing to Uganda. Sponsorship for rugby activities had been scarce. Beating a team like Namibia when they had their full complement of players was deemed impossible. None of this seemed to bother the previous KRFU board led by Richard Omwela. They simply accepted the status quo. Omwela rarely ever addressed the public.
Mwangi Muthee changed things dramatically. Since his arrival, rugby has become awash in sponsorship to the point that sevens players can draw professional salaries. The fifteen a side team played in the Vodacom cup for the first time ever and came to the brink of qualifying for the rugby world cup. Under Mwangi Muthee, Kenya has become too strong for Uganda be it in the women's game, the senior men's game or the sevens game. We no longer have to hear trash talking from the Ugandans who celebrate any win over Kenya like they have won the world cup.
However Muthee has now been forced out by infighting and vested interests. The KRFU board has been racked by accusations of corruption and financial impropriety. They have rejected attempts to conduct a forensic audit of their accounts. This is the kind of behaviour that will drive sponsors away.
The general malaise that characterized the pre Muthee era had become a distant memory. With Muthee gone there is a danger that we may return to that era. Not much is known about interim Chairman Gabriel Ouko other than the fact that he is a former player of the Kenya sevens team. It is incumbent on those voting for the next chairman to be judicious when it comes to choosing whom to vote for. The Football Kenya Federation (FKF) is stuck in a quagmire because voters have put vested interests ahead of what is good for the game. Do not let rugby fall into the same morass.