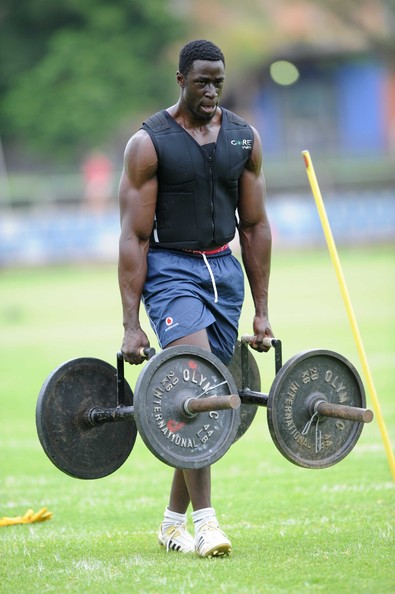 In an unprecedented move, Kenyan player Daniel Adongo has been signed by the Indiana Colts of the National Football League, the top professional league in American football.
The 23 year old Adongo is an impressive physical specimen. At 6-5 (1.97m) , 257 pounds (110kg) he has the power and strength to knock defenders backwards an asset that will come in handy in American football. he is also very fast, able to complete the 40 metre dash in 4.88 seconds. And he is supremely agile.
Watching Adongo play rugby, one quickly notices his ability to clear opposing players at rucks. He literally shoves them back at high speeds. He is also an impressive and relentless tackler.
All assets that compelled the Indianapolis Colts to call his number.
We are excited as an organization with the acquisition of Daniel Adongo," said General Manager Ryan Grigson. "He is not only an elite athlete and rising international rugby player, but he is an exceptional competitor and human being that has the right makeup for our sport. We all look forward to watching his growth and development in the ensuing weeks."
Adongo has been assigned the position of Outside linebacker which is roughly similar the blindside flanker position in rugby.
At this position, Adongo will primarily be tasked with tackling the opposing teams quarterback. The quarter back is usually protected by a wall of players known as the offensive line. The outside linebacker has to shove his way past opposing guards using his agility and quickly tackle the opposing teams quarter back before he can release the ball.
With his impressive strength, quickness and agility Adongo is perfectly suited to this task.
Steep learning Curve.
Adongo certainly has the physical tools to succeed at American football. But he will have a steep learning curve. To begin with, he will need to learn the rules which is the easy part. The more difficult part will be learning the various defensive and offensive formations that teams apply. American football is largely like a game of chess and is highly orchestrated by the coaches. Every single move is called by the coaches be it offense or defense.
Brief Biography
He was born on October 12, 198. His father was an  accomplished boxer and rugby winger. His elder brother Leon has played for the Kenya sevens and fifteens rugby teams.
He started rugby in primary school at Strathmore. There, Michael Pike, the junior rugby teacher and a former Uruguay international introduced him to the game when he noticed his physical tools.
He later joined the Strathmore secondary school section and by the time he was in form 2, he was representing the school with distinction in rugby, basketball and football and was the schools top track athlete winning several different events. By form 4, not only was he on all three school teams , but he was also the schools best 100m , 200m, shot-putter, best long jumper and second best 400m runner.
In 2007, he impressed the Scouts of Natal Sharks, one of South Africa's premier rugby teams enough to be offered a slot in their youth program. This after he had played in the Safari sevens junior section.
After progressing through the U19 and U21 ranks at Sharks, Adongo made his Vodacom cup debut in 2011. He would later leave the Sharks to play for the Bulls before leaving for New Zealand to play for Counties Manukau in 2012. In 2013 he returned to South Africa and became the first Kenyan to play in the Super Rugby tournament for the Kings. It is the highest level of rugby that any Kenyan has ever reached.
Adongo had recently announced his willingness to play for Kenya in the 2015 World cup qualifiers, something that likely will not happen if he makes it as a full time NFL player.