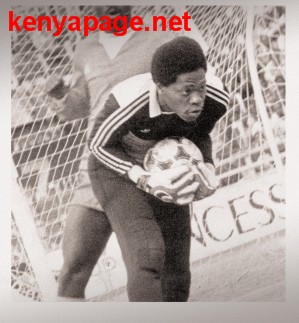 He stood between the posts for the Kenya national team, Harambee stars between 1980 and 1984 and for AFC Leopards between 1979 and 1985. In those years, the Kenya national team won the CECAFA cup 3 times in row
while AFC Leopards also won the CECAFA club cup 3 times. In all these memorable moments, Abbas played pivotal roles in particular with his penalty saving heroics and his commanding presence between the posts. He became a legend all over Africa and in particular East and Central Africa and earned himself the nickname "Kenya one".
Abbas appeared on the scene at a time when Kenya was blessed with a plethora of heroic goalkeepers. First there was Mohammed Magogo, the legendary Kenya Breweries and Harambee stars keepr who later became a coach in Saudi Arabia. There was Dan Odhiambo whose sharp reflexes saw him make some of the most incredible saves ever seen on the Kenya football scene and enabled Gor Mahia to reach the finals of the Africa cup in 1979. And of course Washington Muhanji who was for a long time the backup to Abbas and whose heroics at the 1990 Africa nations cup saw a Belgian top tier team offer him a contract. A contract he could not take due to his standing ontract with the army. This was indeed Kenya's golden era of goalkeepers. Mahmoud Abbas managed to keep all these competitors at bay for 5 years. In those 5 years, Abbas was the undisputed number one selection between the posts for Kenya, hence the nickname "Kenya One".
Abbas was born in Mombasa in 1956. Growing up in Mombasa in the early 70s, Abbas was most inspired by the then Kenya national team goalkeeper, Mahmoud Mohammed. Abbas credits him with his decision to become a goalkeeper. Abbas first came to prominence when he helped steer his school team, Khamis secondary school to the national schools title. In the finals they faced Homa Bay secondary school, a team skippered by another Kenya legend, Paul Oduwo "Cobra" who later played for Gor Mahia when they reached the Africa cup finals in 1979.
Abbas started his playing career playing for Mwenge FC which at the time was the leading team from Coast province. With Abbas between the posts, Mwenge once finished 3rd in the Kenya national league. Pretty soon he caught the attention of the big Nairobi teams, most notably Kenya Breweries (now Tusker) and Abaluhya FC (now AFC Leopards). First Kenya Breweries came calling but the deal somehow fell through. Then AFC Leopards approached him. They needed a goalkeeper to replace the dependable David Keffa who had sustained a career ending injury. So in 1978, Abbas joined Abaluhya. That same year Abbas was called to the national team as the backup to Dan Odhiambo.
At club level, Abbas made an immediate impact, helping Abaluhya win the CECAFA club cup for the first time ever in 1979. At the next CECAFA cup held in Malawi, Abbas who by now had established himself as the best keeper in Kenya. He kept the score sheet clean for 4 games until Abaluhya reached the final where he conceded 3 goals as Abaluhya lost to arch rivals Gor Mahia 2-3. Abaluhya fans accused him of accepting bribes to let in 3 goals. So despondent was Abbas that he almost quit the game. It took a delegation of Abaluhya officials who visited his home to persuade him to return.
1981 was the first big international success for Abbas. He played a key role in helping Kenya win the CECAFA senior challenge cup held in Tanzania. There they beat a strong Tanzanian team in the finals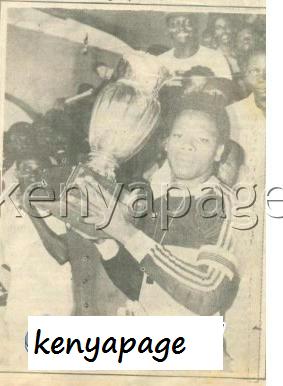 Abbas holding the 1981 CECAFA cup
In the year 1982, was the year in which Abbas etched his name permanently into the psyche of fans in East and Central Africa. He started the year by leading AFC Leopards to win the CECAFA club cup in an incredible performance in which AFC Leopards did not concede a single goal. In the semis they beat Gor Mahia on penalties after the game had gone scoreless for 120 minutes. Abbas saved a penalty from veteran Tim Ayieko. The match ended in controversial circumstances when the referee ended the shootout prematurely. AFC Leopards followed up with an identical 1-0 win over Rio Tinto of Zimbabwe. He then led AFC Leopards to win the national league.
Then came the 1982 CECAFA senior challenge cup held in Uganda. The hosts Uganda were heavy favourites. They had reached the finals of the Africa nations cup 4 years earlier. Kenya who were the defending champions reached the finals against the hosts. Uganda dominated the game forcing 15 corners against only one for Kenya. But Abbas was rock solid between the posts. After 120 minutes, the score was 1-1 and the game went into penalties. There Abbas saved two penalties. Kenyans of that era still remember legendary football announcer narrating the penalty shootout and shouting "Abbas ameokoa !!!" as Abbas made the two crucial penalty saves to lead Kenya to a 5-3 win in the shootout.
Abbas had now established himself as an expert penalty saver. Famous Gor Mahia fullback Peter Otieno "Bassanga" once remarked of Abbas "Huyo jamaa hujaa goli nzima" which translates to "That fellow fills the entire goal". Indeed Abbas had a way of psyching out opposing penalty takers. In the semis of the 1982 CECAFA cup, Kenya played Zimbabwe. As they were leading 2-1, Kenya conceded a penalty from a Joe Masiga handball. Zimbabwe's Joel Shambo stepped forward to take the penalty. Abbas walked right up to him and stared directly into his face for several seconds then retreated back to the goal-line. Abd would'nt you know it, Shambo fluffed the penalty right into Abbas's hands. In 1983, Abbas once again played a pivotal role in helping AFC Leopards win the CECAFA club cup that was held in Zanzibar. That year Gor Mahia faced AFC Leopards on Madaraka day. After 120 minutes the score was 1-1 with goals from Gideon Hamisi and Ben Musuku for Gor Mahia and AFC Leopards respectively. In the ensuing shootout, Abbas saved the penalty from Hezborn Omollo as AFC won 5-4. Abbas's penalty saving miracles led to several rumours one of which was that he used witchcraft and regularly visited legendary Coastal witchdoctor, Kajiwe. Tanzanians referred to him as "golikipa mchawi", which means goalkeeper who uses sorcery.
Later in 1983, Kenya hosted the CECAFA senior challenge cup. Kenya won in grand style and by winning the cup for the third time in a row, they kept it for good. In 5 games, Kenya conceded only one goal. A month later, Abbas was in fine form again, helping AFC Leopards to win the CECAFA club cup held in Nairobi. It was also the 3rd time in a row for AFC Leopards.
In 1984, Abbas was still Kenya's first choice goalkeeper. But it was at the CECAFA cup of 1984 that cracks started to appear in his amour. In the semis after a sub par performance he was subbed by Washington Muhanji who proceeded to make several daring saves. A glorious international career had started to wind down. At the national team, he was soon replaced by upcoming keepers like Muhanji and Tirus Omondi of Gor Mahia. In 1986, AFC signed Omar Shabaan and later John Busolo both decent and young goalkeepers who sought to challenge Abbas.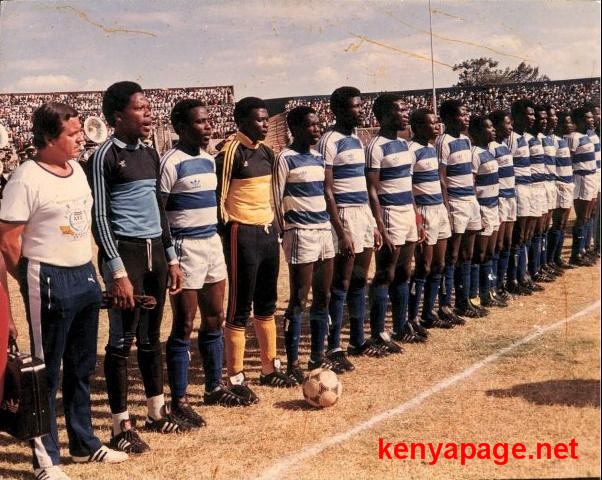 Abbas and AFC in 1984: Image courtesy of Frank Maloba of Phasebook
Abbas wound up his playing career playing for Re Union FC of Nairobi. There he played until 1990 when he retired. Never before and not since then has any keeper commanded the number 1 position without challenge for 5 years. But what makes Abbas a legend was that he above anyone else was responsible for helping Harambee stars and AFC Leopards win the CECAFA cup 3 times in a row.
In those days , international journalists who covered the CECAFA cup would converge to vote for the best 11 players at each tournament. In all those 3 years, Abbas was voted the best goalkeeper in the CECAFA region by this panel of international journalists. Its a tragedy that Kenya did not qualify for the Africa nations cup where Abbas could showcase his skills. And had he played in today's era, it is a certainty that Abbas would have played in a top tier European team. All is not lost however as his son Ahmed Mahmoud is a promising goalkeeper keen to follow in his father's footsteps.
Yes three decades later, no Kenyan goalkeeper has captured the imagination of the Kenyan public like Abbas did. Three decades later, Mahmoud Abbas is still Kenya one.