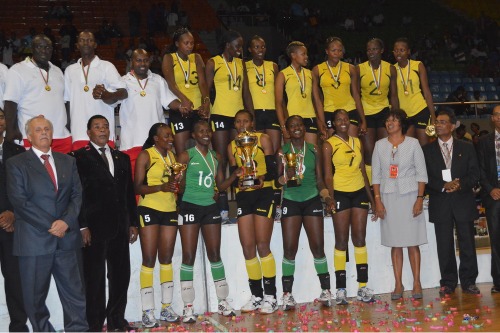 First off congratulations are due to the Kenya Prisons volleyball team for retaining the Africa club championships. They showed great resilience by beating Algerian side GS Petroliers. The win was no easy feat; To begin with, the Algerian national team has beaten their Kenyan counterparts several times in recent years. Secondly, GS Petroliers has beaten Kenya Prisons in the preliminaries.
On an individual note, Everlyn Makuto was named the best attacker while Brackcides Khadambi won the best blocker and most valuable player awards. It was team-work however that lifted prisons above the competition. Congratulations are due all round.
Prisons have proven over and over that they are the top team in Africa. They won in 2008, 2010, 2011, 2012 and now in 2013. Indeed Kenyan teams have dominated the club scene in Africa since the 1980s with Posta and Pipeline. It is at global level however where Kenyan teams are found wanting.
Rather than stagnate at the same level as Kenya volleyball has done for almost 3 decades, why explore ways to move Kenya volleyball to the next level.
Government Support
Prisons is a government entity which means it is supported wholly by finances from the government. Of the funds allocated to run prisons in Kenya, a portion of it is used to run sports teams in various sports besides volleyball. This is a good thing; Besides raising staff morale, it contributes positively in developing talent and giving players an avenue to express their talents.
Since the government is already spending money indirectly to fund teams like Prisons, Ulinzi, GSU and Pipeline all of which are government entities, why not spend money funding region based community teams ?
The government could fund a volleyball team in each of Kenya's major towns : Mombasa, Kisumu, Nakuru and Eldoret. Nairobi, given its size could host at least 3 teams : Nairobi-South, Nairobi-East and Northern Nairobi.
Why Region based teams ?
1. Region based teams are Crowd pullers
A league comprising region based teams is sure to be a crowd puller. Kenyans identify with their towns or regions. Rivalries will be created between the various towns or regions. A league that pulls crowds wills surely gain sponsors. Eventually there will be enough sponsorship money that the league will become self sustaining.
On the other hand, it is very difficult to attract public attention to a league that primarily consists of institutional teams like Prisons, Posta, Pipeline, GSU and Ulinzi.
2. Professionalism
Kenya Prisons are set to play in the world club championships. As we all know, they have played in this tournament several times and have never won a set. The primary reason given is the fact that they are competing against professional teams.
As things stand now Prisons will never become a professional team. In fact the Kenyan league as currently constituted will never gain enough crowds and enough corporate sponsorship to pay players professional salaries. However a league with region based teams if well organized could eventually pull enough crowds and grow large enough to become professional. And even if it does not become professional, it will likely have teams that have better funding which will lead to better performances.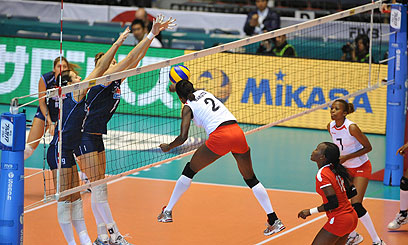 3. Youth development and Promoting the sport
A well run regional team will also make it possible to develop local talent especially among the youth.Having volleyball teams in towns outside Nairobi will make it possible to tap the talent that is available in other towns aside from Nairobi. As things stand now, a youngstar who wants to play top tier volleyball but does not live in Nairobi will find it very difficult to play since virtually all the top tier teams are based in Nairobi. It means that upcountry based talent is being wasted.
4. Continuity
One problem with corporate or institutional teams is that they exist only at the whims of management. If a new management team comes in, they could arbitrarily decide to terminate the team. This is precisely what happened to Posta Volleyball club which dominated Kenyan and African volleyball in the 1980s and 1990s. Community teams are more likely to survive longer and thus create a tradition.
5. Creating employment opportunities
A well run league with well run teams will create employment opportunities for players, coaches, journalists and so forth. In a country where youth unemployment is as high as 60%, the government should jump at any opportunity that will alleviate youth unemployment.
There is precedent
Before you dismiss this idea as pie in the sky, consider the fact that there is already precedent for the government sponsoring teams. In the Kenya women's football league for example, almost all the teams are sponsored directly by the ministry of culture and sports and by UNICEF. The reason this league has not gained popularity is because the teams are not town based. Instead they have names like Matuu and Makolanders. You cannot pull crowds with such Nondescript names with teams that do not represent any region, town or community.
Going even further down history lane, in the 1980s, the first ever professional football team was Volcano United, whose players were also paid directly by the Ministry of culture.
Summary
With the new sports Policy becoming active this year, each sports federation will have to present a 5 year plan to the Ministry of Culture and sports in order to obtain funding.The government is already spending money to indirectly fund teams like Ulinzi and Prisons. There is no reason they cannot finance a venture that has a better chance of eventually becoming self sustaining.
I would urge the Kenya Volleyball Federation to present a plan that proposes funding for region based teams. It is the key to taking Kenya volleyball to the next level. Teams like Prisons are good but they have taken volleyball as far as they possibly can. For Kenya volleyball to go to the next level, it will require a different approach. The rapid rise of the Kenya rugby sevens team to global elite level has been due to hard work and planning. Volleyball on the other hand is still stuck in the same spot as it was in 1987