Michael Kipsubut Boit, known popularly as Mike Boit is known in Kenyan circles as an exemplary athlete whose stellar running career lasted well over 10 years. Aside from a lengthy running career, Boit showed proficiency in both the 800m and the 1500m, that kind of versatility is difficult to find nowadays.  He is also a noted sports administrator as well as an accomplished University Professor. But even more impressive are his academic credentials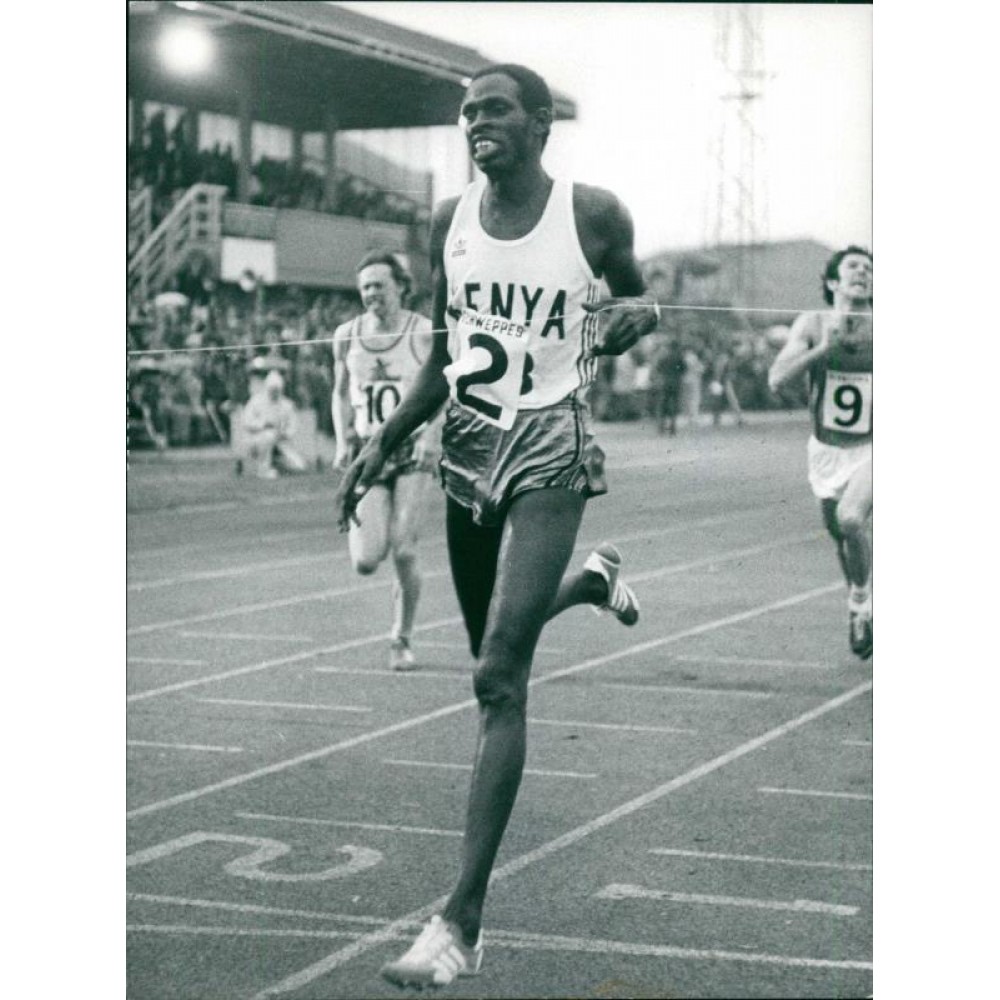 International Athletics accomplishments.
Commonwealth Games gold medalist 1978 (1500m)
African Championships gold medalist 1979 (1500m)
Commonwealth Games silver medalist 1974 (800m)
IAAF world cup silver medalist 1977 (800m)
Commonwealth Games bronze medalist 1982 (1500m)
Olympic Bronze medalist 1972 (800m)
His list of accomplishments would have been greater had Kenya not boycotted the 1976 and 1980 Olympic games.
Education
What is most impressive about Boit is his academic achievements.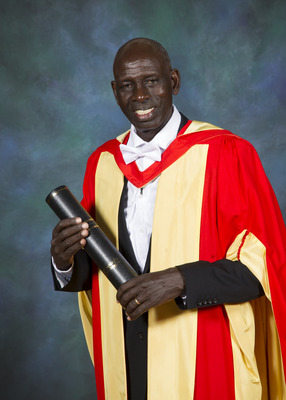 Diploma from Kenyatta University – 1972
Bachelors degree from the University of New Mexico – 1976
Masters Degree from Stanford University – 1977
Masters degree from Stanford University – 1978
PhD in Education University of Oregon – 1986
Honorary PhD University of Glasgow – 2014
He earned two Masters degrees from academic giant Stanford and he earned the first one only a year after finishing his Bachelors degree then received the second one only a year later. Also impressive is that he pursued his academic credentials while training and competing at the highest levels.
Work Experience
Boit became an instructor at Kenyatta University in 1987. In 1990 he was appointed the Chairman of the Kenya National Sports Council (KNSC). The KNSC at the time was the body that oversaw the work of all sports federations and association in Kenya. He is remembered from bringing much needed reforms to sports in Kenya. Prior to 1990, before any Kenyan athlete could compete overseas they were required to seek permission from the national athletics body which at the time was the KAAA. As a result the KAAA would demand a hefty cut of any winnings that the athletes would win overseas. Boit removed all those restrictions. He remained KNSC chairman until 1997 upon which he returned to his teaching position at Kenyatta University.
At KU, his research focused on the physiology, genetics, nutrition and training of runners. He often collaborated with colleagues at the University of Glasgow. His research supported the development of sport and education in Kenya
He was a member of the IAAF Athletes Commission from 1989 to 1999 and the Special Olympics from 1992–1995. In 2004, along with his friend John Manners, he established the Kenya National Scholar Athlete Project (KENSAP). The purpose was to provide academic opportunities for Kenyan athletes who are academically gifted to pursue higher education. More than 100 students have benefited from this program with the larger majority going to top schools like Harvard, Yale, Princeton, Brown and Cornell.
International Running Career
Boit first announced himself to the world when he won the national secondary schools championships 800m in 1969. He did this while attending St Patricks Iten. He was thus one of the pioneers in what would become a strong tradition in a school that has produced by far the highest number of world class runners in the world.
He announced himself to the world at the 1972 Olympics in Munich, West Germany. He was virtually unknown and surprised everyone when he took a bronze medal in the 800m. It was an epic photo-finish between the three top athletes.
Two years later he won a silver medal at the 1974 Commonwealth games, finishing behind compatriot John Kipkurgat who set a new games record in the process. His first ever gold medal in an international event came in 1978 when he won the gold medal in the 800m at the Commonwealth games, finishing well ahead of the field.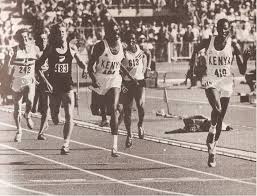 Boit was part of the great generation of athletes who were unlucky to miss both the 1976 and 1980 Olympics due to boycotts. He was in his prime during this period and consistently among the top runners in both the 800m and the 1500m. He certainly would have won medals at both games.
During this period he established a strong rivalry with Cuban legend Alberto Juantorena. At the 1977 IAAF world cup, he went neck and neck with Juantorena and ended up taking silver in the 800m.
In 1979 he won the 1500m at the first ever Africa athletics championships that were held in Senegal. And again he finished well ahead of the field.
Having missed two successive Olympics, Boit returned to international competition at the 1982 Olympics. By this time Boit who was 33 years old, had been active on the international scene for over a decade. He still ended with a bronze medal finishing behind British legend Steve Cram and New Zealand legend John Walker. It was an excellent performance considering that Cram's stellar record which includes winning the world championships once and the European championships three times. John Walker for his part had been Olympic champion at this event in 1976. In 1983, Boit participated in the Queen street golden mile in Auckland New Zealand. There he clocked an amazing time of 3:28.36 which is to this day still the fastest mile ever recorded. However it is not considered an official record since the course has a downhill gradient.
College Career summary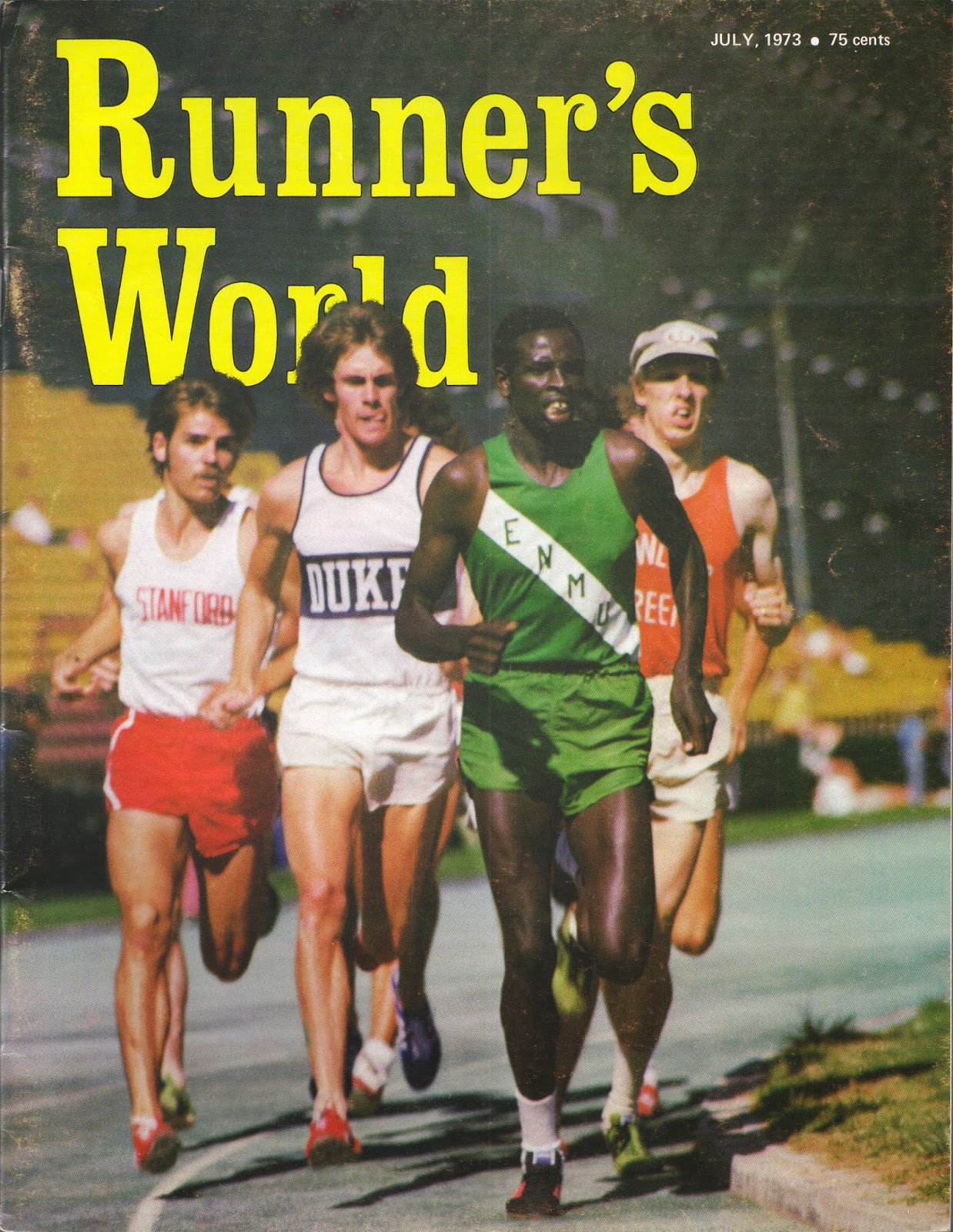 Boit was recruited by coach Bill Silverberg  to run at the University of Eastern New Mexico along with Other Kenyans.
NAIA records in the 800m and 1500m
12 outdoor track, indoor track and cross country national titles
Voted to the University of Eastern New Mexico hall of fame in 1984
Boit's personal Bests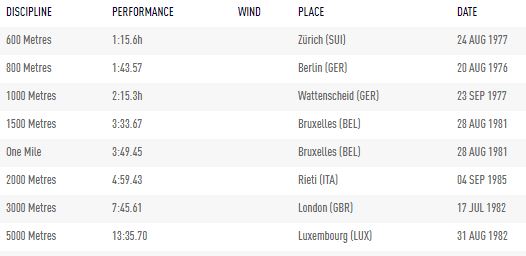 Boit's Longevity
Boit remained at the top of his game for over a decade. Indeed he was still an Olympic medal contender well into his mid 30s. In 1990 he set a master's record. His lengevity is likely because his training regimen did not involve long runs. He once explained this in an interview
Question: Do you do long runs in your own training?
Boit: No, I don't do anything longer than 4-5 miles, but I do everything at a good pace. I think it is not right to do training that another runner does, because there are too many differences in individuals.
Also he never ran on the day before a day. He focused on resting and racing during the busy European circuit.