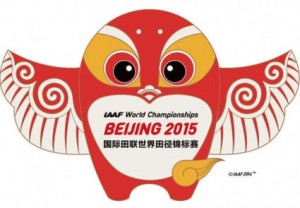 Caleb Mwangangi Ndiku won his first major championship medal when   he took silver in the men's 5000m at the 2015 world athletics championships.
It was a brave effort by Ndiku but he could prevent Britain's Mo Farah from winning his third consecutive championship double, the athletic equivalent of a triple double.    Ndiku took off from the pack with two laps to go, setting a searing pace. Farah covered the move but looked as though he didn't have enough in reserve to beat the Kenyan.
At the bell the effect of the change in pace showed on most of the runners faced, whose grimaces taut and twisted with the effort. Down the back straight for the last time it looked as though Farah was beaten but he dug deep and hauled himself past Ndiku with 140 metres to go. Farah had too much left in reserve and he passed Ndiku in the final straight.
Race Video

Race Results
POS
BIB
ATHLETE
COUNTRY
MARK
1
516

Mohamed

Farah

GBR
13:50.38
2
698

Caleb Mwangangi

Ndiku

KEN
13:51.75
3
465

Hagos

Gebrhiwet

ETH
13:51.86
4
467

Yomif

Kejelcha

ETH
13:52.43
5
1055

Galen

Rupp

USA
13:53.90
6
1064

Ben

True

USA
13:54.07
7
1025

Ryan

Hill

USA
13:55.10
8
694

Isiah Kiplangat

Koech

KEN
13:55.98
9
960

Ali

Kaya

TUR
13:56.51
10
703

Edwin Cheruiyot

Soi

KEN
13:59.02
11
289

Albert Kibichii

Rop

BRN
14:00.12
12
300

Mohammed

Ahmed

CAN
14:00.38
13
469

Imane

Merga

ETH
14:01.60
14
564

Richard

Ringer

GER
14:03.72
15
517

Tom

Farrell

GBR
14:08.87
Sum garners bronze in 800m
Coming into this race. Eunice Sum was considered a string favourite, having dominated this event during the Diamond league circuit. However the women's 800m is always unpredictable. There is often an unexpected runner from Eastern Europe who skips most of the regular season only to show up and win the championships in surprising fashion. And so it happened again with Marina Arzamasova of Belarus who surprised everyone to win.
Sum took off with her typical front running style. But by the 600m, mark it looked like Arzamasova had more in reserve. She passed Sum on the back stretch as did Melissa Bishop of Canada. Sum made a galant effort to come back in the last 50m but it was not enough.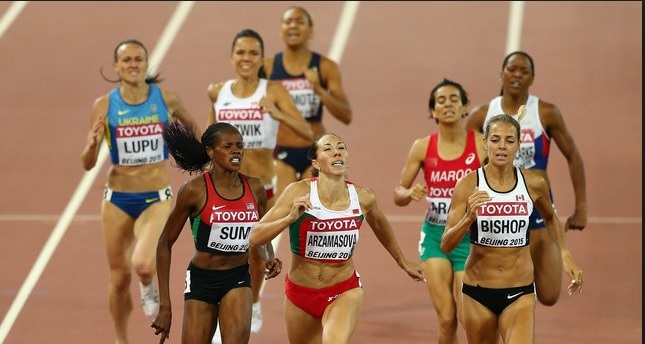 Race Video
Race Results
POS
BIB
ATHLETE
COUNTRY
MARK
1
154

Marina

Arzamasova

BLR
1:58.03
2
204

Melissa

Bishop

CAN
1:58.12
3
575

Eunice Jepkoech

Sum

KEN
1:58.18
4
600

Rababe

Arafi

MAR
1:58.90
5
406

Shelayna

Oskan-Clarke

GBR
1:58.99
6
832

Nataliia

Lupu

UKR
1:58.99
7
669

Joanna

Józwik

POL
1:59.09
8
377

Renelle

Lamote

FRA
1:59.70