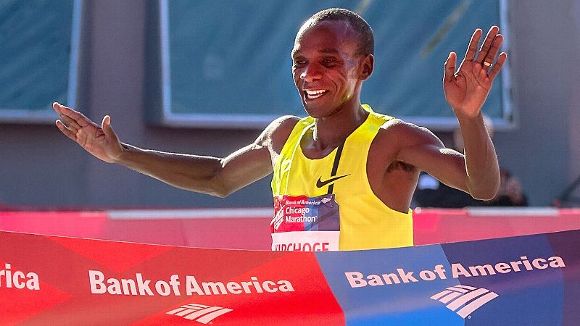 In windy conditions, Eliud Kipchoge beat a strong field that included Ethiopian legend Kenenisa Bekele to win the 2014 Chicago marathon in an impressive time of 2:04:11. Two other Kenyans Sammy Kitwara and Dickson Chumba (2:04:32) finished second and third respectively. Bekele came in fourth in 2:05:51.
Kipchoge took control of the race at the 24th mile point when he unleashed a 4:33 mile. Up to that point, the race had been close with Kitwara, Chumba and Bekele close by.
Impressive Marathon record.
This is only Kipchoge's 4th marathon. He clocked 2:05:30 in the Hamburg Marathon to win in his marathon debut. In September 2013 he clocked 2:04:05 in the Berlin Marathon to take 2nd Place to Wilson Kipsang's world record. And in April 2014 he clocked 2:05:00 to win the Rotterdam Marathon.
Impressive win over Bekele
Much was expected from the Ethiopian legend with some even suggesting he would challenge Dennis Kimetto's recent marathon record. This after all is the man who dominated the track for several years and still holds the world records at the 5K and 10K. Bekele will now go back to the drawing board. "I need to analyze my training." said Bekele. His manager Jos Hermens said hat Bekele needs to do longer runs. Nevertheless Bekele has run two sub 2:06 times in his first two marathons and cannot be counted out in the future.
Shades of the 2003 World Championships
At the 2003 World Athletics championships, Eliud Kipchoge was a virtual unknown. And at 18 years old, young enough to be a form four student, no one gave him a chance to win the world championships, especially since he would be competing against two legends, Kenenisa Bekele and the Moroccan Hicham El Guerrouj.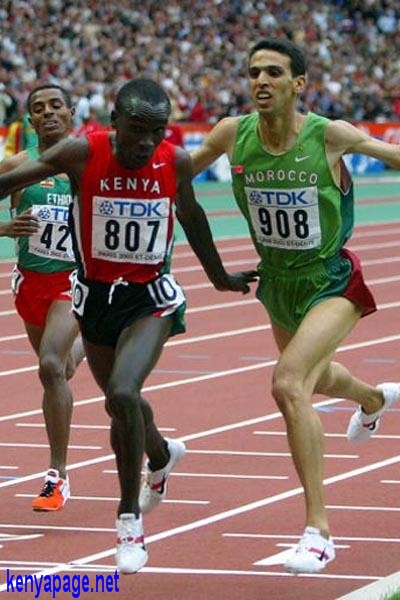 Leading Results
1 Eliud Kipchoge (KEN) 2:04:11
2 Sammy Kitwara (KEN) 2:04:28
3 Dickson Chumba (KEN) 2:04:32
4 Kenenisa Bekele (ETH) 2:05:51
5 Bernard Koech (KEN) 2:08:30
6 Ghirmay Ghebreslassie (ERI) 2:09:08
7 Lani Rutto (KEN) 2:10:42
8 Wesley Korir (KEN) 2:11:09
9 Bobby Curtis (USA) 2:11:20
10 Koji Kobayashi (JPN) 2:11:43