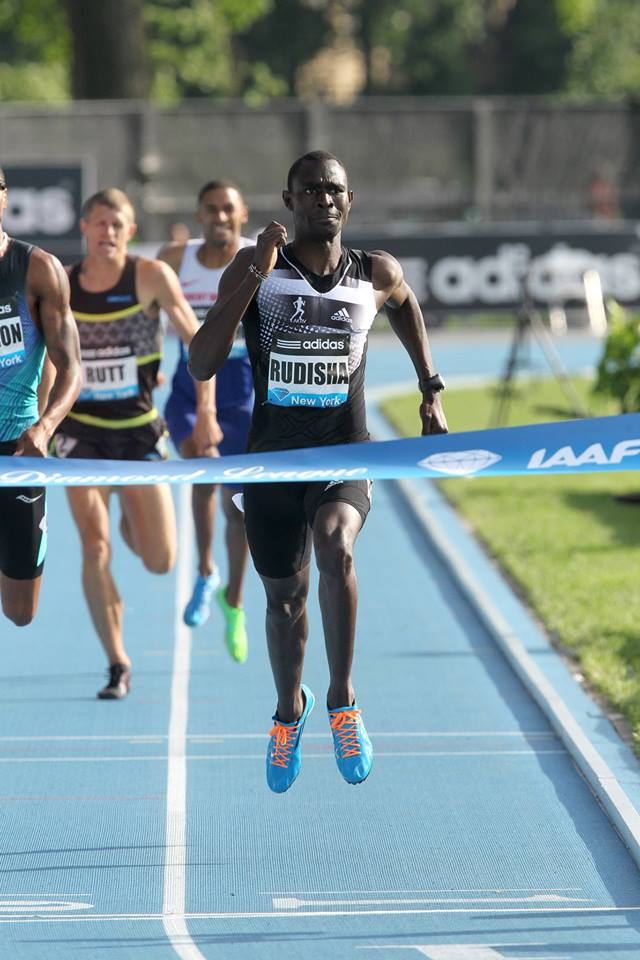 David Rudisha posted a confidence boosting victory in the New York leg of the IAAF Diamond league circuit when he won the 800m race in 1:44.63. The time recorded is far cry from 2012 when Rudisha stopped the clock at 1:41.74 to set a new world record. Still it is an important step. Coming back from a serious injury that kept you out for a year can be a long arduous process. Regaining confidence in your previously injured knee can also be challenging.
The Race
Rudisha started on the outer lane  and immediately put himself front and center, tucking in right behind rabbit Daniel Dye down the opening backstretch. Dye passed the 400 meters at 50.48. This is a classic Rudisha tactic. Duane Solomon followed close on Rudisha's shoulder, as per his second game plan — and hung on throughand stayed there until 700 meters. Rudisha hit 600 meters at 1:18.03, followed by Solomon, then a fast-charging Mark English of Ireland.
Rudisha held off Ireland who settled for second place in 1:45.03 having passed Duane Solomon who then came third in 1:45.13
Rudisha's Post race Interview
After the race, Rudisha was mobbed by reporters, a clear sign that despite a year away from the track, he is still a star attraction. In fact Rudisha drew far more reporters than any other athlete at the meet.
"I still need to do a lot, because I started a little late this year. I felt better today, but I need a few races to bring my body back." said Rudisha to the media throng.