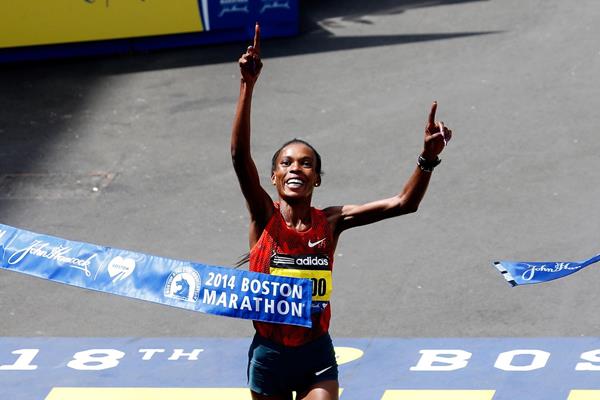 Reports suggest that Rita Jeptoo has tested positive for a banned substance. Jeptoo has been in sensational form in 2013 and 2014. She won the Boston Marathon and Chicago Marathon in 2013 and then again in 2014. In the process she set a new championship record for the Boston Marathon with a time of 2:18:57.
She had also won the Boston marathon in 2006 but then went 7 years without winning a major marathon.
The report on runblogrun suggests that her A sample tested positive for a banned substance. The test was conducted in an out of competition test held in Kenya. The test was conducted in September.
Jeptoo had won the world marathon series which comes with a prize of $600,000. However the prize has been held pending the outcome of the B sample.
Kenyan fans will be hoping that the B sample tests negative. Such was the case with Bernard Lagat when his A sample tested positive at the world championships.
Devatastating
If it turns out that Jeptoo's B sample tests positive, it could be devatstating news for the Kenya athletics fraternity. She would be the first pre-eminent Kenyan athlete to test positive for a banned substance. Thus far all the Kenyans who have tested positive have been second and third tier runners like Mathew Kisorio. No prominent Kenyan athlete has been busted. This will only add fuel to those naysayers who suggest that Kenya's dominance in the marathon has been due to doping and a lax testing regime in Kenya.
Such an outcome would put a huge dent in the reputation of Kenyan runners. As it is now, most road racers marvel at the ability of Kenyan runners. A positive test on the B sample will ruin not just Jeptoo's reputation but also other Kenyan runners.