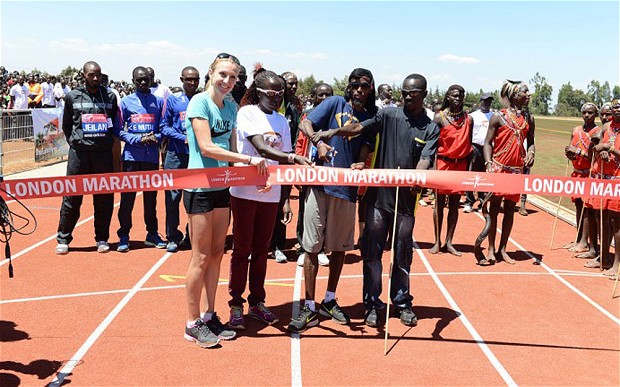 The last time the Kenyan government made a significant investment in sporting infrastructure was in 1987 when the stadium at Kasarani was built. Ever since then, the Kenya government has only paid lip service to investment in sporting infrastructure. The worst case came in the run-up to the 1996 Africa Cup of Nations to which Kenya had been awarded hosting rights on the condition that the government build stadium in Mombasa. The Moi government dilly dallied and eventually declined to build the stadium. A furious CAF (Confederation of African Football) banned Kenya from football for two years.
Thus when the current government promised to build 5 new stadia during their campaigns in 2013, most Kenya sports fans took it with a grain of salt.
In recent years, the government has poured money into the rehabilitation of some stadia. Most notable was the Ksh 150 million given for the reconstruction of the Kipchoge Keino stadium in Eldoret. A year later , nothing has been done.
Lornah Kiplagat who has been at the forefront of giving young Kenyans and especially girls opportunities to train has now accomplished what succesive Kenya governments have failed to do. She has constructed a tartan running track worth a colossal Ksh 80 million and completed it in 11 months. This is a stark contrast to the situation in Mombasa and Kisumu which have taken over 4 years and millions of tax payer money much of which disappeared into the pockets of contractors.
"I'm so delighted that this project has finally come to being. We took the proposal to set up the academy and tartan track to many, including the Government and it was London Marathon that answered.
"With time, it will help create many champions not only from Kenya but from other countries as well," Kiplagat, the 2007 World Cross women's senior gold winner and thrice World Half champion stated.
"The combination of running at altitude, excellent rehabilitation facilities provided by British Athletics, and some of the best training