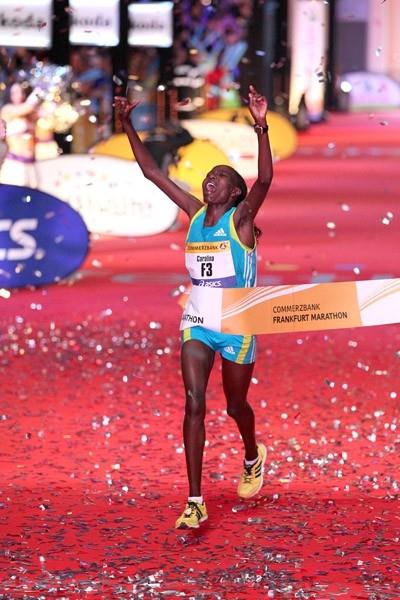 Kenyans Vincent Kipruto and Caroline Kilel braved stormy , wet , windy weather to triumph at the BMW Frankfurt Marathon, an IAAF Gold Label Road Race. The stormy weather ruined hopes for record performances on Sunday October 27. The wind gusts were up to 50km/h.
Kipruto braved high winds to clock 2:06:15, beating fellow Kenyan and debutant Mark Kiptoo by just one second. It was the 12th consecutive time the Frankfurt marathon was won by a Kenyan.
"He was strong, so I had to watch him and decided to wait until the final moment with my attack," Kipruto said. "The goal was to run sub 2:05, but I am still happy."
The women's race also produced good performances as Kilel ran a personal best of 2:22:34, achieving her second Frankfurt victory following success in 2010.
It was a strong field with several elite runner; five men had personal bests below 2:05:30 and three women who had run sub 2:22 . Kenyans were supposed to face a stiff challenge from the Ethiopians. In the end the Ethiopian challenge collapsed as the top Ethiopian finished a distant 6th.
A group of 14 men reached the half-way mark in 1:03:06, about 45 seconds slower than planned. Time and again they were strung out, running behind each other in an attempt to shelter from the wind. The fact that there was no pacemaker still in the race made it even more difficult. At least one was supposed to run to 30km.
"I was surprised that there was no pacemaker left after half way, but we made our own pace," said Kipruto, who led a group of six runners at 30km (1:29:21).
Women's Race
Indeed with five women running sub-2:24, it marked unprecedented depth in any German Marathon.
Six women reached the half-way mark in 1:11:10, only slightly slower than planned. Flomena Chepchirchir, Eunice Jepkirui Kirwa, Caroline Kilel, Mamitu Daska, Tirfi Tsegaye and debutant Gelete Burka formed this group.
But Burka's hopes of making a major impact in her first Marathon soon began to fade. She started to lose ground before 25km and eventually finished 12th in 2:30:40.
The other five were still together at 35km before Kilel made a break. She opened up nine seconds on Chepchirchir at 40km and extended her lead to nearly half a minute at the end, crossing the line in 2:22:34.
"I wanted to run 2:21, but with the wind and rain it wasn´t possible," said Kilel. "But I am very happy because I managed to improve my personal best by two seconds. It was my second race in Frankfurt and my second personal best here. I want to come back in 2014."
Chepchirchir held off a late charge from Dibaba to take second place by one second in 2:23:00. Germany's Anna Hahner was the top European finisher in eighth, clocking 2:27:55 to finish ahead of twin sister Lisa, who ran 2:30:17 in 11th place.
Info courtesy of iaaf.org