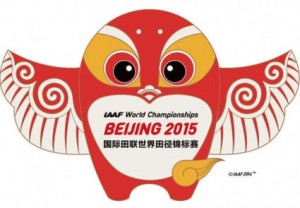 The 2015 world athletics championships are scheduled to kick off on August 22 2015. As usual, Kenya's best prospects lay in the distance events. And as usual, Kenya's primary challenge will come courtesy of the Ethiopian contingent. Kenya also has a chance to bag a field event medal via Julius Yego who came agonizingly close last time. In the sprints, the best chance Kenya has is to make a surprise final or lower the Kenya record.
Women's 800m: Sum looks invincible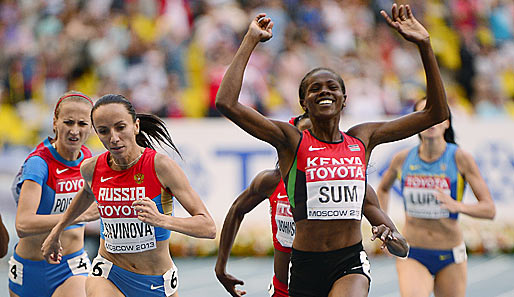 In 2013, Eunice Sum shocked everyone when she took home gold, beating feared Russian Mariya Savinova. And Sum has proven that her win in 2013 was no fluke. She has gone on to dominate this event for the past two years, beating Savinova numerous time as well as challengers like Ajee Wilson of USA.
In 2015 she has run sparingly. But when she has run, Sum has been imperious and peerless. She ran 1:56.99 in Monaco, which is the fastest time in the world since 2011. Her closest challenger would have been Ajee Wilson. But Wilson has pulled out of the championships due to injury.
Kenya's other representative will be the evergreen Janeth Jepkosgei. The amazingly consistent Jepkosgei won this event in 2007. This year her best time is 1:59.37 which she recorded at the New York Diamond League when she finished second.
Rosemary Alamanza of Cuba will be Sum's closest challenger. She has a season's best of 1:57.70, recorded in Paris when she finished a distant second to Sum.
Women's 1500m: Kipyegon against a strong Ethiopian challenge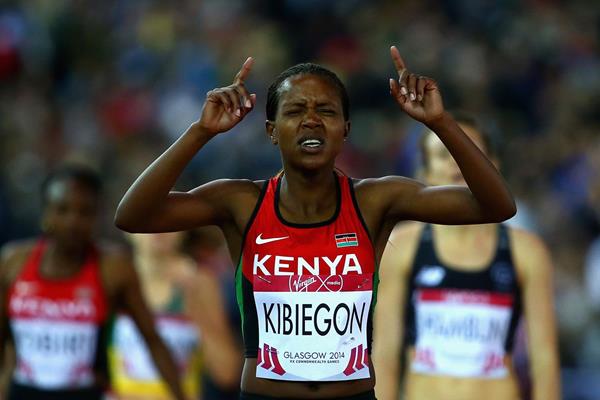 Kenya will be represented by Nancy Chepkwemoi, Faith Kipyegon and Violah Lagat. Completely missing from the scene this season is Hellen Obiri who has been Kenya's best prospect for the past two years and who won the bronze medal in 2013.
In Obiri's absence, Kenya's hopes for a medal rest on the shoulders of the lovely Faith Kipyegon. The 21 year old was phenom in her youth career. She won the world youth championships, world junior championships and twice won the world junior cross country championships. At senior level, her greatest accomplishment was winning gold at the 2014 commonwealth games.
She finished 5th at the world championships in 2015 but says she has grown in stature since then. She has a personal best of 3:56.19 which she clocked as a 19 year old in 2013. This season her best is 4:00.94
The overwhelming favourite is Genzebe Dibaba of Ethiopia who this season sliced 4 seconds off the world record to clock 3:50.07. Sifan Hassan, an Ethiopian who represents the Netherlands is the likely silver medalist. Other contenders include the American duo of Shannon Rowbury and Jenny Simpson as well as Ethiopia's Dawit Seyaum.
Women's 3000m steeplechase: Kiyeng and Nyambura with a chance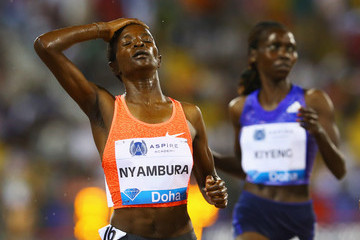 Kenya will send a strong contingent to this event consisting of Rosefline Chepngetich, Hyvin Jepkemoi, and Virginia Nyambura.
Nyambura has been the revelation of the 2015 season. She was previously only a pace-setter at Diamond league events. This year she shocked everyone when she won two Diamond League races including a win over Hiwot Ayalew of Ethiopia who was the overall Diamond league winner in 2014. The 22 year old has a person best of 9:13.85  which she set this year in Monaco.
Hyvin Kiyeng is the fastest Kenyan this year and the second fastest in the world with a time of 9:12.51. This too is a personal best.
Habiba Ghribi of Tunisia who has the fastest time this year starts as favourite. Other strong contenders are Emma Coburn of the USA and Hiwot Ayalew  both of whom were atop this event in 2014. There could also be a challenge from the Russian women who have a tendency to skip the Diamond League circuit then appear and win medals at global championships.
Women's 5000m: Tall order for Cherono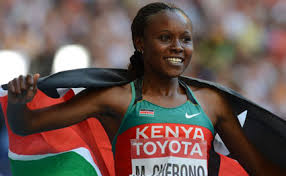 The Kenyan contingent will consist of Irene Cheptai, Mercy Cherono, Viola Kibiwot and Janet Kisa. Kenya's best prospect for a medal lay with the effervescent Mercy Cherono who is the 4th fastest in the world this season with a time of 14:34.10. She has a strong chance to return home with a medal.
She will have a tall order competing with Almaz Ayana of Ethiopia who ran a staggering time of 14:14.32 in Shanghai, the fastest time in the world this season. Genzebe Dibaba clocked 14:15.41 Paris for the second fastest time this season. The two Ethiopians will likely compete for gold. Faith Kipyegon of Kenya is the 3rd fastest in the world but she will be running the 1500m not the 5000m. Mercy Cherono's seasons best is a good 20 seconds slower than Ayana which makes her task a very tall order.
Viola Kibiwott is Kenya's next best prospect. She clocked 14:40.32  in Shanghai while Janet Kisa who was a silver medalist at the 2014 Commonwealth games has a season's best of 15:10.66.
10,000m: The return of Vivian Cheruiyot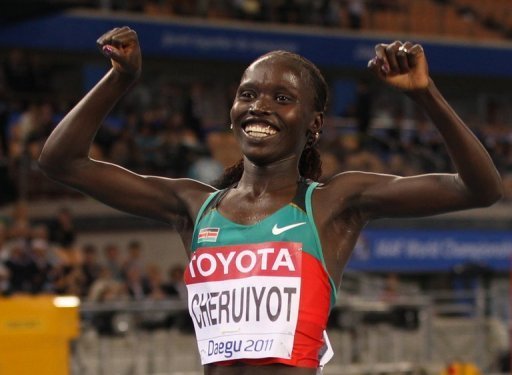 Vivian Jepkemoi Cheruiyot is one of the greatest female track runners Kenya has produced. She has won 3 world championship gold medals including a double in 2011. She also has a commonwealth games gold, continental cup gold and Olympic silver medal to her name. And she has been around for a long time. At age 16 in 1999, she won a bronze medal at the All Africa games.
She took some time off to have a baby. She could have rode off into the sunset. But at age 32, she has made a comeback. Her most recent races have been promising. She won the Bruxelles Diamond League race in 31:13.29  and also won the Kenyan trials in impressive fashion.
Once again her strongest competition will come from the Ethiopians especially Gelete Burka who has run the fastest time in the world this year at 30:49.68 . Burka was previously one of the best 1500m runners but was never lucky enough to win medals at major global competitions. In 2009 she was in contention to win gold at the world championships only to trip and fall.
"I am happy to be back. The world title is now on my mind and I promise to try my best to reclaim it even though the World Championships is a bit competitive," said Cheruiyot adding that winning the trials hot conditions was fine since she expects similar conditions in Beijing. "The weather will be hot and humid in Beijing but that is fine with me." said Cheruiyot to the Nation.
The other Kenyan representatives will be Sally Kipyego and Betsy Saina both of whom are well known in the USA collegiate circuit. Kipyego has an impressive  personal best of 30:26.37  recorded in London. Betsy Saina's person best is 30:57.30  , recorded in 2014 in Palo Alto California.
"I have prepared well in the USA, Iten and here at Kasarani," Saina said. "We have had weeks of polishing up especially on our finishing speed," said Saina to the Nation.
Women's Marathon: Edna aims for hat trick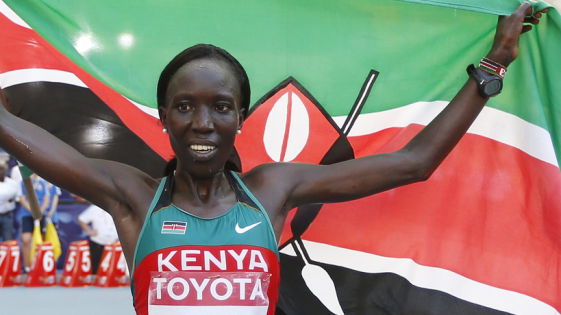 Kenya as usual will send a strong contingent to the championships. This time it will be Visiline Jepkesho, Edna Kiplagat, Helah Kiprop, Jemimah Sumgong.
Kiplagat won this event in 2011 and 2013 and will be vying for a 3rd succesive title. Kenya's performance was most impressive in 2011 when Kiplagat led two other Kenyans to sweep the podium despite a mishap that saw two of them collide and fall down in a heap.
Kiplagat has a chance to become the first person to win three successive world championship gold medals in the marathon. She has won numerous city marathons. Her most recent was in London in 2014.
Kiplagat has been training hard in anticipation.
"The training is okay. We are waiting to know the final team and, if I get selected, I will give it my best. You know championship is different from other big marathons and it needs a lot of focus and preparation. I will be glad if named to defend my title and even become a three-time champion — more so, back to back," said Kiplagat. She added: "It won't be easy as many other athletes are also preparing. Team work is crucial in championship events." she said to the Standard
Jemima Sumgong is an accomplished City marathon runner. She has won the Rotterdam and Las Vegas Marathons, and has finished runner-up at the Boston, Chicago and New York City Marathons. She has a personal best of 2:20:48
The strongest challenge will come from the Ethiopian contingent led by Mare Deba who has recorded the fastest time in a marathon this season.
Men's 800m: Rudisha hopes for a comeback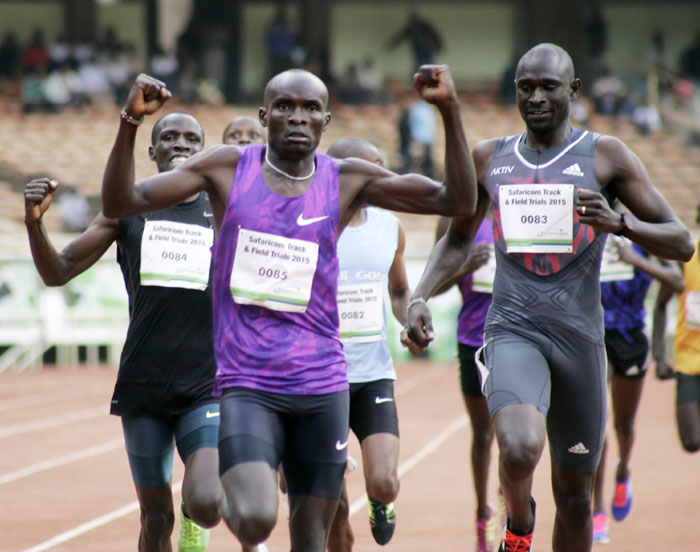 The 800m is traditionally a strong event for Kenya. This year however, Kenya could very well finish outside the medals. David Rudisha, the greatest 800m runner ever, has not fully recovered from the injury he picked up in 2013. At the Kenyan trials, he lost to Ferguson Cheruiyot.  Alfred Kipketer will be Kenya's 3rd representative.
The fastest Kenyan at this event this season has been the young Robert Biwott. But he has chosen to focus on the 1500m. David Rudisha's seasons best is 1:43.58 which makes him 8th in the world this season. But you can never count out the heart of a champion.
The favourite will be Nijel Amos of Botswana. Amel Tuka of Bosnia ran the fastest 800m time of the season with a blazing 1:42.51  in Monaco. He beat Amos on that occassion. If he is in Monaco form, he could win gold. Mohamed Aman of Ethiopia, dominated the 2013 season. He will be back to defend the title he won. With a time of 1:43.56 , he is the 6th fastest in the world this season.
Rudisha has been unable to beat Amos in two attempts this season. In Lausanne, Rudisha tried his typical front running style but Amos caught him in the last 100m. Then in London Rudisha changed his tactics and stayed with the pack before taking off in the final bend but Amos caught him in the last 50m.
However Rudisha is confident that he will rise to the occassion on Beijing. He says the two week camp at Kasarani enabled him to recover his powerful attack.
"I have already picked up power. It is not that I did not have power but it had not been activated,"he said to the Nation.
Men's 1500m: Kiprop in imperious form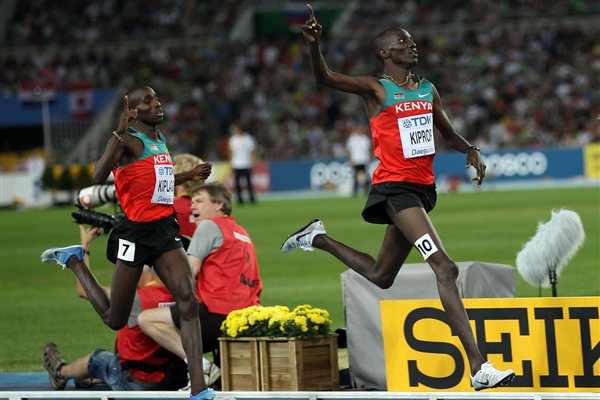 Asbel Kiprop has been in imperious form this season. Whereas last season he lost a number of close races to compatriot Silas Kiplagat and Djiboutian Ayaneleh Souleiman, this season Kiprop has looked unbeatable. In July in Monaco, Kiprop beat a strong field by over 10 metres to record a blazing time of 3:26.69 making him the 3rd fastest 1500m runner ever, only behind Hicham El Guerrouj and Bernard Lagat. A week later he toyed with the field again to win easily and the Sainsbury Grand Prix. He looks to be in the form of his life. Kiprop is the defending champion, having won this event in 2013. Barring a catastrophe, he should come back with gold.
22 year old Elijah Manangoi is a newbie who does not have any major championships under his belt. But he has an impressive 3:29.67 person best which is 6th fastest in the world this season.
Silas Kiplagat who has been Kiprop's biggest challenger in the Diamond League circuit over the past four years, rounds up Kenya's team. He has a personal best of 3:27.64 minutes, which makes him the fourth fastest of all-time over the distance. He is a former Commwealth games champion and was the 2011 world championships silver medalist.
"It's a tough calling but I shall put my best foot forward and hope for the best," said Kiplagat to the Nation
The biggest challenge to the Kenyans will come from Ayanleh Souleiman and Tariq Makhloufi of Algeria who won Olympic gold in 2012.
Men's 3000m steeplechase: Strong challenger for the Kenyans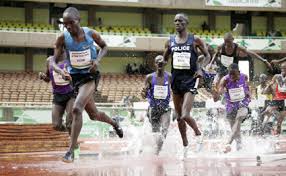 This is an event that Kenya has totally and completely dominated ever since Amos Biwott won the gold medal at the 1968 Olympics. On paper Kenya has a very strong squad. Jairus Birech has dominated this event for the past 2 years often beating the field by 10 metres. , Ezekiel Kemboi is a multiple world and Olympic champion. Brimin Kipruto won Olympic gold in 2004. Conselus Kipruto Kipruto finished second to Kemboi in 2013. After lagging in 2014, he is rounding back to form.
However Kenya will face a strong challenge from American Evan Jager who has suddenly emerged a strong favourite to win gold. Earlier this year, he was way ahead of Birech and on pace to run in the 7:58 range, only to stumble and fall at the last hurdle. A Kenyan has won every steeplechase event since 1988. There is a strong chance that that run could be ended by Jager
Men's 5000m: Can Koech, Ndiku stop Mo Farah from triple double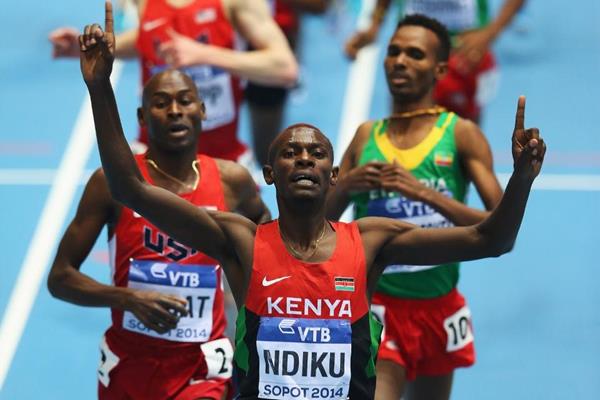 Kenya will be represented by the quartet of Emmanuel Kipsang, Isaiah Koech, Caleb Ndiku and Edwin Soi. Kenya will be missing their two fastest runners from 2015: Thomas Longosiwa and Paul Tanui who has opted to run in the 10,000m.
Caleb Ndiku, who won the gold medal at the 2014 Commonwealth games might be Kenya's best prospect only if he can replicate his 2014 form. In 2014, Ndiku was in superb form winning numerous Diamond League events. This year he has not run much.
Isaiah Koech, the former world youth champion, was only 19 when he won the bronze medal at the 2013 world championships. On that occasion, his lack of experience and race savvy caused him to lose to Farah. He is now two years older and ready to challenge for high honours.
Edwin Soi is capable of some excellent runs in Diamond league races that are run at his favourite pace. However he lacks consistency and race savvy and typically does not do well in championships.
Mo Farah will start as favourite. He won this race in 2011 and 2013 and his recent form shows he has not lost any of the tactical serve he displayed in the last two world championships. He has won double gold medals at the 2011 world championships and the 2012 Olympics. Should he win two gold this time, it will be the third time he has won double gold. In other words he would have achieved an athletic triple double.
There will be a strong contingent from Ethiopia: Yomif Kejelcha has the fastest 5000m of 2015 at 12:58.39. Hagos Gebrehiwet is the other Ethiopian hopeful.

Men's 10,000m: Tactical battle of Kenyans vs Farah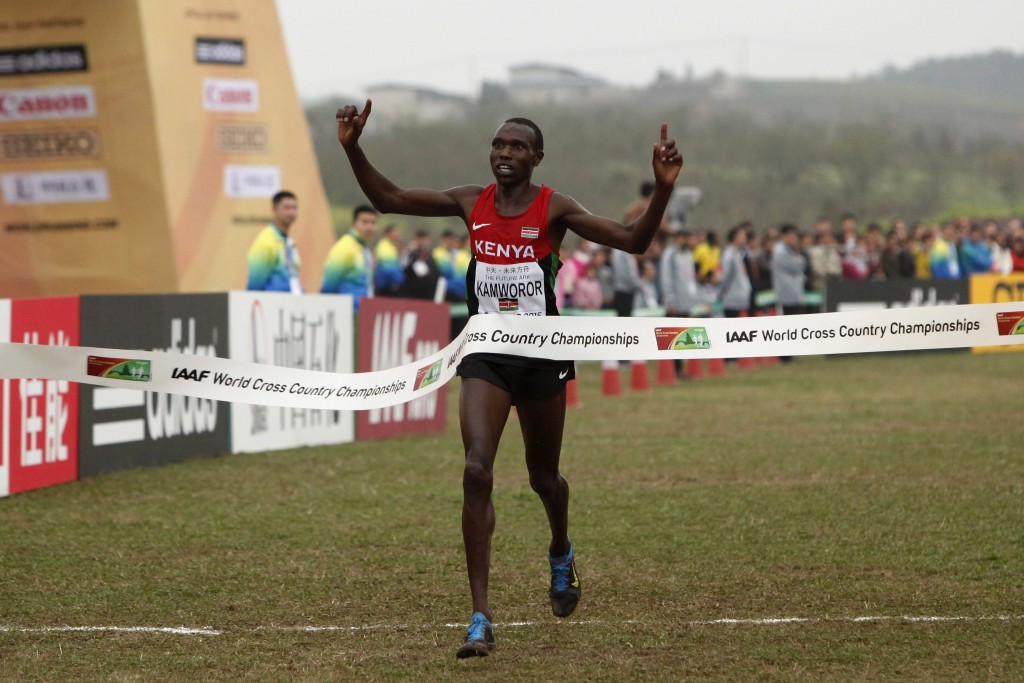 Mo Farah of Great Britain has dominated this event over the past few years. He is the defending champion having won in 2013 and will start as favourite. Kenya is represented by the trio of Paul Tanui, Geoffrey Kamworor and Bedan Kaloki.
Farah shows so signs of slowing down. He beat this Kenyan trio when he faced them earlier this year in Eugene Oregon. Yet again it was his tactics that propelled him to victory. It will require a strong team effort from the Kenyans to dislodge Farah from his perch.
Kamworor appears to be in fine form. During the world championships trials, he clocked 27:11.89 which is the fastest time ever ran by anyone at high altitude. Much is expected from Kamworor since he is the world half marathon champion and world cross country champion.
Earlier this year, Farah beat Tanui and Kamworor, winning the 10,000m at the PreFontaine classic in 26:50.97. The best chance that Kamworor has against Farah is to set a searing pace throughout the race.
Aside from Farah, the strongest challenge will come from the Ethiopian duo of Muktar Edris and Imane Merga who have recorded the fastest times in the 10k this season.
 Men's Marathon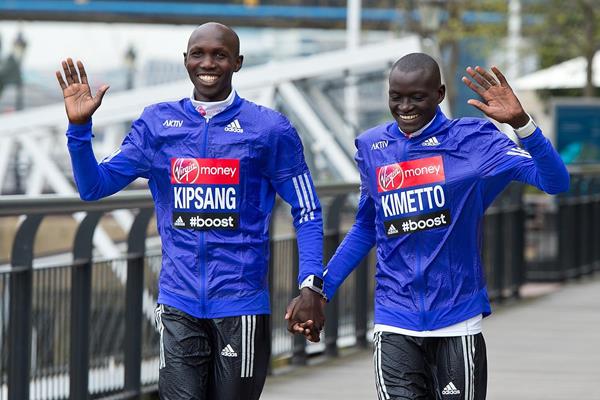 Kenya had won the marathon at the world championships 3 times in a row with Luke Kibet winning in 2007 followed by Abel Kirui who won in 2009 and 2011. In 2013 however, Kenya did not feature among the medals. Instead it was Ugandan Stephen Kiprotich who won gold having fought off a challenge from the Ethiopians led by Lelisa Desisa.
This time Kenya has sent a strong Arsenal : Dennis Kimetto, Wilson Kipsang, Mark Korir. Kimetto and Kipasang are the current world record holder and previous world record holder respectively.
The fastest time of the year was recorded by Eliud Kipchoge when he clocked 2:04:42  to win the London marathon. Kipchoge opted out of the world championships leaving Kipsang whose 2:04:47  time is the second fastest of the year.
Mark Korir is no slouch either. In April of this year, he won the Paris marathon in 2:05:49  which is the 4th fastest time of the year
The Kenyans will be challenged by Lelisa Desisa who won silver in 2013 and Lemi Berhanu who has the 3rd fastest time. And of course there is the Ugandan Kiprotich who though he does poorly in city marathons, has risen to the occasion at the last two global contests beating the Kenyans and the Ethiopians.
Javelin: Julius Yego going for history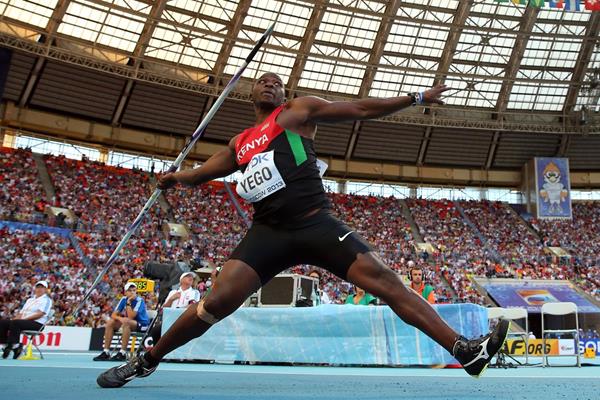 Incredibly, Julius Yego has the best javelin mark in the world this year at 91.39 m which he recorded in winning the Birmingham Grand Prix. It is an African record and It marks the first time a Kenyan has been atop the world in a throwing event.
"The fact that I am heading to Beijing with a Diamond League record doesn't make me the favourite," said Yego to the Nation.
Yego is popularly known as "youtube man" because he learned his craft by watching youtube videos due to the lack of specialized training for field events in Kenya. Aside from setting the African record, he already has several accolades to his name including the Commonwealth games gold in 2014 as well as African championship gold medals in 2012 and 2014.
He now seeks to make history by becoming the first Kenyan to medal at a field event in a global championship. He came painfully close when he finished 4th at the 2013 world championships.
"It's my prayer that God will keep me in good health to be able to see the day and plough a perfect throw. I cannot talk about a record since no one knows when he will throw a big distance. It comes by chance" said Yego
The sprints: A chance to make a mark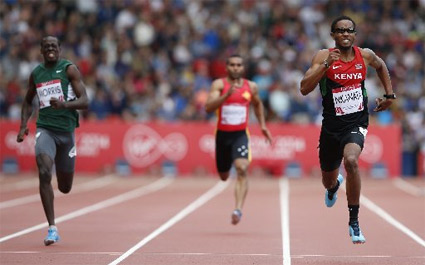 No Kenyan has won a medal in any sprint event since Samson Kitur won a bronze medal at the 1993 world championships before anchoring the Kenya team to a silver medal in the 4 X 400m.
This year, Kenya's prospects for a medal a remote. However, there is a chance that one of the Kenyan sprinters could set a new national mark.
In 2014, USA based Carvin Nkanata clocked 20.32 in the 200m to brake the Kenya record which had lasted since Joseph Gikonyo set it in 1990. At that time, Gikonyo shocked everyone by winning both the 100m and the 200m at the African championships, leaving the highly fancied west Africans shell shocked.
Nkanata lowered the record again in 2015 with a time of 20.14. Based on that, Nkanata has a strong chance to become the first Kenyan to reach the 200m finals at a global event. Last year he won a bronze medal at the African championships.
But do not sleep on Mike Mokamba who clocked 20.48 in beating Nkanata at the trials. Mokamba also set a new Kenya record in the 100m by clocking 10.23. Mokamba's father Elkana Nyangau represented Kenya in the 1987 All Africa games and the 1988 Olympics.
Kenya will not field a relay team and Alphas Kishoyian is the only qualifier in the 400m. This season he clocked an impressive 44.75. Boniface Tumuti who won a bronze medal at the 2014 African championships has been missing in action in the 400m 2015. He did attempt to qualifiy in the 400m hurdles.
Another African championships medalist is Francisca Koki. She too set a personal best and a new Kenyan record  of 55.82 at Kasarani in qualifying for the world championships.
Joy Sakari will run in the 400m. She reached the semi-finals of the 2009 world championships and the 2012 Olympics. Along with the legendary Ruth Waithera, she holds the Kenya 400m record at 51.56. Sakari has been amazingly consistent for 6 years and is among the two fastest Kenyans in the 100m, 200m and 400m. A unique feat indeed.
Maureen Jelagat who previously represented Kenya in 400m hurdles, will this time run the 400m where she also has an impressive personal best of 51.63