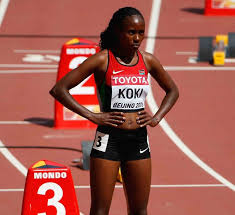 Kenya banned seven athletes for various doping offenses. Most prominent among these is Emily Chebet who is a two time world cross country country champion. Also banned are two athletes who failed doping tests at the 2015 world world athletics championships: Francisca Koki Manunga and Joy Zakari.
The others are Agnes Jepkosgei, Bernard Mwendia, Judy Jesire Kimuge and Lilian Moraa Marita.
However what is most notable is the fact that all these athletes received four years bans for diuretics. This is unlike Rita Jeptoo who was busted for using EPO which is a performance enhancing substance or Mathew Kisorio who was busted for steroid use.
The dieuretic in question is furosemide. In most other countries, use of a diuretic often results in much more lenient sentences. For example, America 800m runner Maggie Vessey tested positive for a diuretic at the IAAF World Challenge meeting in Zagreb, Croatia, on September 4. All she got was public warning from USADA, the American anti-doping agency. She was not banned for even one day. Neither was American national soccer team goalkeeper Hope Solo who also tested positive for a diuretic.
In 2013 Jamaican sprinter Veronica Campbell Brown was busted for using a diuretic, suspended for two years but the suspension was later set aside by IAAF, the world governing body for athletics.
The standard punishment for most other first time drug offenses is two years. However Tyson Gay, the American sprinter who failed a drug test in 2013, got only a one year ban ostensibly because he cooperated with the authorities.
Kenya on the other hand has been arm-twisted into taking drastic action after being threatened with a ban by WADA for their perceived lack of action. Kenya had been seen as too lax. In addition, Kenya has a lot more to lose since there are many detractors out there who are determined to make the case that the success of Kenyan runners is due to doping. It is therefore imperative that Kenya takes drastic action against dopers.