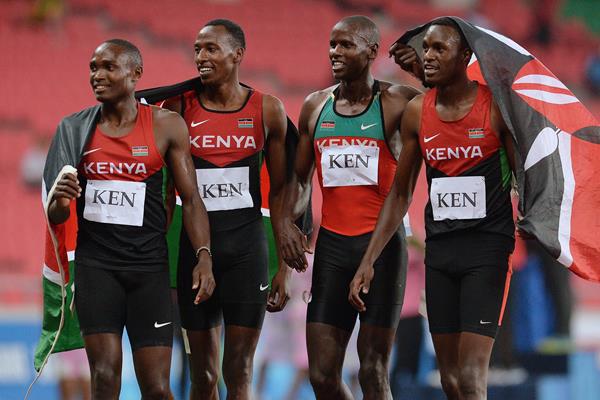 The Kenya 4 X 400m team brought down the curtain on the athletic program at the 2015 All African games in dramatic fashion, holding off a strong Botswana team. In the process they set a new games record of 3:00.34.
No one gave Kenya a chance against Botswana. In recent years that country has produced far better quarter milers, most notable Isaac Makwala. Earlier this year, Makwala clocked 43.72 which is the 3rd fastest time in the world this season and puts him in 7th position all time. And Botswana have a strong history in this event having won it in 2003 and 2007 as well as a bronze in 2011.
By the second leg, Botswana had a strong lead courtesy of 800m stalwart Nijel Amos. But Kiprono Kosgei, running Kenya's 3rd leg, fought back to bring Kenya even when he handed off to Boniface Mweresa for the anchor leg. But not many gave Mweresa much of a chance as he would have to contend with Makwala who had won the gold medal in the 400m race, well ahead of Mweresa who won silver. It looked like it would be a a reprisal of the 1987 All Africa games when David Kitur received the baton ahead of Innocent Egbunike, only for the Nigerian to pass him for gold.
But this time Mweresa had other ideas. The brave Mweresa fought gamely to hold off Makwala. But with 100m to go, Makwala was still on Mweresa's shoulder and looked like he would soon pass him. Mweresa would have none of it and continued to hold Makwala off until the Botswanan gave up with 40 metres to go.
Kenya had also won this event at the 2011 All Africa games when the quartet of Anderson Mureta, Vincent Mumo, Jonathan Kibet and Mark Mutai won in 3:03.10, two seconds ahead of second placed Nigeria. Prior to that, the last time Kenya had won this event was in 1991 when a team anchored by the legendary Samson Kitur won in 3:03.14.
What makes this win by Kenya amazing is that they achieved this feat without two of their strongest quarter milers: Boniface Tumuti and Nicholas Bett who were rested having participated in the 2015 World athletics championships. Its a shame Kenya did not field a team at the world championships. They clearly would have done well. The time of 3:00.34 would have put them in medal contention in Beijing.  But it bodes well for the 2016 Olympics.
Kenya also did well in the 400m flat race, putting 3 runners in the final and winning silver.