During the 2012 Olympics and again during the 2013 World Athletics championships fans of Kenyan athletics and to a certain extent their Ethiopian counterparts watched in disbelief and amazement as British runner Mo Farah outfoxed his East African counterparts and won the 5000m and 10,000m. This despite the fact that he was winning in times that are rather unimpressive. Farah's  personal best in the 10000m is 26:46.57 which is almost 20 seconds slower than Paul Tergat and 7 other Kenyans have run faster. His wins at the  Olympcs and Worlds came down to his excellent tactics and the fact that teh 5000m and 10,000m races have been decimated by an exodus to the road races.
The team Kenya fielded to run against Mo at the world championships was rather inexperienced and devoid of good tactical runners. Paul Tanui and Isaiah Koech were Kenya's best performers in the 5000m and 10000m are talented runners who can match Mo Farah for talent but at age 20 and 23 respectively,  they are rather inexperienced and have not had much of a chance to sharpen their tactics.
Lack of Opportunities
Worse still, opportunities for 5k and 10K runners to win prize money or even sharpen their tactics  have become few to non existent. The 10,000m   is no longer on the program at any Diamond League race. Yet it used to be a fixture at top tier meets like DN Galan in Stockolm and Ivo Van Damne in Brussels. In fact Richard Chelimo set the world record in Stockolm circa 1993. 5000m races, while not eliminated have become extremely rare. The longest distance now offered at most top tier races is typically the 3000m.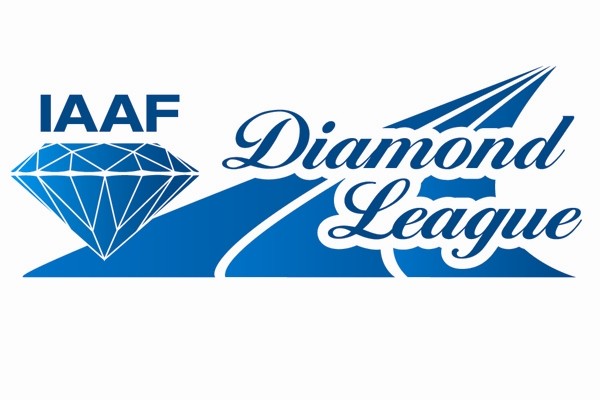 The dearth of 5000m and 10000m events at prize money meets has caused many aspiring distance runners to leave the track and head for road races.
Prize Money
Whereas the 10000m has been eliminated from the Diamond League, there are still a few 5000m races though few and far between. However the prize money pales when compared to what a marathon runner could win in one race.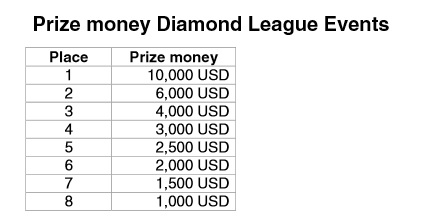 Boston Marathon Prize Money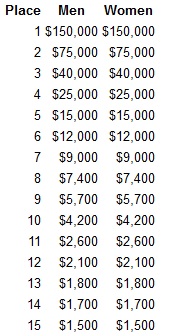 Aside from the significant prize money offered at marathons, the bonuses offered are jaw dropping. When Geoffrey Mutai won the 2011 New York marathon, he won the $130,000 prize money and an additional $70,000 for setting a course record.
With such a disparity in prize money and the lack of opportunities on the track, it comes as no surprise that the best long distance talent is now heading straight for the roads. Take the late Samuel Wanjiru for instance. At age 18, he clocked an impressive 26:41.75 in the 10,000m in Brussels. Thats faster than Kenenisa Bekele ran at the same age.It also means that at age 18, Wanjiru's personal best was faster than Mo Farah's current personal best. And Mo Farah is 30.
Had Wanjiru pursued the 10,000m as his specialty, he may have won Olympic gold and possibly challenged the world record. Instead he skipped straight to the marathon by the time he was 19.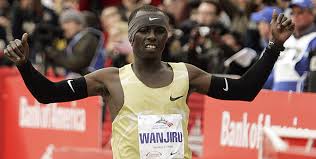 Wanjiru is no exception. Increasingly, Kenya's best talents are skipping the track and headings straight for road races. Runners like Sammy Kitwara, Priscah Jeptoo, Geoffrey Mutai and  Dennis Kimetto, who recently set the world record for 15 miles come mind.
The proliferation of well paying city marathons, half marathons, 10K road races and the likes has only served to accelerate the exodus. Typically when a runner switches to the roads, he is unlikely to return to the track. And in the case of the marathoners, many of them typically prioritize City Marathons over running for the flag.
They will be found various road races. There is no doubt that in today's world, the best long distance runners will not be found at the world championships or even the Olympics.
Proof of this lies in the fact that the number of fast times run in marathons and half marathons has increased exponentially: In 1999, there as only one sub 2:06 marathon. Yet in 2012, there were a staggering 26 sub 2:06 marathons.
What about the half marathon ? In 1999, there was only one sub 60:00 half marathon. Yet in 2012 there were 24 sub 1:00 half marathons. As a result, the marathon and half marathon records which were relatively stable for many years, have been broken several times in recent years.
The single factor responsible for the dramatic increase in fast times on the road is the fact that all the best distance running talent has migrated to the roads.
And Kenya now thoroughly and utterly dominates the world of road races. . Below is the list of top half marathon times in 2013 as of September 17.
In September of 2013, the Great North run was organized by the Mo Farah hype machine in Britain and promoted as a road race pitting Kenenisa Bekele, Haile Gebresellasie and Mo Farah. The hype machine likely saw this as an opportunity for Farah as Geb is 40 and Bekele only recently recovered from injury. Bekele won in 60 minutes and eight seconds, with Farah just one second behind. However as you can see from the chart above, over a dozen Kenyans have run a half marathon 10 seconds faster than those times by Bekele and Farah. That should tell you something about where the best Kenyan runners are focusing their efforts. Perhaps the most impressive performance however was that of Geb who at age 40 ran in an impressive time of 1:01:41.
Where does that leave Mo Farah ?

The fact that the best running talent has left the track for the roads has been of immense benefit to Mo Farah. There is no doubt that Mo is supremely talented with an amazing kick and superb tactics. His 3:28 personal best in the 1500m speaks to his amazing foot-speed.
But the way he tactically dominated his races at the world championships would have been unthinkable during the era when the best running talent graced the track.
Whereas today he gets to measure his wits against inexperienced runners like Gebremeskel, Isaiah Koech and Paul Tanui, 10 years ago he would have had to contend with Gebresellasie and Tergat. 5 years ago he would have had to contend with Bekele, Tadesse, Micah Kogo, and Sileshi Sihine. And of course there was also the era of runners like John Ngugi, Paul Kipkoech, Richard Chelimo and his brother Ishmael Kirui. All mature tactically astute runners. That was when the best distance talent competed at the world championships and Farah would have been running against runners who are far more seasoned than the ones he ran against in Moscow. His chances of a double would have significantly reduced.