David Rudisha lost in the final of the 800m at the 2014 Commonwealth games on Thursday. Rudisha had led the race from the start until the 50m mark when Nijel Amos of Botswana passed him. Rudisha took the field out in 52.71 for the first 400m. It was good strategy since Rudisha realized he needed to slow down the race in order to have enough energy left to counter Amos finishing kick which is explosive over the last 50 metres. In the end however Amos was too good as he came from 2 metres behind to pass Rudisha in the last 50m
After the race, Rudisha showed abundant class.  He congratulated Amos, the 20-year-old from Botswana, and told him: "Well done, my brother." Then he wrapped a Kenyan flag around his back and went on a lap of honour to celebrate his silver medal.
He then smiled and waved as he received a standing ovation. "It wasn't so bad," he sighed, each word soft, tender. "I am happy to have a silver medal. Nijel is a tough competitor and he was very good." : Total and complete class
Rudisha is not in optimum shape yet
From May 2013 to March this year, Rudisha was not able to run because of a knee injury. He spent hours rehabbing and riding an indoor bicycle. But this cannot replace the conditioning he gets by running up and down the hills neat his training base in Iten. And it was difficult for him to remain motivated. He thus did not have enough time to build the stamina/endurance needed to run at the breakneck speed Rudisha normally applies especially in the first lap.
"I normally start preparing in November or December but this year I started slowly in March. That's why I am paying more now." said Rudisha
Secondly, rehabbing from a knee injury can be a long arduous process. It varies by individual but some people require 6 to 12 months of rehab after the knee has healed. Now consider that Rudisha only declared himself healed around March. This means he still has not regained full muscle mass in his legs. Remember that muscle mass is lost due to lack of activity.
"I'm finding it a little bit difficult in the last 100m but I think it's all about the preparation," conceded Rudisha. "I'm lacking something but I missed all of last season. said Rudisha.
That lack of speed in the last 100m is likely because Rudisha has not regained full muscle mass.
When Rudisha runs his upper body is usually perfectly still, whereas Amos likes to rock and sway, as if nodding along to a favourite tune.
But in the last 100m the Kenyan looked just as anxious, grimacing and driving to the line but all to no avail. This is something Rudisha can easily correct.
Still Rudisha received a standing ovation from the crowd in Glasgow who recognize him as a living legend.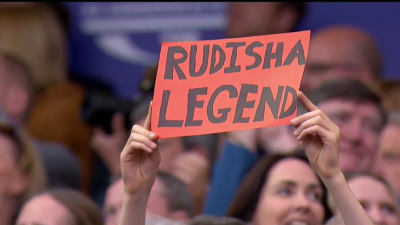 The near future is going to be exciting
Even if Rudisha does regain something close to his imperious form that saw him break the world record twice with an incredible 1:40.91 that saw him win the gold medal at the 2012 Olympics, he is likely to face a serious challenge from Amos, Mohamed Aman of Ethiopia and Pierre-Ambroise Bosse.
But there is also Timothy Kitum of Kenya. Though he struggled last year he is still only 19 and ran 1:43.65 two weeks ago to win his season debut in Heusden.
" I'm happy for these young guys because they are a challenge and keep me awake." said Rudisha
"I'd like next year for us to help each other to break the world record," he said. "I don't care who does it, but I want us both to run fast." said Amos
The 800m is indeed going to be exciting in 2015 and we think Rudisha can scale his way back to the top with a proper rest period followed by his usual off season training regimen.