Kenya beat Zimbabwe 23-18
Kenya 15s rugby team was over the moon on Saturday when they rallied from 8-18 at intervals to stun Zimbabwe 23-18 for the first time at their Harare Sports Club back yard.
Zimbabwe had maintained a first half 18-8 lead for the better part of the second half, but Kenya responded with two tries courtesy of sensational fullback Innocent Simiyu and scrumhalf Moses Kola late in the second half, which spelled doom for the Sables.

Zimbabwe points were earned from a try by Tafadzwa Mhende, with Captain Rocky Gurumani increasing the lead when he was pushed over the line by his pack. The Sables' other points were two penalties by flyhalf Tich Makwanya.

Kenya's David Ambunya opened the scoring. Zimbabwe have now lost three consecutive games in the series. They lost to Kenya in Nairobi and to Uganda in Kampala. They next host Uganda this weekend.
It was an emphatic finish to their awesome Victoria Cup campaign as they emerged untainted . The match was a mere formality since the Kenyans had already wrapped up the Victoria Cup last weekend following their authoritative 21-5 win over Uganda. The success in Nairobi also saw them retain the Elgon Cup.
Harare's triumph will definitely see the side that is handled by Michael "Tank" Otieno scale further in the International Rugby Board (IRB) World Rankings. Kenya is currently placed 35th in the World Rankings.
During the first leg, Kenya struggled to beat Zimbabwe 11-10 but came out with their barrels blazing to crush Uganda 33-25 at Kyadondo Stadium.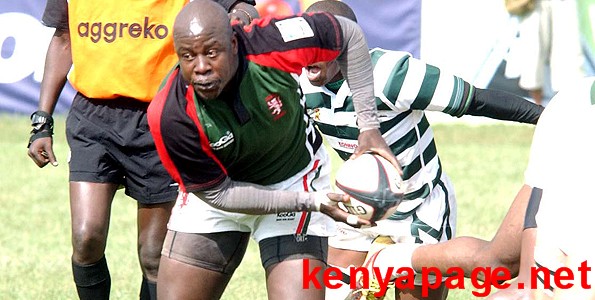 Paul Oimbo vs Zimbabwe
It was the first time Kenya won on Ugandan soil in seven years and they followed it up with another firm 21-5 victory in Nairobi last weekend.

Sables still have a match at hand against Uganda next Saturday in Harare. Cranes, who are coached by a Kenyan Ham Onsando, won 24-15 in the first leg. It was Kenya's fourth victory against Zimbabwe in their 12 international outings.

Incidentally, Otieno, a former international full back, made debut for Kenya at the age of 20 when they first faced Zimbabwe in 1981 in Nairobi.

Kenya went down 24-33 and went on to lose six more matches against the Zimbabwe before they finally got one back, a 33-24 win in Nairobi in 2002.

They won again 19-12 the following year but lost 15-24 in 2004. Their next meeting was this year in the Tri-Nations Victoria Cup.

After Victoria Cup triumph, the team now turns it focus to the forthcoming Confederation of Africa Rugby Trophy where Kenya have been drawn against Namibia, Uganda and Cameroon in Pool B.
The dates for the event are yet to be announced. Before leaving for Harare, Otieno was cognizant of the tough task that lies ahead for the team.
"Uganda would be eying revenge while Namibia and Cameroon are still bitter after we stunned them in 2006 Rugby World Cup qualifier," said Otieno.