Nairobi, August 16th 2008
Kenyas national rugby team Saturday retained the Tusker Elgon Cup by beating Uganda 39-20 at the Rugby Football Union of East Africa grounds.On aggregate, Kenya who lost the first leg 3-20 in May narrowly won by the two leg competition 42-40. In the womens category, Kenya defeated Uganda 15-13 but lost 21-31 on aggregate after losing the first leg 6-18.

Coach Michael Tank Otieno said it was always going to be difficult to fight from 0-17 down. It shows we can beat Uganda anytime when we have a full squad. We played territorrial with Lavin Aseko keeping Uganda at bay with neat kicks for touch, the coach explained.

Uganda marked out Kenyas lethal backs but the forwards who have always lived in the shadows of the Sevens players superbly held up the game upfront with Daniel Kiptoo, Wilson KOpondo, Leslie Libasia, David Mogere and Allan Onyango outstanding.

Innocent Simiyu, Kenyas captain added Kenya needed to be consistent. We always have a different set of players every time which makes it difficult to stabilise, he said.

Uganda coach Yayiro Kasasa who had predicted a tough match said they reacted to what Kenya was doing.Give credit to Kenya, they raised their game when it mattered. In the first half, we did not play well especially with Kenya winning in the rucks. Kenya was fired up, the coach acknowledged.

John Musoke, Ugandas captain agreed. It brought us down to earth. This is what happened last year but we went on to win the Africa Cup. It was a good lesson and we will build up on it, the captain said.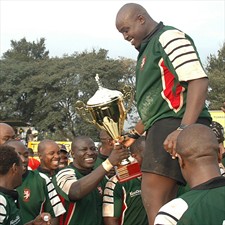 Kenya's retained the Elgon Cup title for the second year running in a pulsating push and shove affair. They beat Uganda Rugby Cranes 39-20 to win the title on a 42-40 aggregate score at the RFUEA Stadium on Saturday.
Kenya went into the return leg duel trailing by a 17 point-margin, but Coach Michael "Tank" Otieno's forward play format gave the homeboys leeway to secure the much-needed points.

Kenyans went for the territory and worked on the line-outs well.

"We knew they would mark out our backs and that's when we resorted to our forwards. I achieved our game plan when I changed the front and back-rows.

Ugandans started off the first half on a low key but came back to the second half forcefully with territorial play. Their 20 year old fly-half Yoweri Kimuli tied the proceedings but missed a crucial conversion that gave Kenyans a 2 point aggregate lead.
Uganda Coach, Yayiro Kasasa, was disappointed. "Our slow pace in the first half did us in. The general play in the first half was not inspiring. We changed our tact in the second half but it didn't work out," said Kasasa. But the Ugandan said their 2011 World Cup aspirations were still high. Kenya's led 16-8 at halftime.
Kenya Line Up
1. Daniel Kiptoo - Kenya Harlequin FC
2. Vincent Ongera - Kenya Harlequin FC
3. Joel Ng'anga - Kenya Harlequin FC
4. Anthony Ogot - Kenya Commercial Bank RFC
5. Wilson Kopondo - Mean Machine RFC
6. Allan Onyango - Kenya Harlequin FC
7. David Mogere - Kenya Harlequin FC
8. Leslie Libasia - Kenya Harlequin FC
9. Peter Mutai - Kenya Commercial Bank RFC
10. Lavin Asego - Mwamba RFC
11. Collins Injera - Mwamba RFC
12. Cyprian Shimenga - Nakuru RFC
13. Humphrey Kayange - Mwamba RFC
14. Horace Otieno - Mwamba RFC
15. Innocent Simiyu - Impala RFC [Captain]
RESERVES
16. Frank Amiani - Kenya Commercial Bank RFC
17. Derrick Wamalwa - Kenya Commercial Bank RFC
18. Paul Murunga - Kenya Commercial Bank RFC
19. Fednard Ngaira - Nakuru RFC
20. David Gitau - Kenya Harlequin FC
21. Sidney Nderitu - Mwamba RFC
22. Vincent Mose - Nakuru RFC