Mount Kenya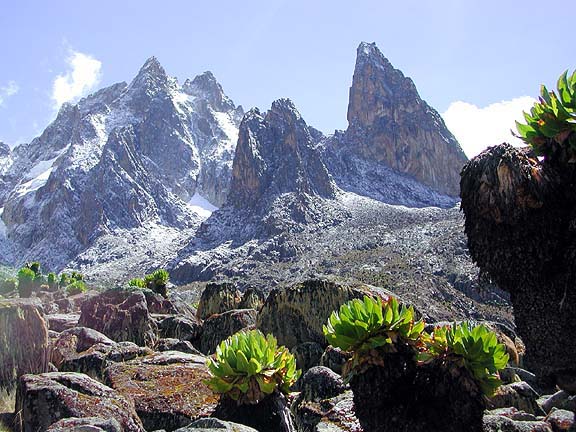 Mt Kenya is the highest mountain in Kenya and the second-highest in Africa, after Kilimanjaro. The highest peaks of the mountain are Batian which is to the left in this picture (5,199 metres (17,057 ft)), and Nelion (5,188 metres (17,021 ft)) which is to the right of this picture. The peak in the middle is Pt John (4,883 m (16,020 ft) . Not seen in this picture is the third highest peak; Point Lenana (4,985 metres (16,355 ft)).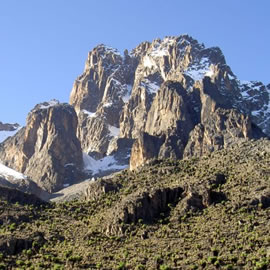 H

ow did the nation of Kenya get its name ?
There is no doubt that the nation of Kenya got its name from the mountain. What is in question is how this happened: There are two theories :
The first theory suggests that when the British first saw the mountain, they asked what the name of the was. The locals informed that the name of the mountain was
Kirinyaga
, pronounced as
Kerenyagha.
The British could not pronounce the word and ended up naming the mountain as Mount Kenya. The nation which was then known as British East Africa, was later renamed Kenya by the British.
The second theory holds that German missionary, Dr Johann Ludwig Krapf, encountered Mount Kenya in 1849 and asked his guide "what do you call that?". The guide was carrying a gourd, and as he was a member of the Kamba community he said "ki-nyaa", which means "gourd" in that language. Krapf then proceeded to call the mountain Mount Kenya, the British followed suit and thereafter named the colony Kenya
Mount Longonot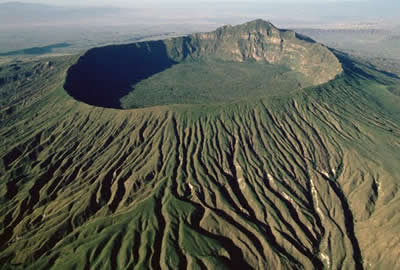 Mt Longonot Is a stratovolcano which contains a large 8 x 12 km caldera formed by vast eruptions of trachytic lava some 21,000 years ago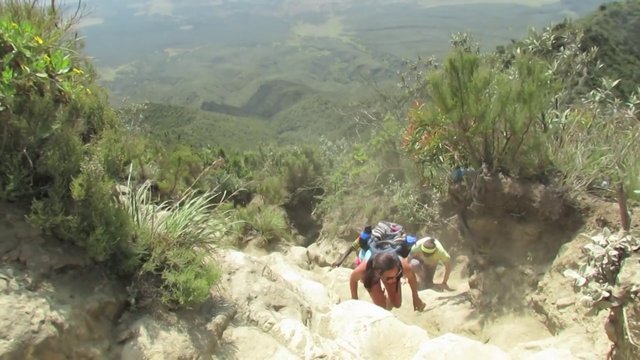 The
Mount Longonot Trail
runs from the park entrance up to the crater rim, and continues in a loop encircling the crater. The whole tour is only about 8–9 km long but very steep, so that the round trip of park gate - Longonot Peak - park gate takes around 3 to 4 hrs hiking. The gate is around 2150 m asl and the peak at 2780 m asl but following the jagged rim involves substantially more than the 630 m vertical difference.
Mount Elgon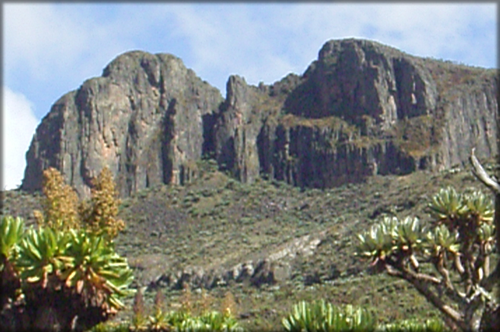 Mt Elgon is an extinct shield volcano that straddles the Kenya-Uganda border.
Hells Gate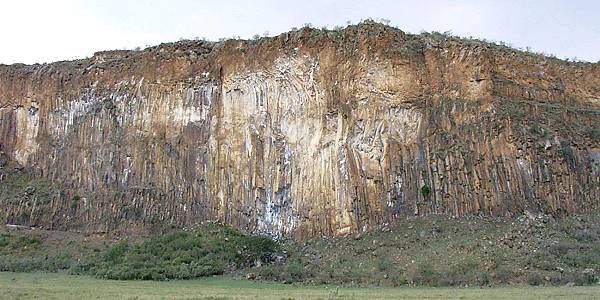 Hells gate national park small national park, it is known for its wide variety of wildlife and for its scenery. This includes the Fischer's Tower and Central Tower columns and Hell's Gate Gorge.
Mathews Range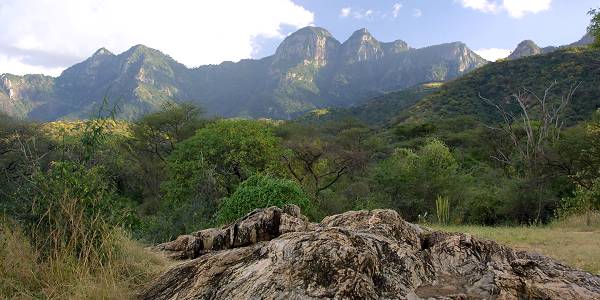 Bordering the Laikipia plateau and the Samburu ecosystem on your way to Turkana in the Northern Kenya the peaks of the impressive Mathews range elevates from a plain of dry bush savannah. This 150 km long range is referred to as "Ol Doinyo Lenkiyio"- Mountain of the child by the Samburu