When it comes to international competitions, the Kenya womens basketball team has been far more succesful than their male counterparts. The womens basketabll team has qualified for the FIBA Africa womens Basketball championships in 1986 1997 (as hosts), 2007 and 2010. In addition, Kenya women have qualified for the All Africa games basketball tournament in 1987 (as hosts), 2003, 2007 and 2011

At the 1987 All Africa games, Kenya once again led by Queen Olumbo. In 2003, Kenya finished 4th out of 5 teams after beating the Ivory Coast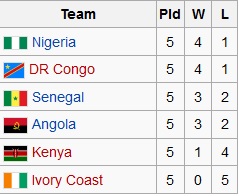 Kenya Womens Basketball at the 2007 All Africa games


Kenya qualified for the 2007 All Africa games and this time sent a much stronger squad. It was a much stronger Kenya team largely due to the fact that Kenya strengthened its squad with several overseas based players. Among these were USA based players like point guard Rose Ouma, center Josephine Owino, and forwards Gladys Wanyama

Kenya's scores were as follows

Kenya 58 Tunisia 56
Kenya 58 Mali 52
Kenya 81 Zimbabwe 68
Kenya 51 Nigeria 57
Kenya 45 Senegal 69
Kenya 62 Mozambique 82 (quarter-final)
Kenya 65 DR Congo 64 (Classification)
Kenya 78 Algeria 67

With a 5th place finish, the 2007 All Africa games was one of Kenya's greatest ever performances in a continental basketball tourney. Wins over perrenial giants like Tunisia DR Congo and Algeria made it the most memorable tournament for Kenya fans.

Gladys Wanyama and Josephine Owino led Kenya in scoring with 12.3 and 11. 7 points respectively. Josephine Owino was 7th overall in rebounding with 7.3 rpg and second overall in field goal perecentage with 62.7 percent. Gladys Wanyama was second overall in free-throw percentage with 79.1%. As a team Kenya scored the second highest number of points with 62.2%




Kenya at the 2011 All Africa games womens Basketball tournament
Whereas Kenya had brought its big guns for the 2007 tournament, this time the team was cmprised almost entirely of home based players with the exception of point guard Rose Ouma who was now based in Dubai. The other players were included captain Hilda Indasi, veteran Caroline Achieng, Silalei Shani, Anjela Akoth, Debra Obunga, Samba Mjomba, Faith Owich, Emma Nyakweba, Brenda Anyeli, Rose Ouma, Linda Alando and Salome Akinyi. The coach was Philip Onyango

The scores were as follows:

Kenya 52 DR Congo 55
Kenya 61 Algeria 36
Kenya 63 Zimbabwe 35
Kenya 31 Nigeria 61
Kenya 48 Mozambique 56
Kenya 44 Senegal 76 (Quarter-Final)
Kenya 54 Rwanda 50 (Classification)
Kenya 52 Ivory Coast 55 (5th place playoff)

Kenya Finished 6th


Kenya at the 1993 FIBA Africa women's championships
This was Kenya's finiest ever performance in any basketball tournament. They reached the final before loosing to hosts Senegal. This page has details of Kenya's performance at the 1993 FIBA Africa womens basketball championships.
Kenya at the 1997 FIBA Africa women's championships


Kenya qualified automatically has hosts. The scores were as follows

Kenya 117 Uganda 36
Kenya 81 Cameroon 68
Kenya 76 Mali 74
Kenya 60 Senegal 105
DR Congo 94 Kenya 60
Nigeria 90 Kenya 62


Kenya at the 2007 FIBA Africa women's championships

After a 10 year hiatus, Kenya were back in Africa's permier tournament. The long absence took its toll as Kenya finished 12th out of 12 teams. The scores were as follows

Kenya 44 Angola 62
Kenya 57 Cape Verde 48
Kenya 42 DR Congo 62
Kenya 60 Nigeria 72
Kenya 58 Madagascar 69
Kenya 60 Tunisia 72

Despite loosing all but one of their games, the Kenya women gave a good account of themselves with respectable scores in each game.

As a team, Kenya led the entire tournament in steals per game with 12.1 and were 3rd in rebounds, which is a sign of their raw talent and athletiscism .

Rose Ouma was second in the tournament in assists with 4.1 apg. Caroline Achieng led the tournament in steals with 3.0 spg.


Kenya at the 2013 FIBA Africa women's basketball championships

Kenya at the 2019 women's Afrobasket



.