When it comes to international competitions, the Kenya womens basketball team has been far more succesful than their male counterparts. The Kenya mens basketball team has qualified for the Africa basketball championships twice (1985 and 1989). In 1993, Kenya qualified as hosts in 1993.

The mens basketball team has been to the All Africa games once. That is in 1987.


Kenya at the 1985 Africa Basketball Championships

Kenya at the 1987 All African Games Basketball Competition

Kenya at the 1989 Africa Basketball Championships

Kenya at the 1993 Basketball Championships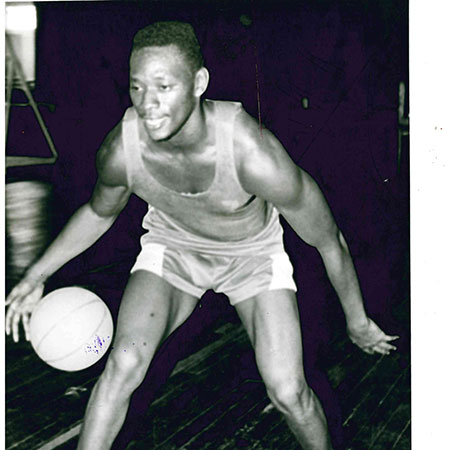 Basketball legend Lawi Odera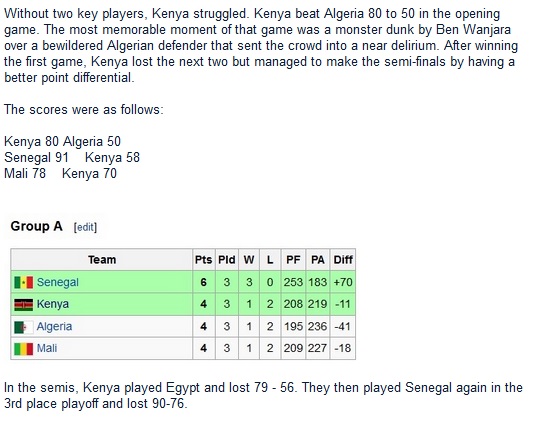 Kenya Men's Basketball results today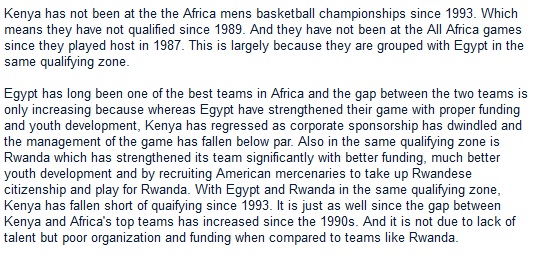 That Kenya has had talent available is proven by the decent number of Kenyan players who have done well in overseas leagues. Go to this page To read about Kenya players who have excelled in basketball in the USA and elsewhere. And
this page has a list of other Kenya players who have played in USA college basketball.