Game 1 : Kenya 45 Philipines 5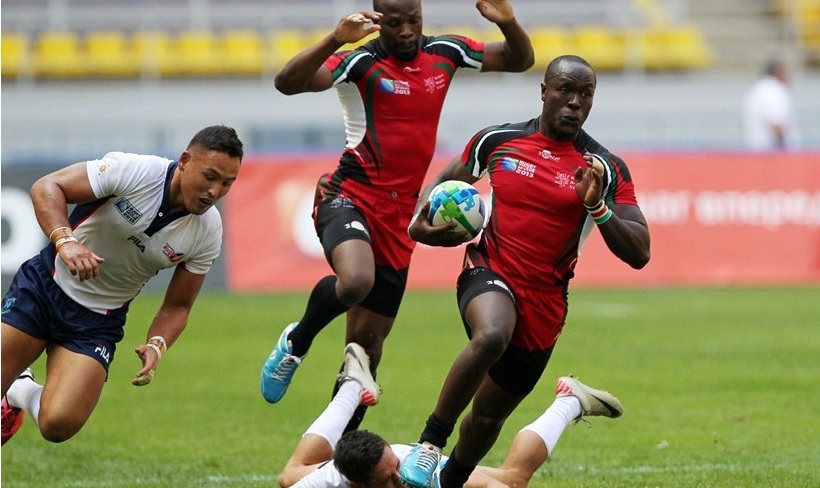 The Philipine Volcanos were no match for Felix Ayange and Lavin Asego above
Kenya started their Rugby World Cup Sevens 2013 with a 45-5 win over Philippines in a Pool C encounter at the Luzhniki Stadium in Moscow on Friday 28 June. The Filipinos would press Kenya from kick off but Kenya kept their heads, Oscar Ouma racing clear to score under the posts with Biko Adema converting for a 7-0 after a minute of play.
Al Cravelli's Philippines would continue frustrating Kenya but fell further behind when Felix Ayange grounded the ball with Adema's second conversion making it 14-0.The Asian side would put Kenya on the back foot and were rewarded for their efforts when Gareth Holgate scored an unconverted try as they went into the interval 14-5 down.
Mike Friday's pep talk inspired Kenya's second half display, Humphrey Kayange extending the lead with a try under the posts, Adema converting for a 21-5 lead. Kayange would land his double, spotting a gap from the breakdown deep in Kenya territory, cantering clear to score under the posts with Adema converting for a 28-5 Kenya lead.
Collins Injera would join the scoring band wagon, touching down with Lavin Asego converting for a 35-5 lead. Further unconverted tries from Felix Ayange and Eden Agero handed Kenya the win which sees them top Pool C after Samoa edged Zimbabwe 21-14 in the other fixture.
Game 2 Kenya 31 Zimbabwe 5
Any notion that Kenya could be challenged by another Africa team besides South Africa were put aside when Kenya destroyed Zimbabwe 31-5.
A key feature of this match was how Kenya pressured Zimbabwe and kept them backpedalling each time theu had the ball. .Biko Adema dummying his opponents before grounding the ball, his unconverted try putting Kenya 5-0 up.
Now with the momentum, Kenya ate into Zimbabwe territory and Felix Ayange scored his third try of the tournament, Adema missing the conversion with the scores at 10-0. Willy Ambaka would score the simplest of tries, Adema's conversion putting Kenya 17-0 before Tafadzwa Chitokwindo pulled one back for the Cheetahs, 17-5 the half time scores when he received the ballout wide and held off Injera's pursuit.
Former skipper Humphrey Kayange punished Zimbabwe on a mistake on the restart, scoring under the posts with Adema converting for a 24-5 lead before Oscar Ouma sealed the deal for Kenya, his try and Lavin Asego's conversion handing Kenya the 31-5 result.
Up next is a clash against Samoa at 2.14pm, a clash that Kenya must win to top the pool and reach the quarters by virtue of being Pool C winners.
Game 3 Kenya 17 Samoa 12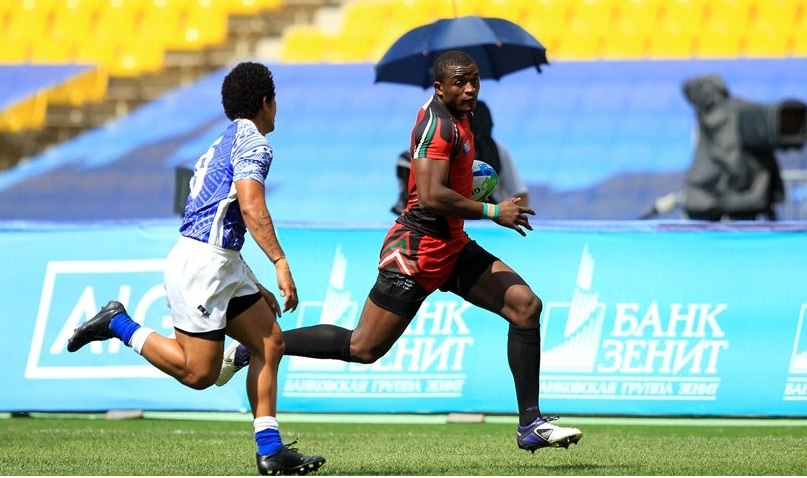 Ambaka and the rest of team Kenya showed Samoa a clean pair of heels
Kenya went through to the main cup quarters at the Rugby World Cup Sevens after edging Samoa 17-12 in a Pool C decider at the Luzhniki Stadium in Moscow on Saturday 29 June 2013.
Humphrey Kayange put Kenya ahead, spotting a gap and scoring close to the posts, Biko Adema missing the ensuing conversion. Kenya continued bossing Samoa at the break down, keeping possession and denying their opponents any breathing space.
Willy Ambaka extended Kenya's lead, racing the length of the field to score at the corner with Adema converting for a 12-0 lead at half time.
Kenya got their foot off the gas pedal,allowing Samoa to come back courtesy of Lio Lulu's brace of tries and Alatasi Tupou's sole conversion and it seemed like the match was slipping away from the Kenyans as they ceded possession and ground.
The team regrouped, eating into Samoan territory and substitute Mike Wanjala's try at the death earned Kenya the quarter final ticket by virtue of topping Pool C.
Kenya will know their quarter final opponents at the close of group play later today.
Quarter Final : Kenya 24 France 19
Willie Ambaka's sudden death try saw Kenya reach a second successive RWC Sevens semi final as they edged France 24-19 in a tense quarter final at the Luzhniki Stadium in Moscow on Sunday 30 June 2013.
It was France who opened the scores through Jean Bapitse Gobelet's unconverted try after a period of sustained dominance, bossing the break down and retaining possession.
Kenya responded through Collins Injera's try, Biko Adema's conversion seeing the side 7-5 up but Manuel Dall Igna's try and Terry Terry Bouhraoua's conversion saw the French lead 12-7 at the interval.
Humphrey Kayange scored a try for Kenya after the restart, Adema converting for a 14-12 lead and what transpired next was a moment of anxiety for players and fans alike, both sides looking to win this game. A second Kayange try put Kenya 19-12 up but the French equalized after sustained pressure,Bouhraoua converting Paul Albaladejo's try to send the game to extra time.
Thanks to the indiscipline of the French side , Kenya saw more of the ball in extra time as France kept getting penalized. It took the experience and vision of Lavin Asego, who came in for Adema midway through the second half to create space for Ambaka who lurched on to the ball at full pace, beating his French defenders to score under the posts and send Kenya into the semi final against England at 4.02pm.
Semi Final : Kenya 5 England 12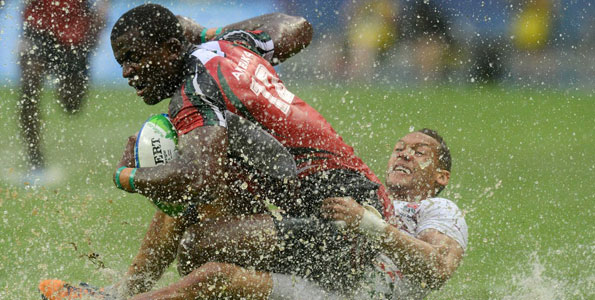 Ambaka impressed French talent scouts and ended up getting a professional contract in France
Seven-a-side rugby matches and tournaments are so often decided by that one unexpected turn of events. It could be the bounce of the ball, the slip in step, the missed tackle.
In Kenya's case a sudden change in weather blew away their promising Rugby World Cup Sevens ambitions.
The heavens opened in Moscow moments after the semi-finals programme had started turning the Luzhniki Stadium pitch into a slippery green mat that made playing rugby near impossible.
Kenya just couldn't hold onto the wet ball to play their running, passing game while England adapted quickly to the atrocious conditions to score two unanswered tries via Dan Norton in the first half of their semi-final showdown.
Captain Andrew Amonde pulled one back for Kenya in the second half but it was not enough as England held on for a 12-5 win and make the final.
3rd Place Playoff : Kenya 5 Fiji 29
Kenya ended their Rugby World Cup Sevens World Cup in fourth place after a 5-29 loss to Fiji in the third place playoff at the Luzhinki Stadium in Moscow on Sunday.
Fiji went 12 -0 courtesy of Metusiela Talebula's brace of tries and a conversion before Willie Ambaka reduced the deficit for Kenya with an unconverted try after being played in by Collins Injera, the scores reading 12-5 at half time.
Further tries came in the second half for Fiji through Samisoni Viriviri, Watisoni Votu and Ilai Tinai and a sole conversion. All in all it was a battling performance from Kenya, topping Pool C to reach the cup quarters.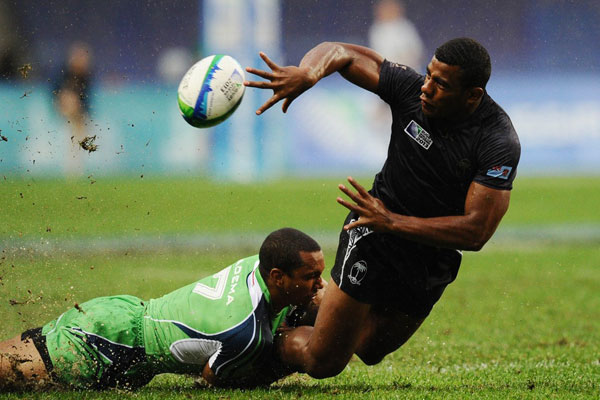 Biko Adema tackles a New Zealand player
Humphrey Kayange was the second leading scorer in the tournament with six tries. This marked the second succesive time that Kenya reached the semi finals of the world cup.
Read profiles of the Kenya Rugby sevens world cup team here