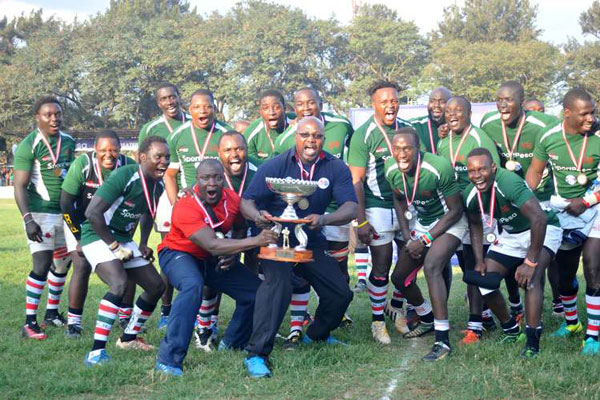 Kenya Simbas staged a dazzling second half display of rugby, scoring six tries to crush Uganda Cranes 45-24 and reclaim the Elgon Cup at the RFUEA ground on Saturday.
Kenya won 93-34 on aggregate after their 48-10 victory against the Ugandan in Kampala in the first leg last month.
Uganda beat Kenya "A" to claim the crown last year.
Saturday's match also doubled up as an Africa Rugby Cup Division 1A fixture.
Kenya finished second behind champions Namibia, who have a match in hand against Zimbabwe.
Vanquished Uganda will now hope that Namibia beat Zimbabwe for them to retain their place in the top Division 1A championships.
Both Uganda and Kenya beat Zimbabwe but the two East African sides lost to powerhouse Namibia.
Tries from lock Ronnie Mwenesi, right centre David Ambunya, hooker Sammy Warui and flanker captain Brian Nyikuli spurred the Kenyans to victory.
Substitute forwards Simon Muniafu and Max Adaka also scored a try each as right wing Darwin Mukidza made three conversions and slotted over two penalties.
Nineteen-year-old fullback Philip Wokorach landed a brace of tries for Cranes while loose-head prop Asum Mugerwa managed one but it was not enough to save the Cranes from the jaws of the lions.
The game started at a cracking pace with the lead exchanging hands.
Kenya led 12-0 before Cranes took the lead 12-14. Kenya would then reclaim the lead at 15-14 only for Uganda to go ahead 19-15.
However, the hosts retook the lead for good 23-19 going into the break.
"We had a big problem in one-on-one defence in the first half and poor restart kicks," said Kenya Simbas coach Jerome Paarwater. "I told them to have a mental switch from a hard approach to stick to the basics in the second half and it worked well."
Paarwater praised Cranes for a good battle. "We must understand Uganda are on the rise and also wanted to do well. I will be glad if they are to retain their place in Africa Rugby Cup."
Cranes coach John Duncan bemoaned his team's poor clearance at the breakdowns and sloppy defence.
"We won many turnovers at the breakdown but failed to clear our lines," said Duncan. "But we must understand that Uganda is rebuilding and this is a young side."
Duncan said it's good to have his team retain their place in Africa Rugby Cup Division 1A.
.
Courtesy of the Nation